Fantasy and adventure are two themes that are sure to keep your children's attention while reading. The Silver Chair Book Study is a great way to discover what your children have learned from their travels to Narnia with Eustace and Jill.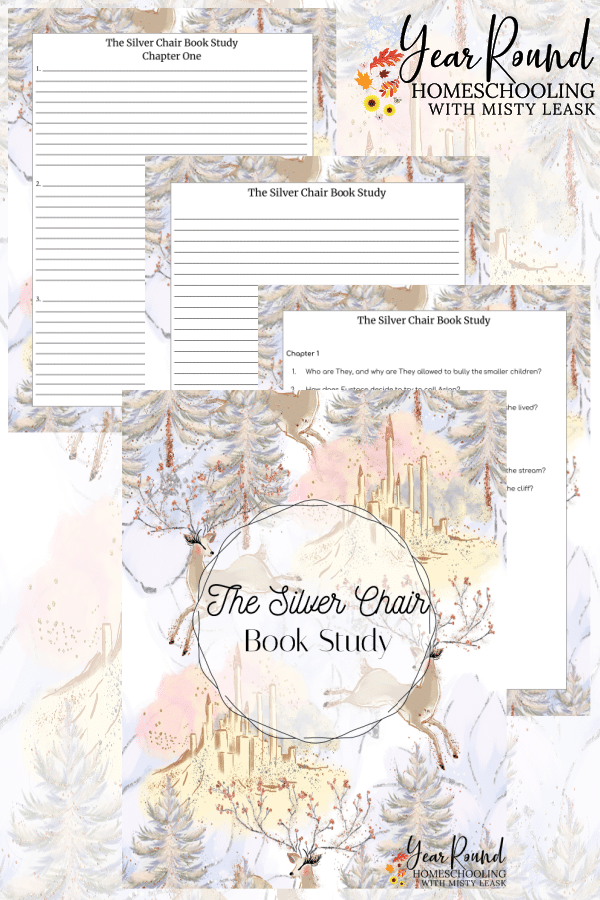 Eustace Scrubb, the Pevensie's cousin travels back to Narnia with his friend, Jill Pole. Together with Aslan, Eustace sets off to locate Prince Rilian, the son of King Caspian.
Their search throughout Narnia includes talking owls, green serpents, giants and of course, the enchanted silver chair.
Literature studies truly are a great addition to your homeschool. However, finding a book, let alone a series of books that the entire family can enjoy is a challenge.
The Chronicles of Narnia was written by C.S. Lewis. The series contains seven works of literature in all; The Magician's Nephew, The Lion, the Witch and the Wardrobe, The Horse and His Boy, Prince Caspian, The Voyage of the Dawn Treader, The Silver Chair and The Last Battle.
Movies have been made for three of the seven books; The Lion, the Witch and the Wardrobe, Prince Caspian and The Voyage of the Dawn Treader. At this time, there are plans for a fourth Narnia movie, The Silver Chair. When it will be filmed and released, remains to be seen.
Inside this The Silver Chair Book Study Pack you'll find, questions for each chapter of the book and different style writing pages. Students can use the writing pages to answer the questions, put together a character analysis or write a book report.
My love for all things literature is keeping me busy creating resources, so be sure to keep an eye out for new items in my store. With more resources for The Chronicles of Narnia specifically coming soon!