Homeschool moms love shopping for new homeschool curriculum and when the box arrives on our doorsteps everything else that we planned to do that day goes out the window as the entire family sorts through the new books. Not only do I love this part of homeschooling, but I also love writing lesson plans. I used to spend a week sorting through the new homeschool curriculum, setting up our homeschool schedule and writing out lesson plans for the entire school year. It was so much fun seeing everything that we would be covering throughout the year and deciding what activities I could include to make learning more fun for my kids.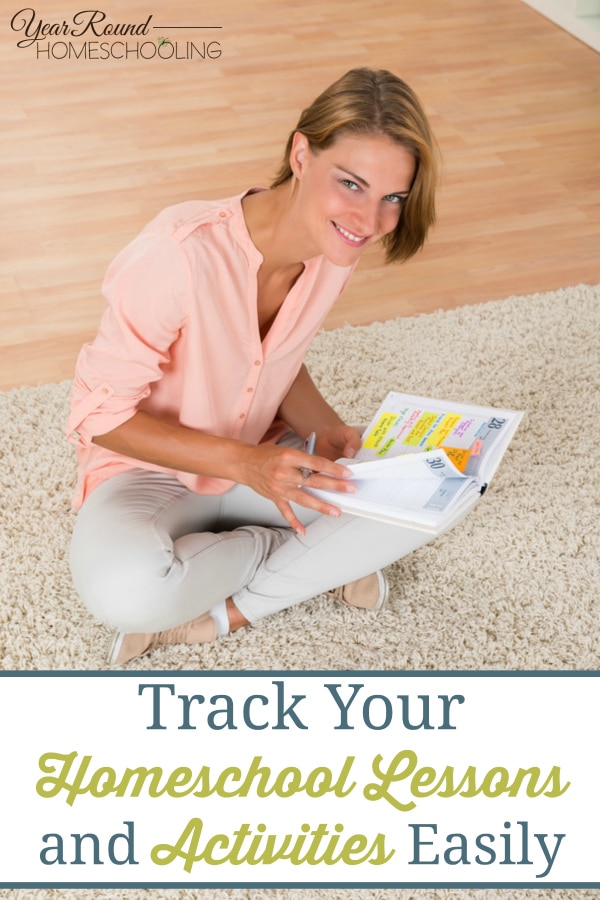 I don't plan like that anymore. There are days when I do miss it, but I love the freedom that our homeschool and life have now even more. Since I don't plan out our entire homeschool year in detail, I have had to figure out how to keep track of our homeschool lessons and activities with my detailed lesson plans.
I tried a few different things over the last year, but struggled to find a method that didn't add more work to my already overfilled days. As with any mom, I have many plates to keep balanced each day and if I'm not careful one (or more!) of them will come crashing down and I will have to pick up the pieces one by one to get my day back on track. For a while I stopped keeping track of our homeschool lessons and activities because I just couldn't make anything work that I could remember to use without adding another to-do to my daily list. I knew that wouldn't work for long, but I needed a break to try and think of a solution that would integrate into my day easily. It seemed silly that I was struggling to keep track of our daily homeschool lessons and activities, but I just couldn't figure it out.
I've used many planners throughout our homeschooling journey, but they all fell short of what I needed. In fact a few years ago I designed a Year Round Homeschooling Teacher's Planner that I love using when I make detailed lesson plans. When we began running a family business and following a child led homeschooling method, every planner that I've ever used or seen were of no use to me because I couldn't put my entire day's activities on one page. I simply can not handle keeping multiple planners for different aspects of my life, I need everything listed out in one place together.
By taking a break from keeping track of our homeschool lessons and activities for a while I found that stepping away does in fact help give you clarity! Surprisingly the solution to keeping track of our daily homeschooling was right on my desk! Instead of looking for a new resource to add to my day, I needed to look at what I was already using to keep my life on track throughout my day.
The Erin Condren Life Planner sits on my desk and the only other place it can be found is in my purse if I'm on a road trip. Without it I wouldn't know what I need to accomplish during my online work time, our family business or in housekeeping. Yet, I hadn't even though about using it to keep track of our homeschool lessons and activities!
I stopped writing homeschool lesson plans so keeping track of our homeschool lessons and activities is super easy with my Erin Condren Life Planner with a Vertical Weekly Layout! Once we complete our homeschool lessons for the day, I simply write my children's names in the top rectangle space on that day's column and add what subjects and/or activities that they completed that day. Each lesson that they complete in their binders always has the date and lesson number listed and gets filed away with the rest of the year's homeschool work. So, there is no need for me to write down details about what we've done because I keep all of our homeschool work for each year filed away.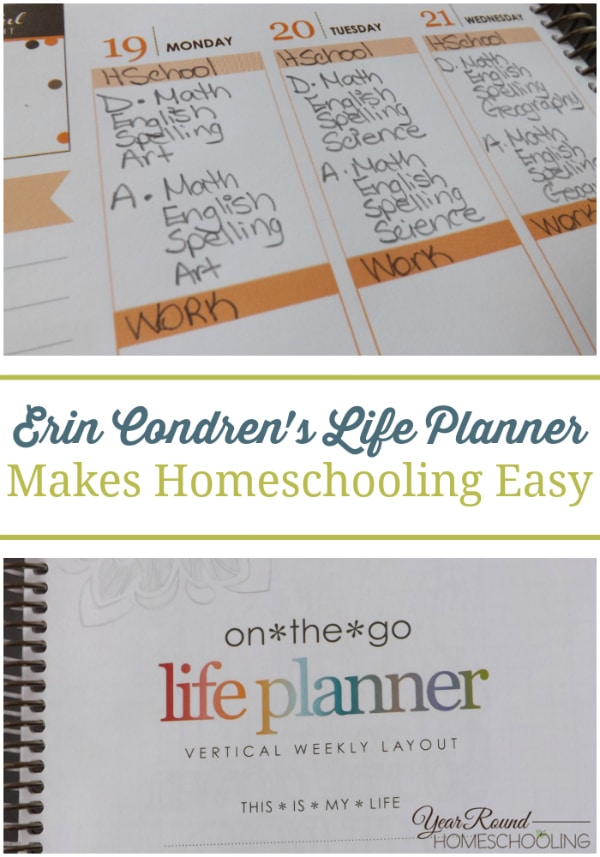 After 6 years of homeschooling, this is the by far the easiest method that I've found to keep track of homeschool lessons and activities! Neither my children nor myself stress about what we didn't finish from detailed lesson plans of the past and we're able to keep moving forward on our homeschooling journey each day!
If you're looking for an easy way to track what your children accomplish in their homeschool days, the Erin Condren Life Planner can work for you too! I use it to keep my entire life on track, but it easily can be used solely for tracking your homeschool lesson plans and activities if that's what you need. I highly recommend this resource because it has kept me from dropping plates in my life countless times and it makes my life easier to have everything in one place. I no longer look for slips of paper with my to-do list on it, nor do I have to find that other planner to record our homeschool lesson plans. Erin Condren's Life Planner has been a life saver for me!
How do you keep track of your homeschool lesson plans and activities?