Keeping your family's life on track can be challenging! Everyone in your family has different activities and responsibilities, so keeping everything organized can be difficult at times. When you are a homeschooling family, then you have to remember classes, co-ops and more for your family's schedule. Life can be overwhelming and it can be hard to figure out how to organize and balance everything that needs to be done each day.
In my home there are many hats to juggle, I'm a work-at-home, homeschool mom and we also run a family business. Every day I have to ensure that I complete the needs of my home, my children's education, my online business and our family business, so keeping my life on track is essential. I can't afford to get sidetracked because if I do I won't be able to complete everything that needs to be done each day.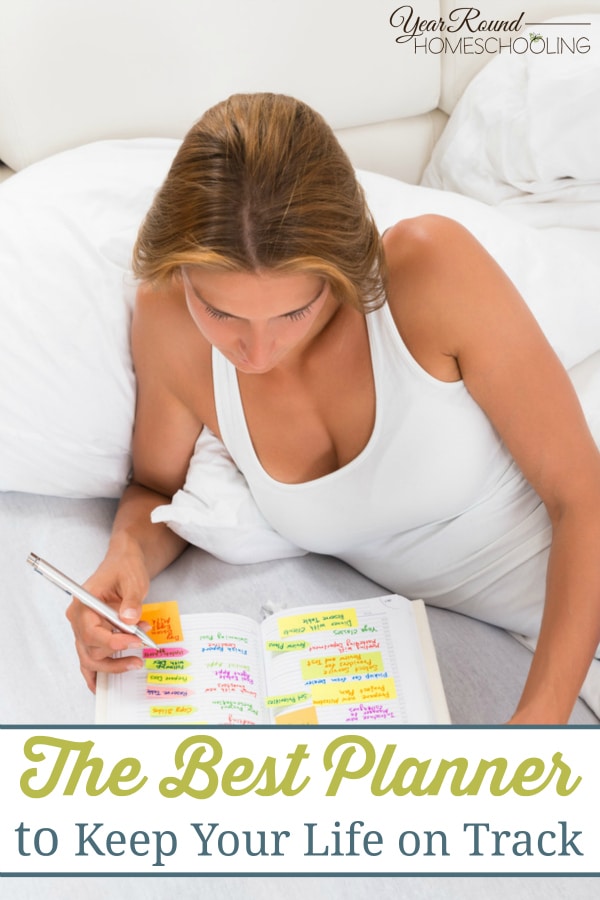 I've confessed before that I am an over-the-top planner and that does come in handy with all of the hats that I have to balance. I have had to learn to let go of my children's education and live life outside of lesson plans, but if I wasn't an OCD planner then I don't believe I would be able to handle everything I have on my plate each day.
My desk used to be covered with lists. I would make a separate list for every aspect of my life, (homeschooling, online work, family business, homemaking, etc.) and I would have to keep track of those pieces of paper each day to ensure that I accomplished everything that I needed to for that day. As you can imagine, my desk was a mess and at times I would lose a piece of paper only to remember that I forgot to do something too late. This method simply was not working for me, but it was the best way I had found so far to keep my life on track and organized.
Thankfully I did find something better, actually I was directed to it by my bestie, Stephanie from The Multi Taskin Mom! She loves to be organized just as much as I do (if not more!), so when she finds something she loves she knows that I will love it too!
Erin Condren's Life Planner is by far the best planner to keep your life on track! Instead of having multiple slips of paper (or sticky notes!) all over my desk, I am able to have everything that I need to get done each day of the week listed in one place! There are two layout options for this planner, vertical and horizontal, for myself I find that I am able to keep my life on track best with the vertical weekly layout option.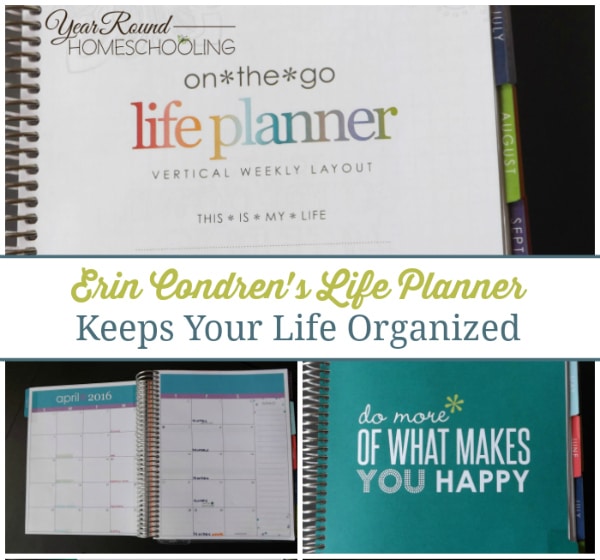 The monthly calendar I use to plan out my blog posts each month and add appointments for our family, my business and our family business. I use different colored pens to keep the monthly calendar best organized.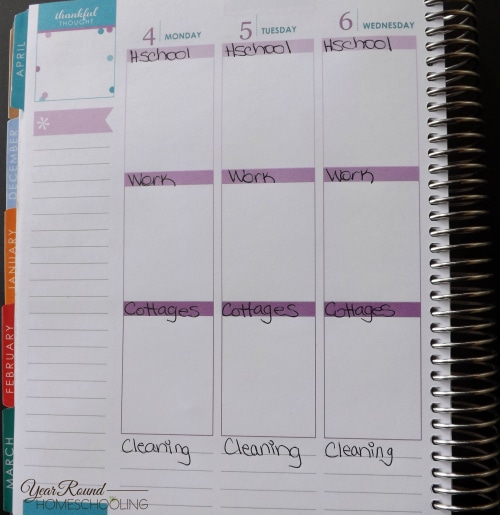 The weekly calendar I use to categorize every aspect of my life; homeschooling, online work, our family business and homemaking. Every day I fill in each section with what I need to accomplish that day. The lines on the left of the weekly calendar I use to list things that I can work on if I get everything done ahead of time on different days during the week. When I finish a project throughout the day, I take time to highlight it on my weekly calendar. I find that by marking off what I have done it helps me stay focused on what else I need to get accomplished that day and it keeps me motivated.
At the beginning of each month there is an inspiring quote to help you get started with encouragement before you begin planning your life. I don't like seeing time pass too quickly, but I do look forward these quotes as each new month begins. Staying motivated to keep my life on track is important because without motivation I would not be able to get everything done that I need to each day.
If you have a lot to organize for your family or you need a better system to keep your life on track, I highly recommend the Erin Condren Life Planner. You won't have to purchase another product or resource to ensure you get everything done each day, this is the only planner you will need for every aspect of your life.
What planners have you used in the past to try to keep your life on track?