We all know that knowledge does not come only from lessons given in a textbook. Our children learn in many different ways through many different experiences. It is a good thing to give them credit for those educational experiences. However, how do we keep track? How can we give them credit? One way a parent can track high school credit hours for those outside-the-box learning experiences is a simple system using index cards.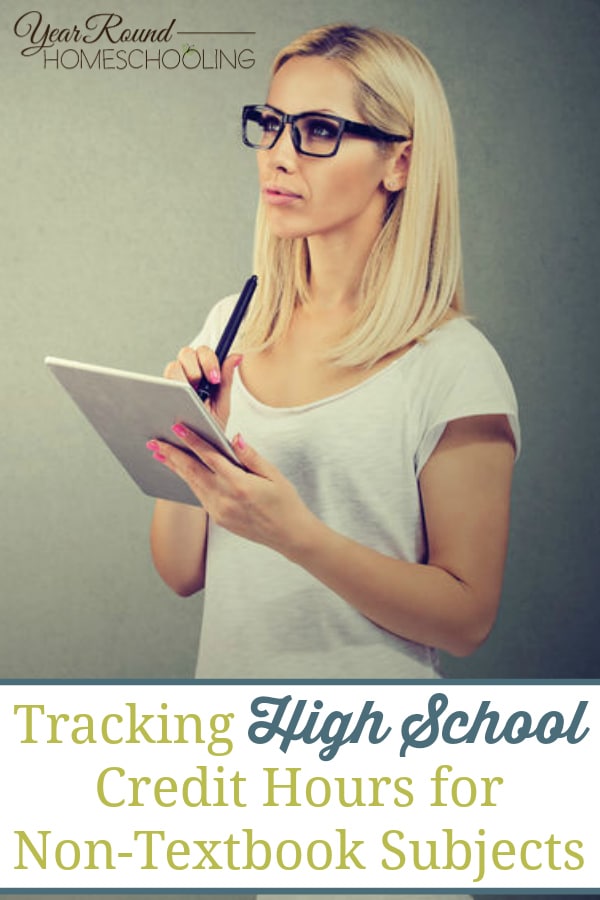 As you plan courses for your high school student, brainstorm a list of interests, hobbies, areas of study they are involved in or planning to be involved in. Some examples might be Auto mechanics, Gardening, Drawing, Music and Volunteer Work at Community Center (the possibilities are endless.)
Next, label an index card (3×5 or 4×6) with a title description of each category on your list. You can choose broad categories such as Science, Performing Arts, Life Skills. Or you can choose specific titles such as Dance, Painting, Sports. It's your choice. This is for your reference later so it needs to something that makes sense to you. Keep these cards handy in a file box or binder so you can access them often through the year.
When your student spends time researching, participating, creating, etc whithin a particular discipline, record the amount of time they spent – minutes, date, brief description of activity. Over time, you'll see the minutes add up to hours and the hours add up to a quarter credit, half credit and more. These credit hours are what you'll record on their transcript with the name you give that class/course.
Here's an example:
Your daughter enjoys music. she plays piano and uses her talent to accompany a group from church when they sing at a local nursing home. She performs a piano piece and sings at this year's homeschool talent show. She also assists the choir director with the Children's Christmas Pageant. Each time your daughter performs, teaches or prepares for these, record the minutes on the index card labeled 'MUSIC' with a brief summary.
Let's say these were activities during her sophomore year. When you add them up you see they are the equivalent to half a credit hour. That's a semester worth of music class in her 10th grade year. You can record it as such, or you can continue adding the time for similar activities throughout her junior year. At the end of 11th grade, she has enough time added up to equal one full credit, so instead of the half credit that first year, you record a full credit hour for Music class on her transcript.
Keeping a running tally of time spent learning in any given area is an easy way to keep track of high school courses that happen outside of textbooks and away from the typical school desk. My own children have earned credits from our homeschool in Early Childhood Education, Computer Programming, Agricultural Science and Auto Mechanics, all documented using this method.
In mainstream education, it is a common practice to give teens high school credit hours for work-study or apprenticeship programs. Homeschoolers have those same opportunities for a well-balanced education and it's as easy as marking down the minutes.
It is important to know the homeschooling laws and requirements for graduation in your own state, so be sure to check for those as you work through those high school years. Think creatively about ways you can help your child gain skills and knowledge he/she needs in order to accomplish their goals and be ready for graduation.
How do you keep track of high school credit hours for your kids?
_______________________________
Linda Sears is a stay-at-home wife, homeschooling mom and doting grandmother. They have been homeschooling for more than 25 years, graduating 4 of their 8 children, with 4 more to go. You'll find her at Apron Strings & other things where she shares tidbits, tales, tricks and tips from her days of raising children in various stages of cutting those apron strings. You can also find her on FaceBook, Pinterest, and Google+
.