Science classes, particularly lab classes, are one of the reasons some parents choose to enroll their secondary students in traditional classroom schools. We can become intimidated by secondary science because we remember lab tables with black tops and stories of chemistry experiments going awry with smoke and flames.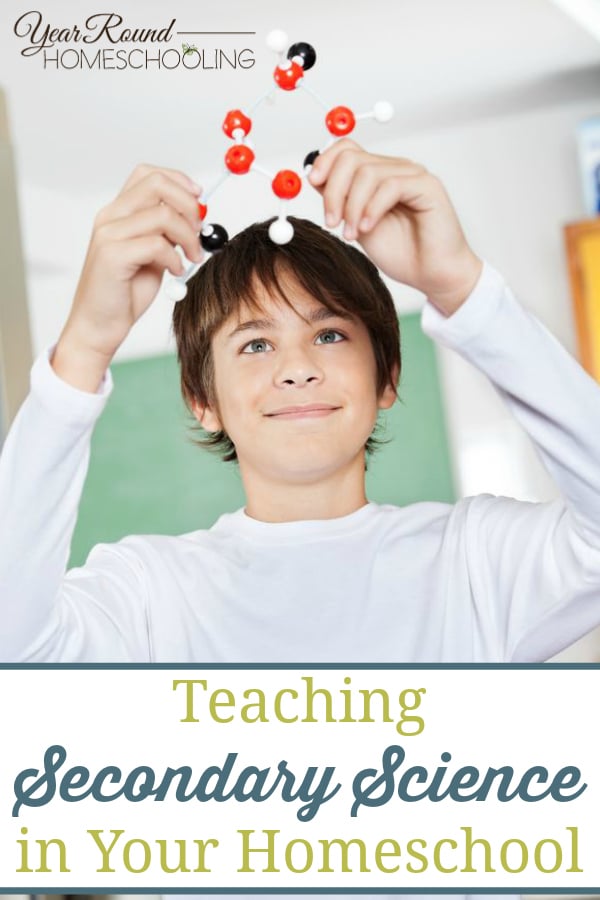 I taught three high schoolers the secondary sciences – biology, chemistry, and physics – and lived to tell about it. I learned while trying to muddle through a standard high school science textbook that lab science is experimenting, or playing around, with stuff to find out what happens. Science is something students do.
Lab Equipment
We've been conditioned to think that lab equipment is specialized and expensive. We can't imagine teaching any of the sciences with test tubes, Bunsen burners, and microscopes. A microscope is needed but not an expensive electron microscope. Most of the items needed for science labs
can be found around the house or can be easily purchased.
Chemistry
Chemistry labs need chemicals, right? Below is a list of the most commonly used chemicals in high school textbooks:
sodium bicarbonate
H4Al2Si2O9
acetic acid (HC2H3O2)
NH4OH
H2O2
sodium chloride
citric acid
sodium hydroxide
carbon dioxide
magnesium hydroxide
Ha4B4O7
boric acid
Some of these are recognized easily. Others not so much. All of these items can be purchased at a grocery store, drug store, or online. Some of them are already on our shelves. (Here's a "translation" list of these chemicals.)
Physics
Physics is the study of the physical universe; laws that keep the planets moving, people from falling from the earth, and machines in motion. However, an in-depth study of physics is math dependent. However, for most of our students, an overview is fine.
Here's what is needed, many of which you can find around the house or garage.
batteries and wire
magnets
light sources
prism
sound makers
simple machines
things to take apart
We found some of our best physic projects in older Boy Scout Handbooks. Electricity and electronic project kits, often found in toy sections, are also great resources.
Biology
Biology is about life; life of all kinds. Life is everywhere and we can study this life from home. It's a little different than the other two sciences. It doesn't require a lot of equipment: some dyes (food dye generally works), a microscope, and maybe dissection material. Let's look at what's around our homes for biology labs.
Outdoor labs – No matter where we live there are plants, birds, bugs, and other living things we can observe. Set aside an area of the backyard for no maintenance, no human intervention. Then, watch what grows and lives there. Take time to examine the soil to identify insects and soil composition.
Ponds – Not those fancy fish ponds with plastic liners. I mean a pond like might be found out in the woods. Even on a small lot in the city, a pond is possible. We took advantage of a dripping faucet. Our little pond was about one foot in diameter and six inches deep. The dripping faucet kept the water fresh and mosquitoes at bay. We had birds, lizards, butterflies and bees all come visit now and then. We examined the pond water with our microscope.
Dissection – The first question is often "Do I have to do dissection?" No. Court rulings have stated students cannot be forced to dissect an animal. Besides, many of us can only remember the horrible smell. Computer programs, coloring books, and websites will teach the same thing without the mess.
Garden – The best way to study plants is by growing plants. Whether it's a vegetable garden, flowers, or trees, students can learn about plant life by planting and maintaining. Gardens can even be grown indoors.
Science Books
Our family used lab books and project books for our science program. It isn't necessary to do every experiment in those books. I didn't really want to do nuclear science at home. Most of the lab projects used the simple materials I've listed above. We had some textbooks to use for reference along with an encyclopedia. We also found supplement materials at the library.
Encyclopedias and textbooks will help with general outlines of what is in each of the courses. Having a list of general topics helps us know if we've covered the basics. Remember, it isn't necessary to cover everything in detail. Sometimes our students only need to be familiar with the topic.
Also remember beyond secondary science labs, our students can also study the history of a topic, biographies of a scientist and science careers.
Other Teaching Resources
Videos and internet sites are also available. iTunes has apps available for teaching a variety of subjects. A couple of apps I'm familiar with are iTunes U and Open University. (Preview the videos and podcast to understand the worldview.)
For those of us who are raising a rocket scientist, what we're able to teach at home may only be an introduction. Many community colleges allow high school students to take courses for high school credit. Some students start their college education with these advanced classes from community college.
For most of us our children need exposure (meaning everyone should have some experience with but not necessarily a working knowledge) to
the various sciences rather than mastery. Teaching science in high school can be as easy as gathering the family together and learning about the world around us!
How do you teach secondary science in your homeschool?
________________________
Known for practical solutions to real-world situations, Susan K. Stewart is a teacher, writer, and speaker. Susan is the author of three books,
including Preschool: At What Cost?, Science in the Kitchen: Fearless Science at Home for All Ages, the award-winning Formatting e-Books for Writers and recently released Harried Homeschoolers Handbook.. Susan and her husband, Bob, began teaching their children at home in 1981 and are considered pioneers in the modern home education movement. The Stewarts live in Central Texas with their three dogs, three cats, nine chickens, and a donkey. They have three children and five grandchildren. You can read more of Susan's practical solutions at www.practicalinspirations.com.