It is hard to believe that the New Year is just a few days away. I love the beginning of a New Year because it allows us to start fresh, with a clean slate. I have a specific way that I prepare for a New Year. For several years my kids have been wanting to ring in the New Year with me. I always laugh when they ask to stay up and watch the ball drop. I think the last time I saw the ball drop was in 2000 because of Y2K. This year I decided that it was time to have a bit of fun with my kids on New Year's Eve, so unless something drastically chances in the next few days we'll be watching the ball drop together. While we're waiting, we'll be having fun counting down to the New Year with this New Year's Eve Kids Fun Pack!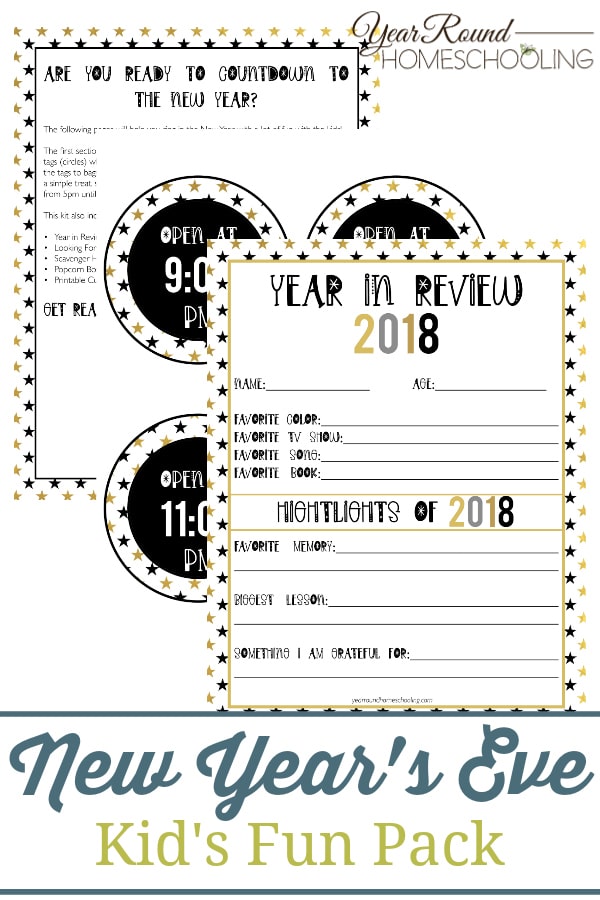 Inside this New Year's Eve Kids Fun Pack you'll find printable cupcake wrappers and toppers, a year in review page, a printable popcorn box and more!

The following two tabs change content below.
Misty Leask
Misty is a Daughter of THE King, Texas girl always, Navy brat at heart, loving Fisherman's wife, blessed mother of 2 and founder of Year Round Homeschooling. She is passionate about being real throughout all of life's struggles, successes and dreams. Her heart is full of ideas and passions, but the hours in her day never multiply to get it all done. Misty loves writing and reading in her spare time. Music and photography are favorite past times of hers as well. You can find her on
Facebook
,
Twitter
,
Instagram
and
Pinterest
Latest posts by Misty Leask (see all)