When we began our official homeschool journey in 2006, I wanted a gentle approach to kindergarten. I wanted it to be filled with plenty of good reading material mixed with the fun of plain old-fashioned coloring, cutting, and pasting. So, I began to research different homeschooling methods and styles and that is when I was first introduced to lapbooking.
What is a lapbook anyway?
A lapbook is a visual representation of a topic and the knowledge acquired while studying that topic. They are usually constructed from 2-3 file folders put together using glue, staples, or even decorative duct tape. Students complete mini-books, charts, graphs, lists of facts and dates, timelines, maps, and more to attach to the folders, which serve as the base to display all of the information.
If you're unsure of how to make one, A Journey through Learning (one of my favorite lapbook companies) offers these free videos to learn more:

Lapbooking for all subjects
In our years of lapbooking, we have covered all subjects from math and science to language arts and history. We have completed lapbooks to accompany our reading of Little House on the Prairie and Mr. Popper's Penguins. We've done lapbooks about the Great Lakes for geography and history, as well as basic lapbooks covering early reading skills. It's possible to cover any subject you happen to be studying with lapbooking!
Lapbooking for all ages
We began lapbooking when my oldest daughter was in kindergarten. She's now 12 and still enjoys lapbooks. Her skill level and sophistication have grown through the years to reflect her maturity. Many lapbook companies offer selections through high school age. If your children enjoy adding some hands-on arts and crafts to their lessons and like to make their work visually appealing, lapbooks are a great choice no matter what age your children are.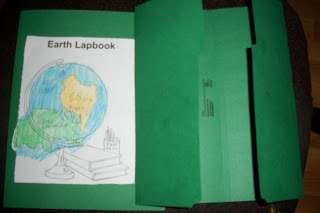 Lapbooking for all learning styles
If you choose child-led learning or even unschooling, lapbooking is a great way for kids to explore their interests and put together a project on what they have learned. Charlotte Mason homeschoolers can make lapbooks of their nature walks, just like a nature journal. We are relaxed, eclectic homeschoolers and have found many occasions to make a lapbook when we want to add some creative learning fun to our studies.
Lapbooking for all budgets
Since lapbooks are made from common supplies like glue, crayons, paper, and file folders, they are affordable for most budgets. Lapbook study guides and templates can be purchased for as little as a dollar up to around $20. There are even free lapbook study guides available at Homeschool Share or you can design your own for free.
I have created a Pinterest board for lapbooking so be sure to check it out for more ideas to inspire your creative learning!