I am the first to admit that I wish I had never said yes to video games. However, I've put together this Video Game Unit Study to encourage you and myself to see how educational video games can be.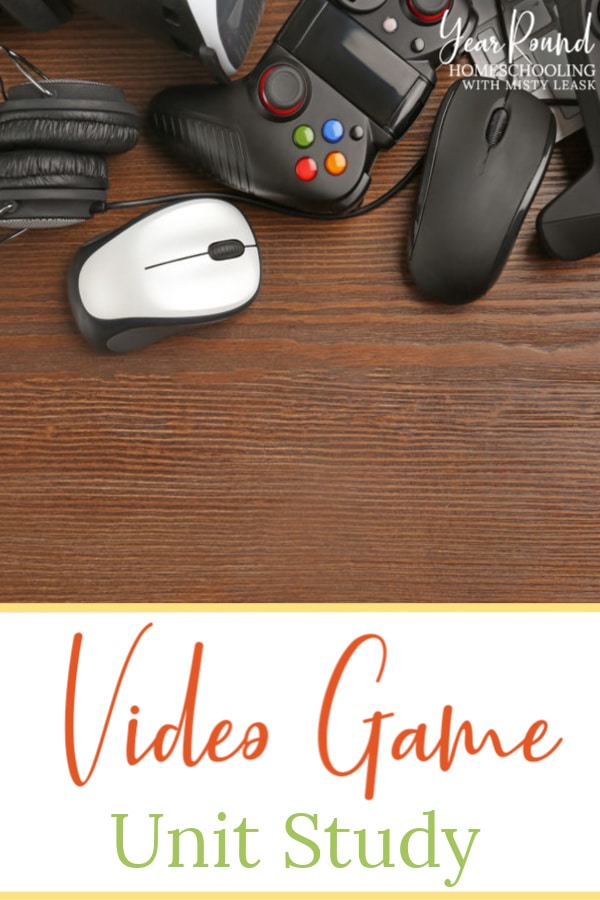 Are you tired of fighting with the kids to turn off Mario or stop talking Minecraft? Instead of fighting it, have you considered incorporating it into your homeschooling?
Just how educational are video games? That is still to be determined fully, but studies have shown that those who play games like Tetris develop a thicker cortex.
Whether we like technology or not, it is important now and in the future. It is highly likely that our children will need technology even more than we can imagine throughout their lifetime.
It is our responsibility that they know how to use it properly, understand the tool it is and learn how to limit their time on it so it doesn't overcome their lives.
There are many ways that you can use video games to teach your children important things. There are also plenty of video games that already have some educational benefits built right in!
The ideas below are to help you get starting. Begin by giving your students a few tasks from the list. If they're ready for more of a challenge, you can also assign everything to create a larger unit stud.
Be sure to give your teens the opportunity to show you how educational their favorite video games are as well.
Video Game Unit Study
Research the history of video games. Find out about specific game systems or games. Who invented it? Where are they from? What was the first system? The first game?

If the game is based on a real place, research the location, tell about it.

Watch Video Games: The Movie.

Write a story or a few paragraphs based on your favorite video game character and their adventures in the real world.

Learn how to create your own video games to learn skills such as coding, problem-solving, critical thinking, reading comprehension, cognitive development, working memory, computer fluency, and for stress relief. Here are a few options I found that can get your child started.
Listen to these Ted Talks on video games.
Make a PowerPoint presentation explaining how and what video games can teach you.

Create your own infographic or brochure to promote your favorite video game.

Read up on the history of video games on the Smithsonian Institutes website.

For art draw, video game characters, make them from Perler Beads, or out of clay. Use the same mediums to create your own new and unique character.

Figure out what percentage and fraction of the day you play video games.

Write/type a step by step tutorial for your parents on how to play the video game of your choice.

Practice handwriting by listing your favorite video games in order of preference, use your neatest handwriting.

Use Pokemon Go to explore your neighborhood and community, make a physical map of Poke Stops and Gyms. This also gives you a nice chance to get some fresh air and exercise.
Some video games have a great educational value already and can be used as brain breaks, rewards and as part of your curriculum.
Tetris- Tetris is beneficial because it builds skills in logic, problem-solving, spatial perception.

Minecraft- It already has many educational benefits but you can make it even more so by giving your child challenges. They could study a country and create a landmark from that country in their Minecraft world. You could also have them create a periodic table using elements in the game.

Scribblenauts- It may seem silly, however, this is a puzzle game that will exercise their brains. They type in words from a list of over 22,000 and objects will appear to help them solve the problem,

SimCity– This PC game can be valuable in teaching planning, cause and effect, sustainability, problem-solving, human impact, and understanding how cities grow and work.

National Geographic Challenge– This one is just for Xbox but it is a great way to build your child's geography knowledge through quizzes, puzzles, and play.
While I do not believe that video games should be part of every day of your homeschooling journey. There are benefits to allowing your children time to learn through video games.
A video game unit study will not only give you a glimpse into their world, but you just might see educational tidbits you never would have discovered otherwise!
Do you feel like your children are video game obsessed? What is your favorite tip for making them a little more educational?