Every state has requirements of some sort for their homeschoolers and most states have a minimum homeschool day requirement. Since every year has it's own struggles, we never know what will happen in our lives throughout each year. This can make it difficult to "catch up" on homeschool days when life has thrown a wrench in your plans…unless, you are a year round homeschooler.
As a year round homeschooler you don't have to worry about meeting your state's minimum homeschool day requirement, because you're utilizing all 365 days for your homeschool year. When you take into account the fact that most states require 175-180 homeschool days and realize that you have 365 to use in a calendar year, the stress of meeting that minimum is now eliminated.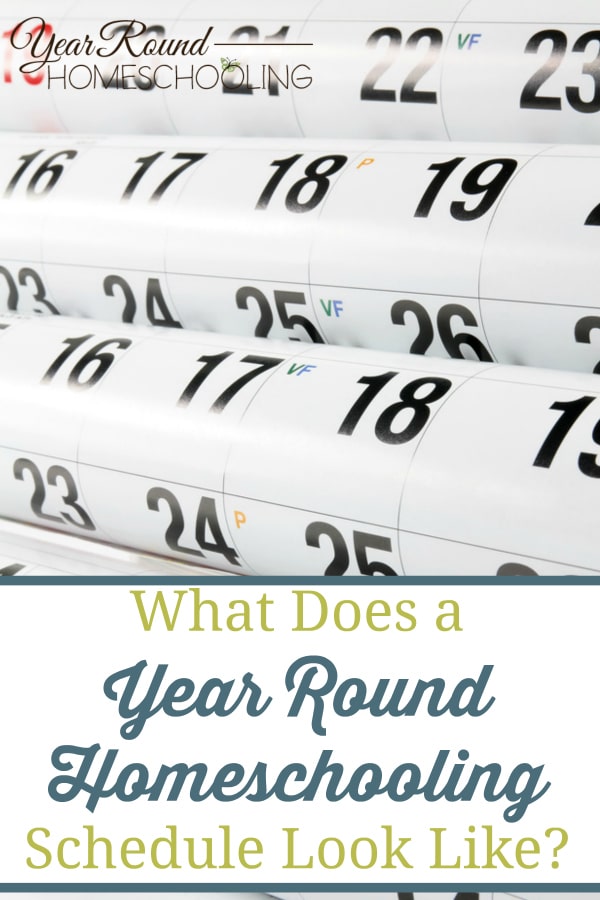 The beauty of year round homeschooling is that you don't put an entire year's worth of learning in a 9 month box. Another benefit is that homeschooling doesn't have to be done Monday through Friday only, weekends can be a great resource for homeschooling!
Year round homeschooling does not mean that you do school all 365 days of the year, it just means that you don't homeschool September through June only. The hardest thing to get over when changing to a year round homeschooling schedule is that you will no longer have summers off. Yet, summer can be a wonderful time to do lots of outdoor science related homeschooling and in the south it can be a blessing to have something to do on the days when it is simply too hot to play outside. One of my favorite things about homeschooling in the summer is that I don't hear the words, "I'm bored", nearly as often as I did when there was a 3 month break between homeschooling.
[Tweet "Year round homeschooling does not mean that you do school all 365 days of the year. #YRHTips"]
If you're considering a year round homeschooling schedule, instead of looking at year round homeschooling as losing your free summer, take into account that you'll be able to take time off whenever you want or need to throughout the entire homeschool year without worrying about how you'll make up the days.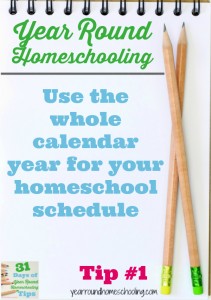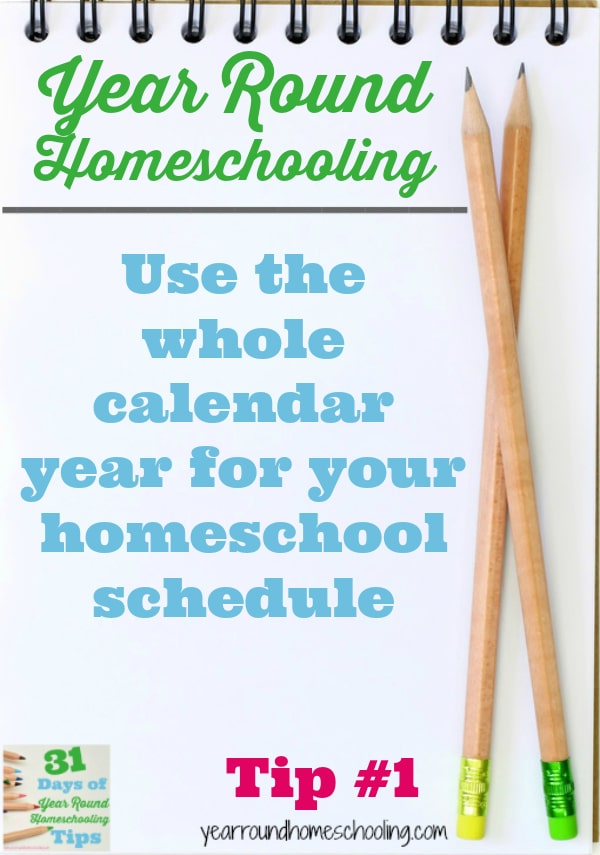 Year round homeschooling is a great way to prevent homeschool burnout, mom stress and increase hands on learning activities!
Every homeschooler should consider all of the benefits there are to following a year round homeschool schedule. Throughout the month of July we'll be sharing year round homeschooling tips, to hopefully encourage you to consider trying year round homeschooling and stepping outside the box of a 9 month school schedule.

You can find the rest of the Year Round Homeschooling Tips from this 31 day series here