As a second generation homeschooler I had no idea that there were different types of schedules that homeschoolers could follow. I only knew the schedule that my mother had followed with my brothers and I, so when we began our homeschooling journey we started the Monday after Labor Day and ended the last day of May. After all, isn't that the schedule school is supposed to follow? Summers aren't meant for homeschooling…or are they?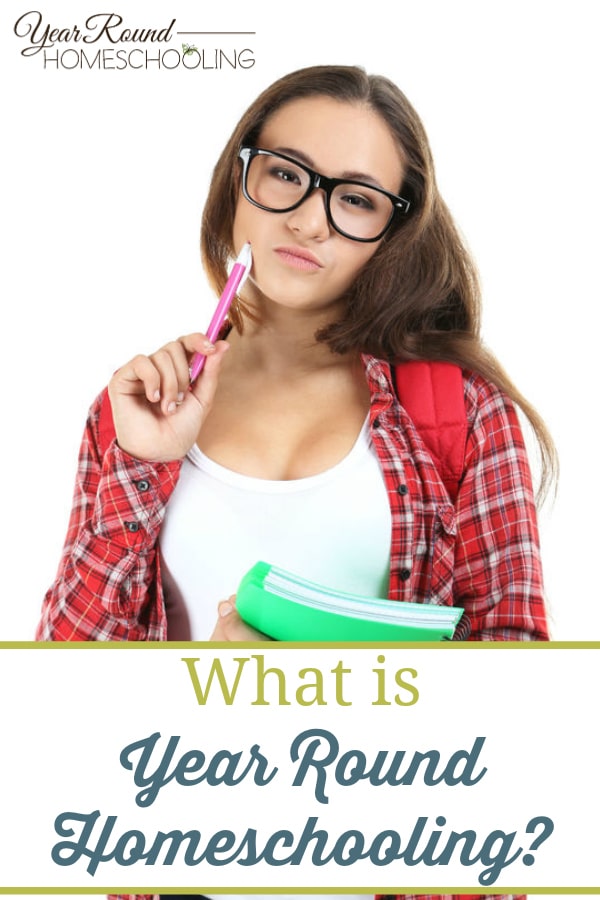 The truth is that you can follow (or create!) whatever homeschool schedule that works best for your family. There is no set schedule that is required for homeschooling. When I discovered this fact, I was thrilled! I knew that the typical 9 month school schedule was just not working for our family. We needed more flexibility and taking 3 months off meant that I heard the words, "I'm bored" way too often.
If your homeschool schedule doesn't seem to be working or if you are just starting out on your homeschool journey, you may be asking yourself…
What is year round homeschooling?
The answer truly is more simple than many homeschoolers realize, but simplicity is exactly what busy homeschool moms need!
Year round homeschooling is using the entire calendar year (all 365 days!) to your advantage as a homeschooler.
That being said, many times people tend to over think this concept by asking questions like…
If you homeschool year round does that mean you do school EVERY SINGLE DAY?
As a year round homeschooler you must not get to take breaks very often?
"How can you homeschool year round? There is no time for reset or rest with that type of school schedule!"
These are the types of questions I have been asked since we began year round homeschooling and they are valid questions, so let me answer them for you!
While there are 365 days in a year, most states require only 180 for a complete school year. So, when you take this into account that means that you have more than double of the required days to homeschool your children as a year round homeschooler.
So. that means…
We do not have to do school every day (unless our child(ren) wants to!)
We get to take MORE breaks and LONGER breaks than we did prior to year round homeschooling
As year round homeschoolers we can rest and reset our homeschool year(s) as often as we'd like because we have double the amount of school days we need by following the full calendar year!
Homeschooling should provide freedom to families and when you're stuck to a 9 month schedule freedom is often not part of your homeschool. Year round homeschooling allows you the freedom to love, learn and live life while educating your children! 
What questions do you have about year round homeschooling?