Enjoy the last days of summer with your kids using the fun holidays and activities inside this August Homeschool Planning Pack.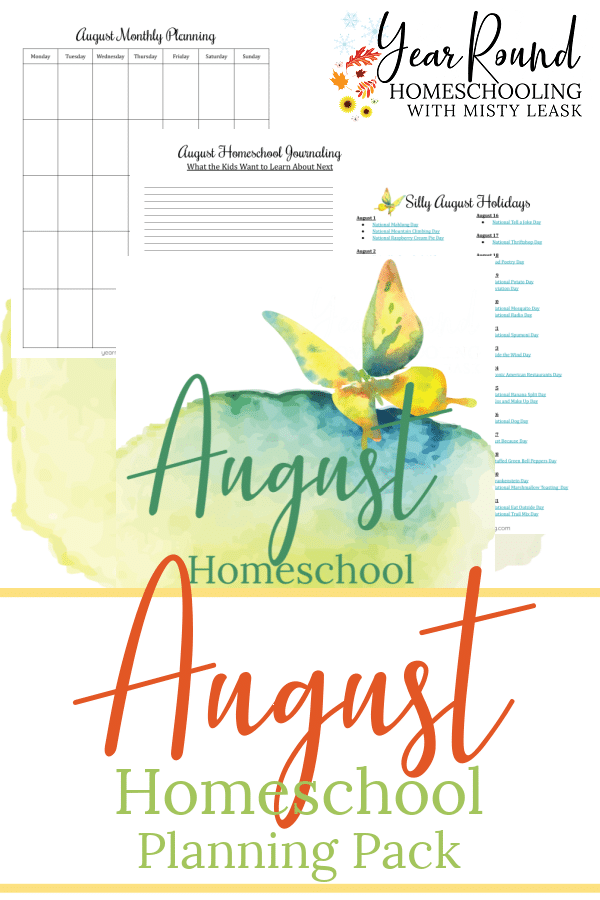 Throughout our homeschooling journey, August has typically a slow homeschool month for us. One reason is that I've been busying preparing all of our homeschool curriculum and resources for the new homeschool year. The second is because I'm trying to squeeze in as much time in the summer sun that I can since Maine doesn't get much of it.
I've always included some time learning and having fun in August with my kids, so I love using the silly holidays throughout the month.
It was our summer homeschooling that actually inspired these homeschool planning packs. Summer needed to be filled with lots of fun learning activities as we transitioned to year round homeschooling.
Over time, our school year looked the same no matter what month it was. I continued to include as many fun learning opportunities as I could year round because I wanted my children to love learning.
Not everyone loves to learn in the beginning, but I do believe that everyone can be taught to love to learn. The key is to inspire kids to love learning from an early age.
How do you do that?
By giving them opportunities to learn about things that interest them as often as possible
Including lots of fun activities that coordinate with your curriculum/schedule
Inside this August Homeschool Planning Pack, you'll find fun holiday learning resources, weekly and monthly planning pages and homeschool journaling pages for you!