Encourage your kids to not only learn but remember all of the symbols from their music class using these Music Symbols Puzzles.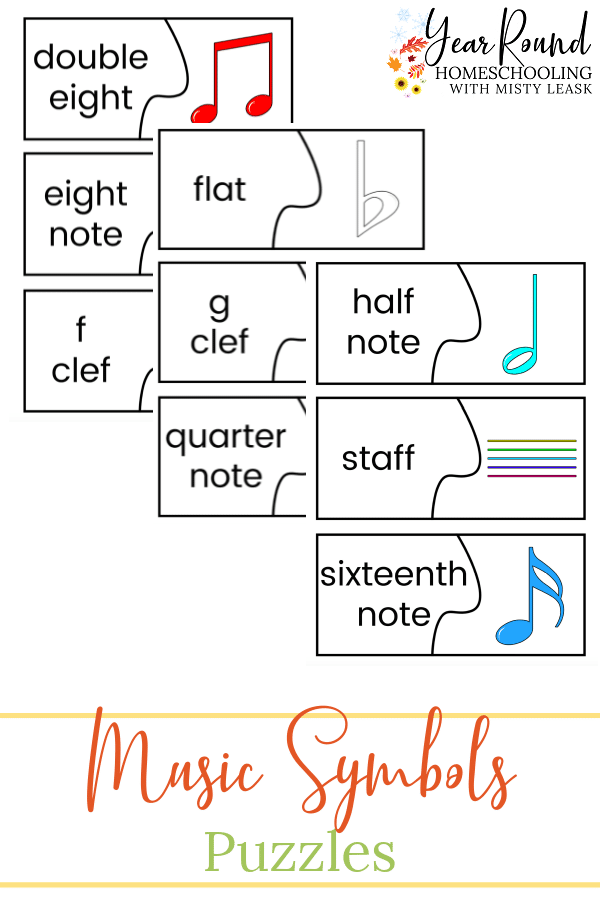 I love music. One of my favorite sayings is, "Music is the voice of the soul".
While neither of my children inherited my love for playing music, it is a large part of their daily lives.
I've always included music in our homeschool. From piano lessons to orchestra concerts, my children have been exposed to music from the very beginning of their lives.
Thankfully, just like I'm not artistic, but still include art in our homeschool, you don't have to be musical to teach music in your homeschool.
There are countless resources available for teaching your kids about music. One of the added benefits of homeschooling your children is that you get the opportunity to learn alongside them.
So, if you don't know what music symbols are or what they mean, that's ok. Have fun putting together these fun puzzles with them and learn all about music symbols.
They aren't hard to learn and once your kids learn to recognize them, it will make both rhythm and music a lot more fun for them.
These Music Symbols Puzzles feature eleven different music symbols in both color and black-and-white to make learning to recognize music symbols fun.