As a Christian homeschool mom there never has been enough of the "right" Easter resources online for me to use in our homeschool. The internet seems to be flooded with bunnies, eggs and chicks, but that isn't what Easter is about. It is what the world has accepted and yet it is so much more! The tomb is empty! He is risen indeed! You can begin teaching your children the true meaning of Easter with this Easter Scripture Handwriting Pack for PreK-Kindergarten.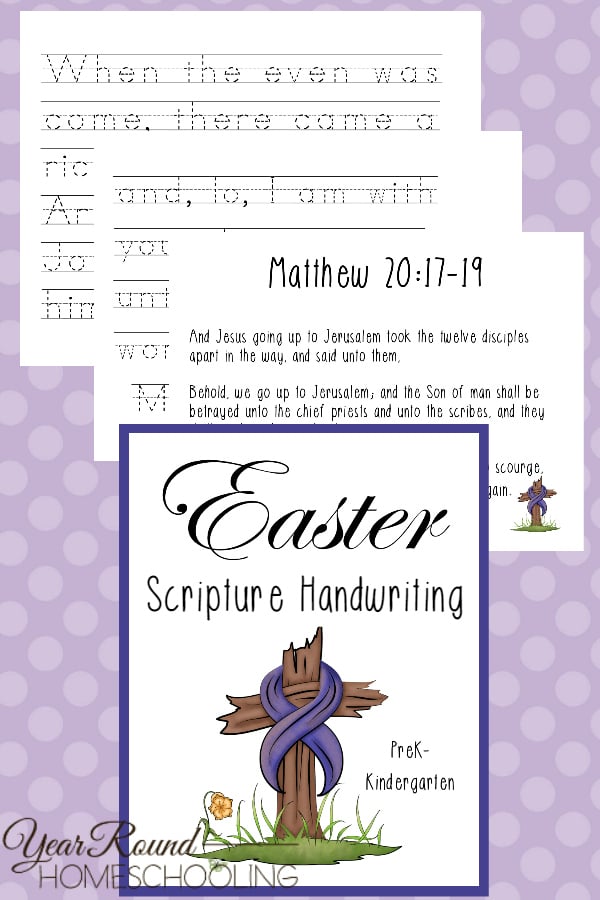 It is my prayer that this pack will be helpful as you teach your preschoolers and kindergartners! As they practice their handwriting skills they will be learning the truth about Easter. It will also enable them to start memorizing God's Word. Copywork has many benefits beyond just working on good penmanship, children learn so much through copying important texts.
You'll find that all of my Bible resources for your homeschool are located here – and more are still to come. Bible class tends to be dropped because we don't see it as important as Mathematics, History or the Fine Arts. However, what your children learn through the Word of God will take them farther in life. They need to know the Bible for what lies ahead.