Sharks are an amazing study to complete with all of your children — no matter their ages. They are simply fascinating creatures of the deep. Often they are misunderstood and children have incorrect beliefs about them. This is just one reason why a shark study should be part of your homeschool plans!

Since scientists are always studying sharks and discovering new information all the time, you could complete a shark study every year and still learn new things.
Early elementary students would enjoy watching shark science videos, completing shark-themed science experiments, reading books and writing reports about sharks.
The key to raising lifelong learners is to teach our children to love learning. Homeschooling provides countless opportunities to do just that!
Over the years I've learned how important it is to make education fun in order for my children to love learning. I designed this 1st-2nd grade shark learning collection for you to use with your children as you encourage them to enjoy their homeschooling journey.
1st-2nd Grade Shark Learning Collection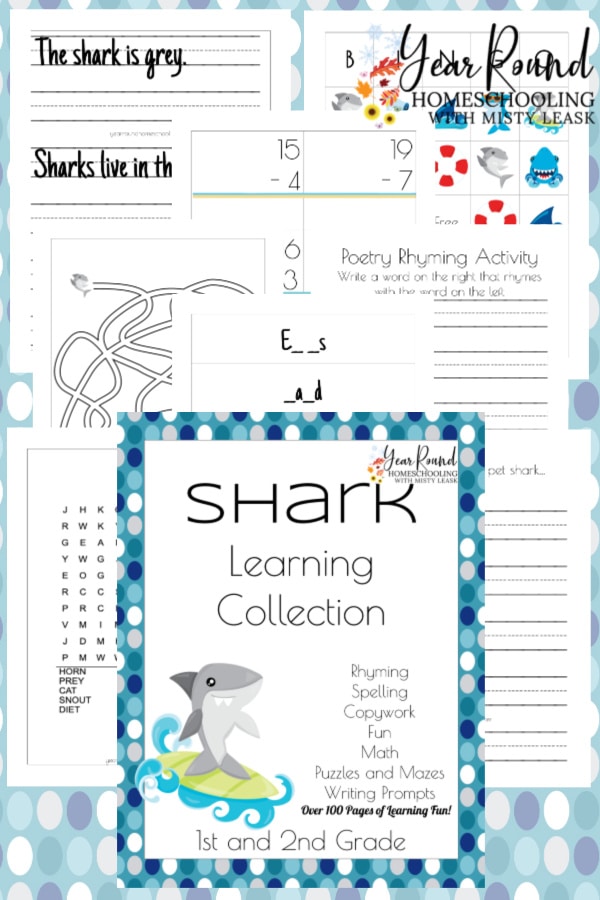 This 1st and 2nd Grade Shark Learning Collection provides a great opportunity to make learning fun for your early elementary students!
It features over 100 pages of fun learning activities that are broken down into 8 individual packs for easier use. This will allow you to pick and choose which activities you want and skip those that your students don't need or won't enjoy.
You won't have to create any lesson plans for them for quite a while! Inside you'll find over 100 pages including…
Spelling Pages
Puzzles
Mazes
Math Resources
Rhyming Exercises
Copywork Practice
Word Searches
Writing Prompts
and lots more fun stuff!
As much as children think that they would like to be able to do what they want when they want all day long. There will be days when your children come to you and use the words "I'm bored".
This collection provides something for your kids to do that is both fun and educational. It is also a great addition to a unit study or Shark Week for early learners interested in learning about sharks!
The activities included in the 1st and 2nd Grade Shark Learning Collection are both fun and educational! Bonus?! I've done the work for you! All you have to do is click print!
You don't always have to put in a lot of time creating lesson plans or a curriculum to teach your children. Sometimes you just need a break from homeschool planning. You can keep your kids busy learning without them even realizing that's what they are doing using this fun collection of educational activities!
$5 for the entire 1st and 2nd grade Shark Learning Collection! (But hurry this is a limited time offer! The sale ends August 8th!)