When we first became year round homeschoolers my children did not love the idea of doing school during the summertime. I slowly transitioned them to summertime homeschooling by giving them a couple of weeks to just play. Then I slowly started adding fun activities that were actually educational. They had no idea that it summer homeschooling. I've done the same thing every summer since we had our first 3rd-5th grade summer of learning!
The main reason children resist summertime homeschooling is because they want to have the freedom to do what they want all summer long. However, after 2-3 weeks of that freedom, they often find themselves bored and in need of some structure.
I do not for a moment believe that children need to be sitting at a desk all summer long completing every subject they study as part of their "normal" homeschool year. Rather, I encourage you to use summertime to build on what they've spent the last year learning teaching their children using fun activities that double as educational.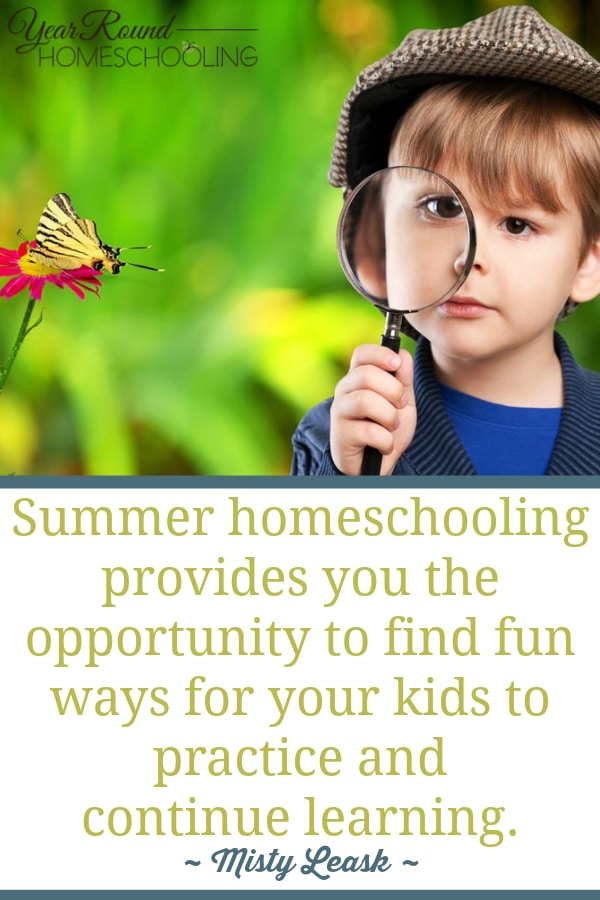 Throughout our children's entire homeschooling journey we are building upon their education. It builds over time. In order for our children to take the next step in their education, they have to be prepared. The best way to be prepared for that next step is to always keep what they're learning fresh.
Giving children the opportunity to practice what they've been learning is important. Summer homeschooling provides you the opportunity to find fun ways for your kids to practice and continue learning.
I believe that summertime learning should include nature walks, quality literature, field trips and fun activities. Which is why I designed a 3rd-5th grade summer learning collection to help you get started with fun summer homeschooling!
3rd through 5th Grade Summer Learning Collection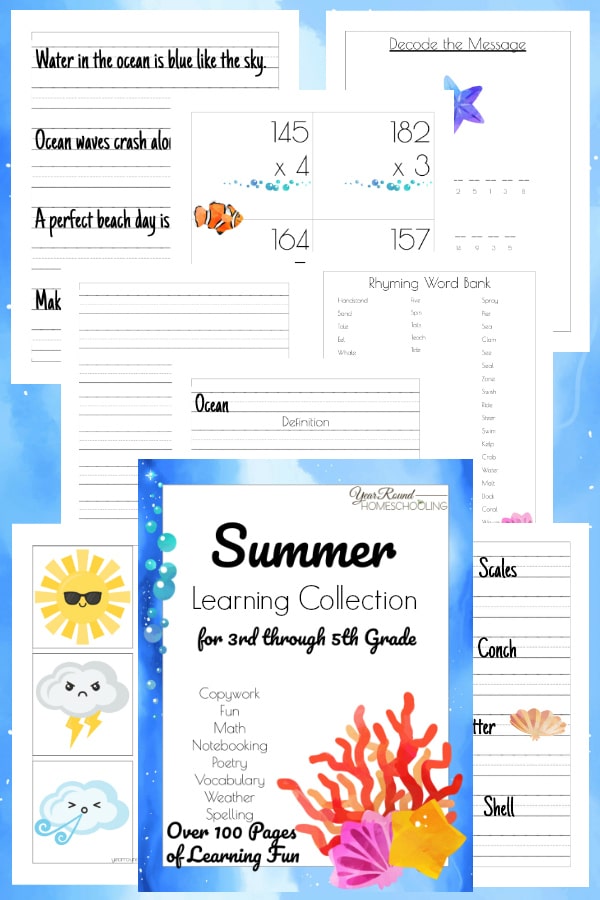 Your kids will have fun learning all summer with this collection! The 3rd through 5th Grade Summer Learning Collection includes more than 100 pages of fun-filled learning activities. The activities have been divided into 8 individual packs. This gives you the ability to pick and choose the activities that your children want and skip those that they don't need.
You'll find plenty of activities to keep your children busy learning all summer long! Inside you'll find over 100 pages including…
Notebooking Pages
Poetry Exercises
Vocabulary Activities
Math Resources
Copywork Sheets
Weather Projects
Spelling Practice
and lots more fun stuff!
What if I told you that you can continue your children's education all summer long and ensure they're having fun? What if I added that it didn't require anything from you aside from clicking a button?
The 3rd through 5th Grade Summer Learning Collection can do all that!
Your kids won't even realize that they're "doing school" when completing the activities inside this collection. They'll be too busy having playing games and learning in fun new ways! You don't have to put together lesson plans or use a curriculum to teach your children over the summer. Keep your kids learning without them realizing that's what they are doing using this fun collection of educational activities!
$7 for the entire 3rd-5th Grade Summer Learning Collection!