**Please note resources mentioned in this post may have been received for free. However, the reviews are my personal opinion. For more information, please see my disclosure page.*
Summertime is for adventuring! Kids love to go on adventures whether they're traveling to far off places, participating in a traveling circus, dancing as the prima ballerina in front of a captive audience or fighting off pirates with the dread Pirate Roberts! Most of the time these types of adventures are found in one of two places, either in your imagination or within the pages of a book. The long days of summer allow you and your children countless opportunities to have an adventure filled summer together!
Going into the summer season there are often big plans for adventure! There are plans to head to the beach, taking field trips that didn't get completed during the rest of the homeschool year and maybe even fitting in a trip to the water park just for fun. As a family these are summer activities that we have grown to look forward to each year. However, we're finding that with our family business we are unable to get away as often as we'd like during the summer months. Then when you take into account the rainy summer days as well, summer adventures aren't as always easy to come by.
Thankfully all adventures do not require travel. In fact, some of our favorite summertime adventures haven't required us leaving our home!
My children and I have had lots of homestyle adventures in the summertime. We've built forts outside, spent time planting gardens (both vegetable and flower!), tubed in the lake, participated in kayak races, hiked local mountains, walked to the park for picnic and play day, built fairy towns and much, much more! While some of our homestyle adventures may not be options for you because of where you live, I hope you'll use these ideas as a springboard for fun summer adventures for your family!
Our favorite summer adventures have been found within the pages of a book. Recently we've traveled to far away lands with Aladdin, sailed on the ocean with Captain's Courageous, discovered the value of friendship with Anne of Green Gables, solved mysteries with the Hardy Boys and Nancy Drew and many other fun filled adventures!
When my children were younger the adventures we found within storybooks are still remembered today! Skippyjon Jones was one of our favorites with The Bad Case of the Stripes, I Love You Stinky Face and The Boxcar Children following closely behind.
While my children don't need me to read aloud to them anymore and they are beyond the typical storybook age, we still enjoy having read aloud time together. Storybooks are often what I reach for as our read aloud because our schedule doesn't always allow for read aloud time every day/night and storybook adventures can be completed in one sitting.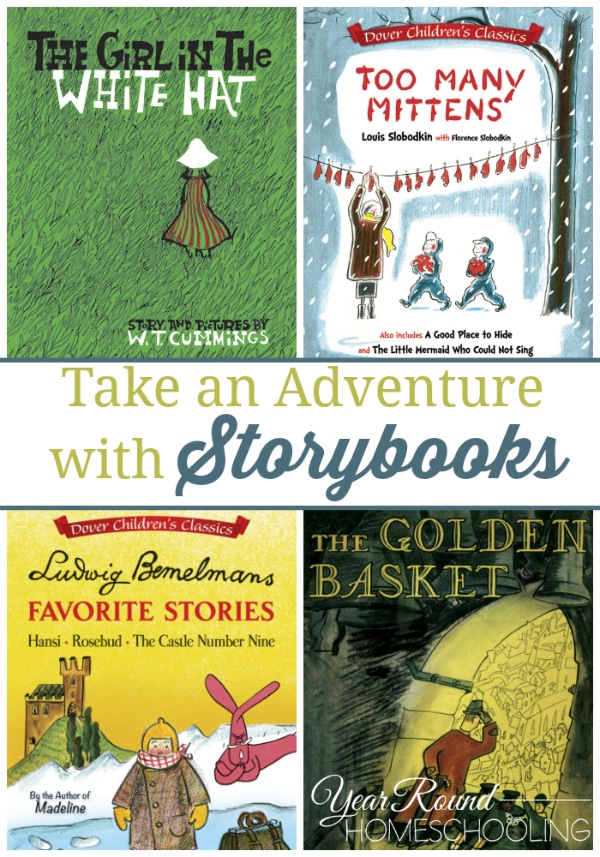 One of the places that I find new storybooks that both my children and I love is from Dover Publications. It is no secret how much I love using their books and resources in my homeschool. I've shared how much my kids loved their creative writing resources, their middle school historical fiction and drawing instruction books before. One of my favorite storybooks from them is, Simon in the Land of Chalk Drawings, I love how it inspires individuality!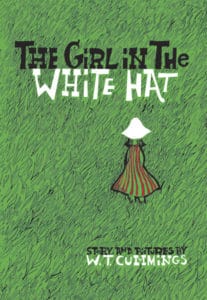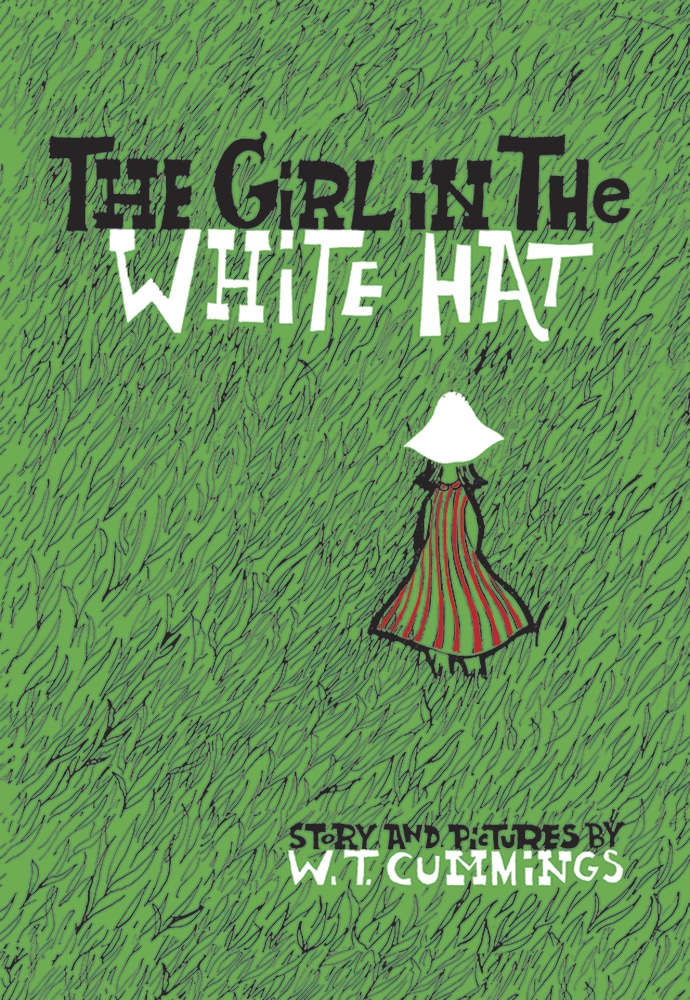 The Girl in the White Hat is a lovely adventure story of a girl who wanders upstairs in her grandmother's house and discovers a white hat in the dusty attic. She discovers that when she places the white hat upon her head that she is able to travel anywhere her imagination can take her! Her adventures include a trip to the circus and birthday party with delicious cake and fun times with friends! This storybook's adventures captivates children as their imaginations soar along with The Girl in the White Hat!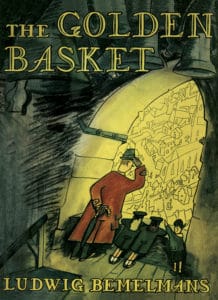 Two little girls arrive at a hotel, The Golden Basket, with their father, Mr. Coggeshall, late in the night. Throughout their stay they experience adventures with new found friends, Monseiur Carnewal, Jan and others! Children will enjoy traveling with Celeste and Melisande throughout the hotel as they discover Jan in the room high above their own, when they take a trip to one of the large cathedrals of Bruges and while they visit the chef in his own kitchen!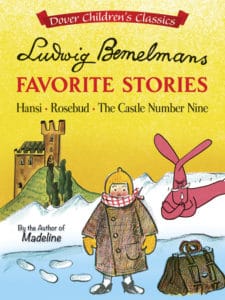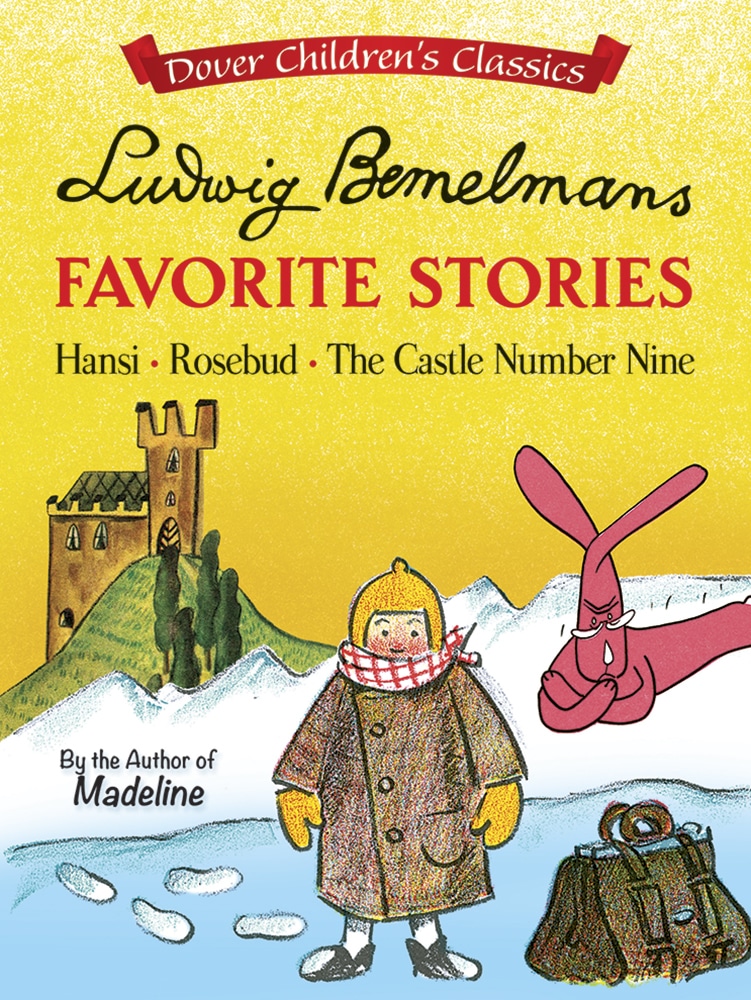 Inside Ludwig Bemelmans Favorite Stories, you'll discover the adventures of Hansi, the son of Elizabeth (Lieserl), who is invited by his uncle Herman to come visit him during the winter months after school had closed. Hansi begins his adventure on board a train that takes him through valleys and up mountains. The next step of his travel includes riding a sleigh! This delightful story will keep the imagination of your children active as they imagine themselves traveling alongside Hansi through all his adventures!
The story of Rosebud is about a rabbit that was very happy until he discovered within the pages of a book that rabbits were known for being scared, shy and hysterical. After reading this Rosebud gets mad and sets out on an adventure, along the way he meets up with a whale and an elephant, both of which were written great things inside the book he had just read. Children will be inspired to begin their own adventure and prove that they can do and be more than people think if they just believe in themselves.
The Castle Number Nine is a story about a lonely man, Baptiste, who lived in the little town of Melk. He owned only one knife, one fork and one glass, so he could never have any guests in his home. One day Baptiste realizes while talking to his cat that he is not happy though he has been a good servant his whole life. He hears of a new position available with the Count Hungerburg-Hungerburg and decides that it was written just for him. So, Baptiste sets out on a new adventure as the man servant of The Castle Number Nine.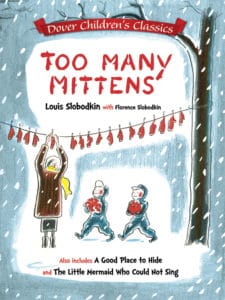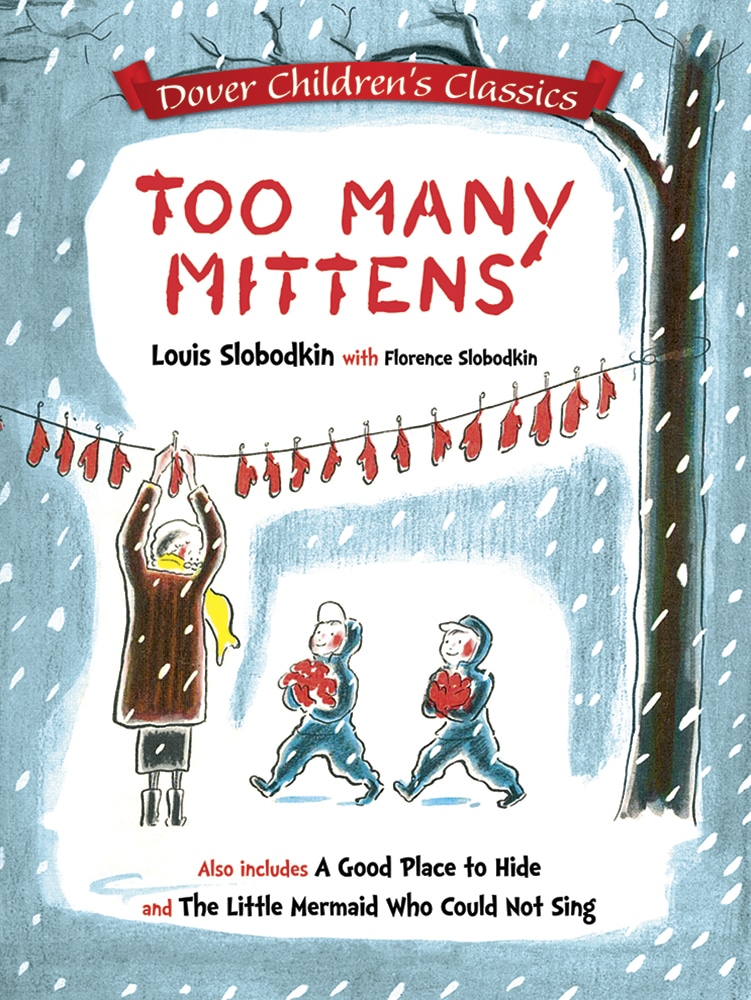 Ned and Donny are twins in the story of Too Many Mittens. Donny loses one of his mittens and with the help of Ned, they begin looking for it. They are unable to find it in Janey's yard, which is where Donny was certain he lost it. The entire town becomes part of the search party as Donny and Ned look for the lost mitten. This funny story will have children (and mothers!) laughing about the issue of lost mittens that happens in every home!
A Good Place to Hide tells of the adventure of Susan, who was driven to look all over town for a place to hide from her brothers. They were determined to make her look at something they'd discovered in a jar, but she wanted no part of it. Susan rides her bicycle all over town trying to find just the right place to hide. This is a sweet story of an adventurous little girl who was determined to find a place just for her…a place to hide when she wanted to be alone.
Not everyone can or should sing, just ask The Little Mermaid Who Could Not Sing. Cynthia had traveled all the way from the Northern Sea to attend the Blue Rocks School. While she did exceptionally well at dancing, arts and seacrafts, when it was her turn to sing, it was discovered that she could not do well at all. She did not let this stop her, Cynthia loved to sing and in the end it is her singing that makes her adventure to a new school a success for her — and her entire class!  The Little Mermaid Who Could Not Sing is a delightful story for girls who like to dream big and won't let anything stand in their way!
As a Year Round Homeschooling reader you can save 25% on your order through Dover Publications by using this code –> WHCN (This discount is valid through 9/1/17) My mom used their homeschool resources for my brothers and I and now I am using them for my children. Not only do they have these beautifully illustrated children's storybooks, but they also have quality literature, coloring books and much more that you can use for your homeschool!
Children need to go on adventures and while we may not be able to take them on all of the adventures they want, we can help them discover new places, dream of big things and journey with them all along the way by providing them adventures inside the pages of a book! Encouraging our children to read with quality literature can impact their future…because who knows of what dreams (and adventures!) may come!
What are your family's favorite types of adventures?