My kids have always loved to read. While my children will read pretty much anytime and anywhere, I do believe that children should have a designated reading corner just for them.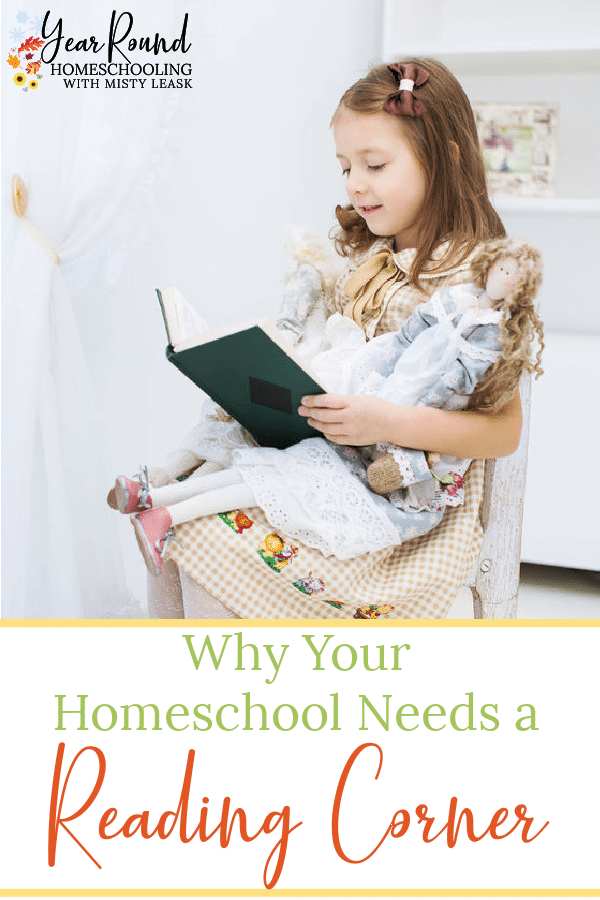 Typically if they aren't doing school, chores or helping with our family business, they are engrossed in a book somewhere. It doesn't matter where or when, what genre or the length of the book, my children just love to read.
There are very few places where my children don't read, in fact, the only place where I know that one of my children won't read is in the car. My son tends to get car sick, so that eliminates reading as one of the activities he does when we're on a road trip.
There are many children like mine that can simply grab a book and take off on an adventure anywhere in the house or outside. While some children struggle to focus and need a place where they can get lost in the words inside a book and sail off to faraway lands.
However, both of these types of children need to have a special just for reading space that they can call their own!
Why Kids Need a Reading Corner
Imagination
The first time I saw a reading corner I didn't even realize what it was exactly. I thought it was just a fun decoration that adorned the children's room of our local library. Then, I saw both of my children take the books that they had just taken off of the library shelves and walk over to that corner.
Next, I watched them tuck themselves away inside the trunk of the tree that I had just moments before considered to merely be a decoration. All of the sudden, I recognized that the tree trunk wasn't merely a decoration.
It was a place where the dreams and adventures found inside the pages of a book came alive because the real world…life…wasn't allowed inside.
From that moment on I knew that a reading corner was essential to every child's imagination.
Quiet
While not all children require quiet in order to read books, having a reading corner that provides a quiet space for children to read increases their reading comprehension because they're able to focus and read without any distractions.
A reading corner will also decrease the frustration of children that need quiet in order to read, which may also turn your non-readers into readers. You will joyfully discover that having a reading corner also brings quiet into your busy day as well!
This is a type of quiet that is not to be alarming but embraced and enjoyed thoroughly.
Less Clutter
Homeschoolers are known for having too many books for the bookshelves they own, so it is typical to see books in multiple places around the house. However, a tidy home is something that all moms strive to have, so usually, books have a specific place they belong. Somehow children forget where books belong throughout the day and their books get left strewn about the house waiting to be discovered again.
When you have a reading corner for your kids this provides them a place to stash all of the books that they are currently reading, eliminating the clutter of multiple piles of books that your children say they're reading "right now"!
If you do not currently have a reading corner in your home, I highly encourage you to take time to locate a small space where your children can curl up with a good book and go on an adventure.
When considering creating a reading corner in your home, keep in mind that age isn't a factor. Even high schoolers and preschoolers can enjoy a corner for them to read to themselves all on their own because…
Reading is an activity that all children can enjoy when given the right resources, location and atmosphere they need.
Where is the reading corner in your home?