My eyes were filled with tears, and my voice was gone. Honestly, it had been one of *those* days. I had tried everything to keep the homeschooling atmosphere positive. We had taken breaks, I had added a fun assignment, we tried working on memory work outside. Nothing, and I mean nothing, was working. I sent all of us to our bedrooms, and I closed the door kneeling beside my bed. A look at my watch revealed that it was only 2:00. Yes, it really had been a day.
Homeschooling is hard. It is a messy kind of beautiful where you get to spend all day investing and training the blessing that God has given you. Yet, there are days, months, and even seasons when it is more work than you ever bargained for, and where you either need to take some time and refresh your homeschool, or we might just give up.
I have been there, Mama. More times than I care to admit. As I type these words, I am in this season. I am needing a break – but feeling the need to push through, all at the same time. So, first, know you are not alone in this uphill climb educating and investing in the next generation. I am right there with you!
However, I do have several things that really help me when I need to take a moment and refresh. Without these 4 tips, I know there would be more days like the one I described above. More days of wanting to give up than feeling like I am blessed to walk this educational pathway that we are on. I hope these tips to refresh your homeschool will help you as much as they help me:
4 Tips To Refresh Your Homeschool
Start with You – Mama, if you are not refreshed, if you are not in the right place than your little people won't be either. As Mama and Homeschool Teacher, we are the ones that set the tone in our home and school. We have to make sure we are taking care of ourselves. That looks different for all of us. For me, it means daily time in the Bible. It is a daily choice for me to get up, and start my day right. God's Word, Prayer, and Jesus are the only things that get me through! Some other tips for refreshing yourself are:


Take a bubble bath. Go shopping. Go get coffee. Go read a book. Watch a TV show. Go for a girls night. Join a Bible Study. Hire a "Mommy Helper" for a day or two. Try to retreat. Listen to music (classical and hymn always help restart our day). Do a hobby you love.

Drop the Curriculum: Another thing we do to refresh our homeschool is to drop the curriculum. There is so much you can teach your kids without cracking the books. Sometimes, we have to ditch the lesson plans and focus on the heart and character of our kids. Around the holidays, it might be a great time do something that focuses on the holiday or season you are in. Bake cookies, teach a trade or go on a field trip. Let your kids pick a unit study or book to read together to change things up! There are tons of ways to break out of the mold of book work and the every day to refresh your homeschool.
Clean and Re-organize Your Space: I have noticed that there are lots of times when things starting going astray that I look around and realize our house, and more specifically, our homeschool space, has gotten out of control. Take a few days of break and work through cleaning and reorganizing the house and the homeschool space. This helps everyone get refocused.
Re-evaluate Your Plan: When things start to go array, I take out my plan for the year, and remind myself of the goals that we are trying to reach for the year. I don't look at my weekly or daily lesson plan- I go back to my "Year at a Glance" plan, and see where we are at. Reminding myself of the end goal always helps me refocus and refresh.
I hope that these ideas and tips will help you take a step and refresh! Chime in and share some of the ways you refresh your homeschool below!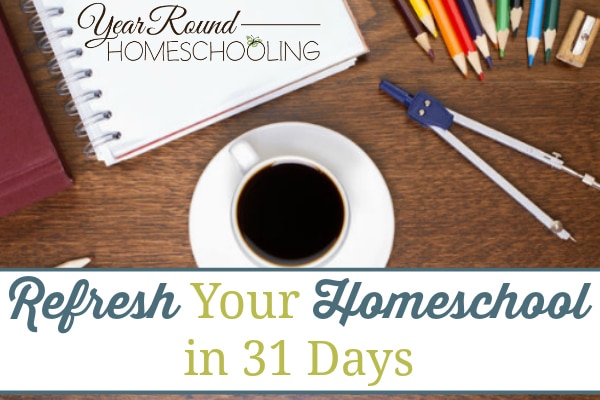 ---
Mandy Kelly is passionate about two things: The Word of God and the Souls of Men (and Ladies!). She is a married to her best friend, and gets the privilege to love on their four blessings . She loves that the Lord has let her life be an example of delighting in Him and watching Him mold her life to make her desires match His. She spent 9 years in an early childhood classroom, and 4 years in an "in house" seminary program at her home church.She loves to bring God glory through her roles as Christ-follower, Wife and Mother (in that order!)
She enjoys women's ministry, cooking, crafting, and traveling the world. Her greatest desires are to have her marriage bring God ultimate glory, see her children walk in truth, to lead others to the feet of Jesus, and to lead women into deeper and intimate relationship with their Savior through study of the Word of God. Mandy blogs about living a life of Worship through all aspects of her life at Worshipful Living. You can find join her in community on Facebook, Instagram, Pinterest, Twitter, and YouTube .