When we began homeschooling 7 years ago, my husband worked the graveyard shift and had just about a day and a half off once he slept. So, our homeschooling schedule was a bit wonky to say the least. We homeschooled Monday thru Wednesday, off on Thursday, (as that was my husband's day off), and then went back to our studies on Friday. At times this schedule was stressful though because the break in the middle of the week just threw us all off and it was difficult to get motivated again on Friday.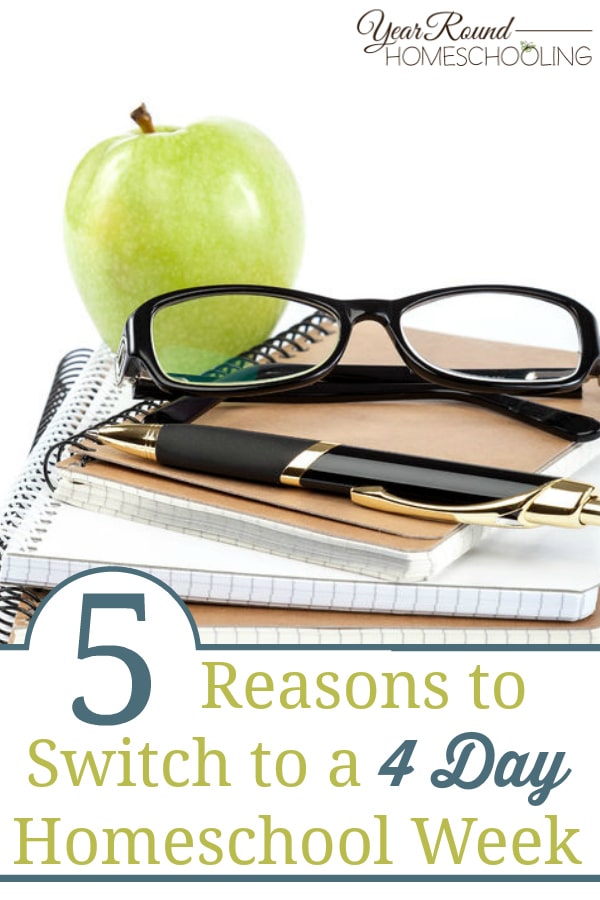 Nevertheless, that was the schedule we kept for nearly 4 years, until my husband entered the ministry full-time. Now my husband works a 5-day work week, but it is Sunday-Thursday. So, while our school days have switched, we still utilize the 4-day school week and for good reason.
Why We Love Our 4-Day Homeschool Week
3-day weekend – I love that we get a 3-day weekend every week! With my husband being off on Fridays, it is nice to be able to leave that day open. Sometimes we use that day for a short trip away or we just hang out at home, play games, chill and just enjoy each others company. Other times we use that fifth day for science experiments or crafts, when I have an extra set of adult hands to help.
Field Trips – Many times we use Friday as our Field Trip day, so we are still getting in some school time, just not through textbooks or lesson plans. I know we are blessed to have my husband home to help out with field trips! I'm not sure I have enough patience to take 5 kids on a field trip on my own, so I take full advantage of his days off when I can!
Flexibility – Even though we most often take Fridays off, there are times we switch things up due to a commitment my husband has or because of doctor appointments. I also like that we can move things around if our homeschool group has a field trip on a day other than Friday or we have sickness in the family. It is nice to know that just because we missed a day, we aren't behind.
Block Scheduling – My younger children typically do every subject they have each day, but my oldest has several more intensive subjects and classes now that he is in middle school. I like that we can easily utilize a block schedule for him and still get in 2 days each week of his heavier subjects, like history and science. Often times these subjects take him over an hour each and that can be daunting for him, so we split them up during the week.
Year Round Homeschooling – I loved having my summers off from school when I was younger, but now that I'm schooling my own children I'm not so much a fan. Being a ministry family, we do have some very busy weeks and months so we typically take those off, but never more than a few weeks at a time. I love that we can take a short break and reset without losing all we have learned. With a 4 day school week, it is easy to get in our required days and not stress about it.
These are just a few of my family's reasons for loving a 4-day homeschool week, but they are not the only reasons that homeschool families find that a 4-day homeschool week works best for them. If your family is struggling to find the right schedule for your homeschool, consider trying out a 4-day homeschool schedule and see if it works for you!
Have you ever followed a 4-day homeschool week? If so, what are your reasons for enjoying a 4-day homeschool week schedule?