On Monday I kicked off this 5 days of homeschool prep series and we talked about prayer being the first and most important step in prepping for your homeschool year. As we move onto the next stages of prep work, be sure you continue to pray. Each step along the way you'll need to be praying for wisdom as you continue on this journey.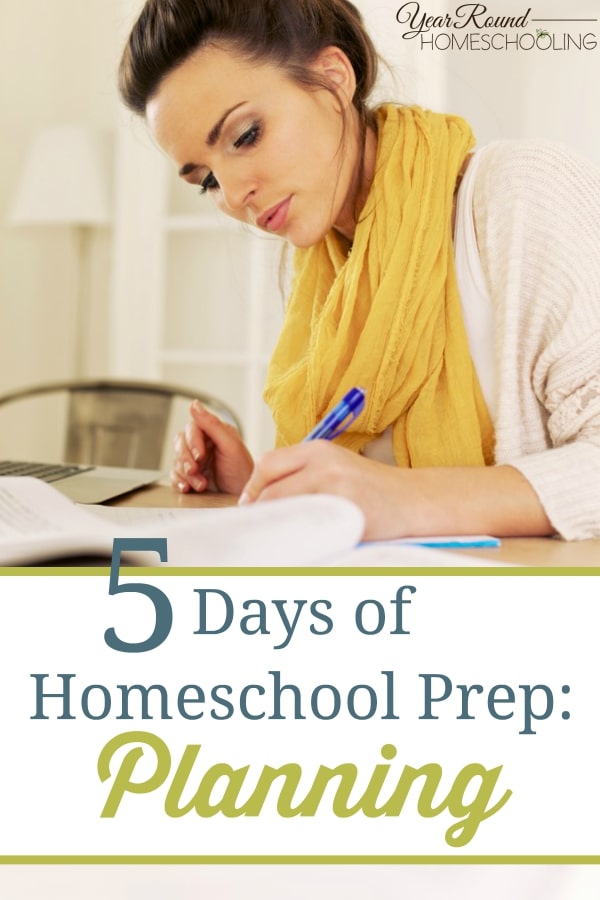 Today we're going to look at the next step in preparing for the new school year. Planning is my favorite part of homeschooling, but it can be very overwhelming for many reasons. One of the biggest reasons planning is so hard for many is the amount of curriculum out there. It is an ocean that can become overwhelming rapidly.
Planning Step One: Research
To get started researching for your homeschool year, start by making a list of the subjects you want/need to teach to each student in your homeschool. As you make your final curriculum selection you can plug it in to ensure you have every subject covered.
Earlier this year I created a homeschool planning pack that I designed for you to use while planning and researching homeschool curriculum. You can find that over here. Another great resource for researching homeschool curriculum is Cathy Duffy's Reviews.
Finances are often a big concern for just getting started and even seasoned homeschoolers. Just because it has a high price tag or great reviews does not mean it will work for your family. Take the time to really look at each curriculum that catches your attention and then pray about it. Homeschooling is meant to be a blessing to families, not strap them down financially.
While you're researching homeschool curriculum make sure you take the time to write down how many lessons are in each of your final selections. You'll need this information for the next step in the planning process.
Planning Step Two: Design Your Schedule
A lot of year round homeschoolers don't follow a set schedule, but I'm an over the top planner and find that keeping a loose schedule helps my children and I stay focused throughout the school year. Make sure you check your state laws for their homeschooling requirements. Most states require 170 days of school per year, but there could be other laws that you need to know prior to designing your schedule.
There are many different schedules to follow and there isn't one that is perfect for everyone. All of the contributors here at YRH have been sharing their year round homeschooling stories and many of them have mentioned their schedules in their posts that you can find here. My husband and I are self employed so we have a unique schedule, you can find my schedule and story here.
Planning Step Three: Plan Out Your School Year
This is one of my favorite parts of homeschooling! Getting ready for the new year, lining up all the lessons and seeing what we'll be covering throughout the year is exciting! My dining room table is covered must of the month of August while I'm planning away.
How you've designed your schedule in step two will determine how much planning you'll want to take on at a time. If you're homeschooling at particular intervals, then you can plan out that way. If you're not following a set schedule, you might want to plan on a weekly or bi-weekly basis. Your homeschool schedule is probably unique to you, that's what homeschooling is all about. It's your life, so make sure that your homeschool fits you and your family!
Since I homeschool by quarter, I loosely plan out the entire year based on my schedule. I find that if I see where I should be at each quarter that I can keep us on track better. I don't stress out if we are off a bit, but we tend to stay on target better if I have it all lined out ahead of time. Once we begin school I tweak our lesson plans on a monthly basis just to keep us updated. Remember, this is how I homeschool, it doesn't have to be how you choose to homeschool. I'm admittedly an over the top planner!
Over the next 3 days I'll be covering the final 3 steps I take for homeschool prep each year. As we continue to look at how to prep for the upcoming homeschool year, keep praying that God would direct you for your homeschool journey.
The first post in this series can be found here.
Are you looking for more homeschool prep ideas? Follow our homeschool prep board below.