There are so many different homeschooling methods, schedules, curricula and resources to choose from that it can be hard to know which ones are right for your homeschool. Throughout my years of homeschooling I have learned quite a bit about myself, my children and my needs vs. their needs. As it turns out, neither of them learn like I did. That has made finding the "right" things for our homeschooling journey difficult at times. It has required that I think outside of the box on countless occasions.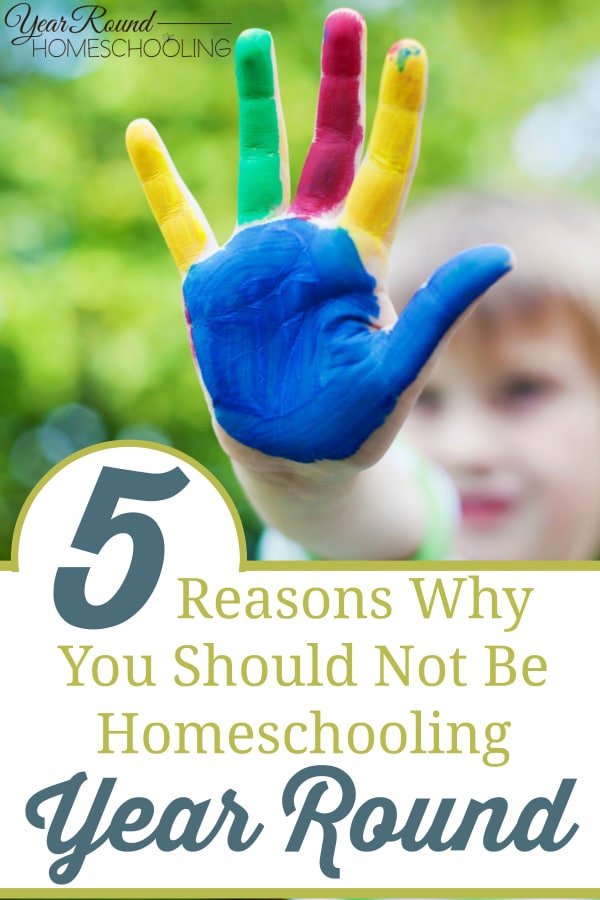 Making the decision to be year round homeschoolers was the first time I thought outside of the box for our homeschooling journey. While I knew change was what our homeschool schedule needed I didn't know what that entailed. At the time my husband was a full time commercial fisherman and his schedule was all over the place due to the weather. If it was sunny and nice out, he was out on the ocean fishing. When rain and wind were in the day's forecast, he was home. It was my husband's year round fishing schedule that determined that we would become year round homeschoolers. I wanted to be able to take days off when he was home and homeschool when he was working. In order to do that, I had to utilize the entire calendar year to be able to ensure that we completed our state's required homeschooling days each year. I'm so thankful that I was open to change and thought outside of the box because year round homeschooling has been a life changer for my entire family.
I realize that because there are so many decisions that homeschoolers have to make and that countless choices for each decision abound, you may be wondering if there are reasons why you should NOT be homeschooling year round. That is a valid question, so let me answer it for you!
If you don't mind overfilled homeschool days, year round homeschooling won't work well for you
Depending on your children's grade level there can be 10+ subjects that each child will need to cover in a homeschool year. That requires that you teach 10 subjects in a 5 day week, with at least Math and English being taught daily. If having to teach 4-5 classes a day per child for nine months with few breaks (if any!) doesn't stress you out, then a "normal" school schedule should work just fine for you.
If you enjoy homeschooling through the holidays, homeschooling year round won't benefit you 
Thanksgiving, Christmas, New Year's, Valentine's Day, Easter, St. Patrick's Day and more all fall in the "normal" school schedule. If you don't mind homeschooling on those days or only having a day or two off during the holidays, then the holiday breaks that year round homeschooling can provide won't be of interest to you.
If you like to stress meeting your state's homeschool day requirements, year round homeschooling isn't for you
There are typically 170-180 homeschool days required by a state. Following a nine month "normal" school schedule, with homeschooling 5 days a week, that means you can't take any days off for any reason in order to fulfill your state's requirements. If these facts do not bother you, then a "normal" school schedule may be right for your family.
If you don't have any issues finishing textbooks or completing studies in a "normal" school year, homeschooling year round isn't meant for you
Most textbooks, lesson plans and homeschooling resources have either 180 lessons or 36 weeks of lesson plans in them. If your kids have no problem completing them in the 180 school days allotted, then the "normal" school schedule probably works well for you.
If your kids don't have any problems remembering what you told them three months ago, year round homeschooling won't be helpful to you
Normally kids struggle to remember being told to clean their room two minutes after being asked to do so, but if your kids can recall how x = y or can diagram sentences correctly after having the summer off then a "normal" school schedule sounds perfect for you.
I realize that homeschooling year round is not for everyone, but often I don't think many homeschool moms take the time to really sit down and think about the how it could work for them. Instead they think about how they don't want to give up their summers. There is so much more to do than just enjoy summer by not homeschooling, in fact summer is our favorite time to homeschool. We have fun learning about the beach, reading literature out in the sun, playing sports for P.E. and much more!
If you've been striving to find a homeschool schedule that works for you, I hope that you'll truly take time to consider the pros and the cons of homeschooling year round for your family. You might be surprised to find that year round homeschooling gives you and your family the freedom that you need to truly enjoy your homeschooling journey!