Breathe, mama. It is January. The time of year when homeschooling might be seeming to stretch away into oblivion because it is winter and your next break is light-years away.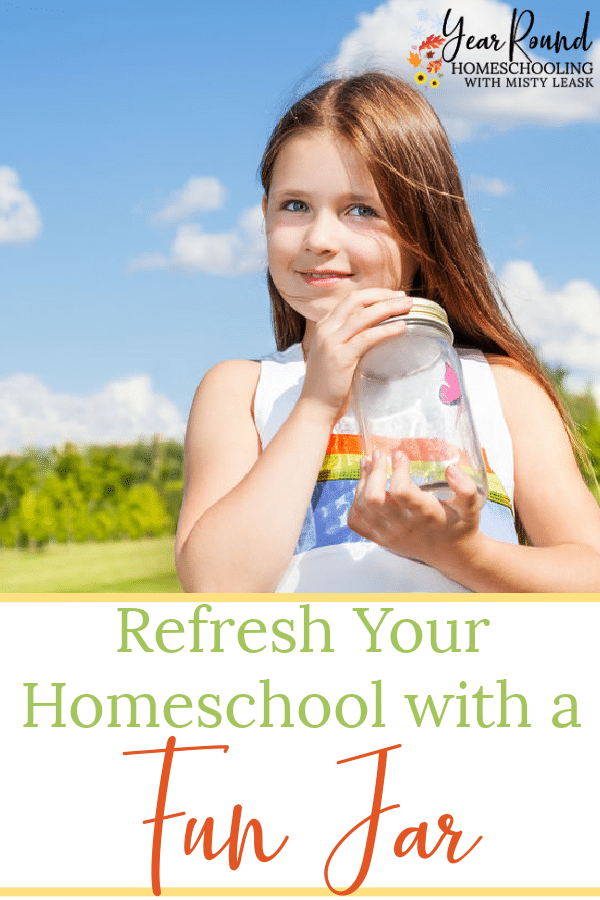 Maybe things are feeling a little stale or the kids are getting jumpy or you've got the post-holiday jitters and it is killing your usual homeschool buzz. Well, we can't have that, now can we? So, instead, it is time to make homeschooling fun.
Yes, even in January. Sometimes we need to shake things up a bit, shelve the stagnation, dust off the mission statement.
I'm betting that even if you've never articulated it, somewhere in your vision of your own homeschool the word fun applies.
We don't want our kids sitting at a desk or table all day taking notes or doing worksheets or memorization. After all these are probably a few of the reasons that you tackled this thing called homeschooling to begin with.
As homeschool moms we want more. More for our littles. We believe that education should be exciting. It should be something they look forward to. It should be the kind of stuff that makes memories for them to live on forever.
It can't be like that all the time, unfortunately, because if you have more than one child it is hard to always be doing something they all like.
Also, our children have to know how to write a good paragraph whether they like to write or not. They have to know how to spell and add and divide and all of the basic arithmetic stuff. It is probably good for them to know that Africa is is below Europe as well. Still, an education doesn't have to be boring process.
If you're looking to freshen your homeschool day (or year), there are a lot of different ways that you can go about it, but I have an idea that just might do the trick with very little effort on your part.
Break Out a Homeschool Fun Jar
We've used a homeschool fun jar for many things in our homeschool journey from summer activities, science research projects, writing prompts. Here's how it works:
Make a list of fun things you can do to liven up your homeschool
Cut out each item on the list on a small strip of paper
Fold the strips and drop them in your designated jar
Each day (or whenever the whim hits you) pull a strip from the jar
Do the activity on the strip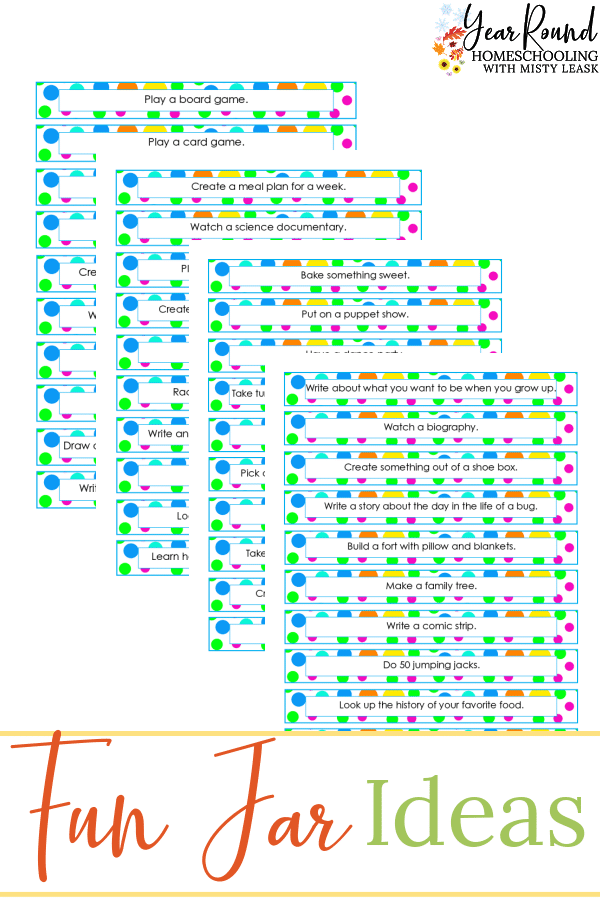 Since each of the activities is fun, the jar accomplishes a couple of things.
Just having it there gives your littles something to look forward to and that just might make their spelling, math, or copy work go down easier.
It means there is going to be one thing in your day that you're all going to enjoy and, depending on the activity, it also means a break from the
norm. Nothing is fresher than that.
If you want to keep it as educational as possible, relate the activity as best you can to what you're studying at the time. If you just want it to
be fun and different, make it so. Remember, you're the teacher, parent, and principal at this school. You get to make the rules.
You'll be surprised at how quickly the homeschool fun jar takes your homeschool from mundane to miraculous.
I said little effort on your part, and I meant it. Below you'll find a free printable full of fun activities! All you have to do is find a jar, then print and cut the strips out!
Some of the things on my list will require a bit of pre-planning on your part, but if you take a day or two and do all the planning early, the
spontaneity will not be lost.
I truly believe the homeschool fun jar is a great way to get your homeschool groove back. Who knows? It might even become a permanent fixture because fun never goes stale.
Have you ever used a homeschool fun jar in your home before?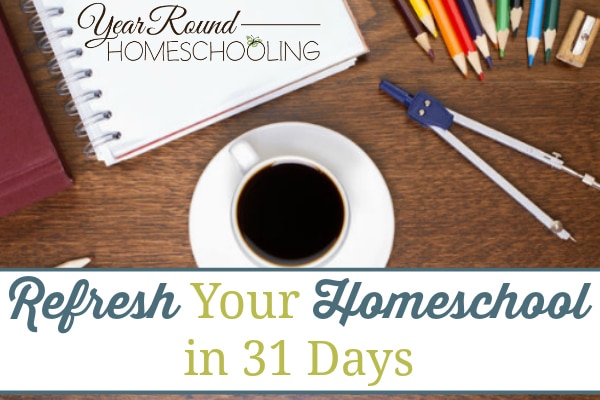 ---
KT Brison is a former children's librarian and educator who gave all that up for the most important job in her life—homeschooling her boys. Though she loves the outdoors and rambling around her farm, she can usually be found with her nose in a book. Any book. As long as it has words.