Exploring new places is both a fun and educational experience and experiences are what our children learn from the most! They are often what they enjoy the most as well. Discover new places to see and things to do using this Alabama Field Trip Guide.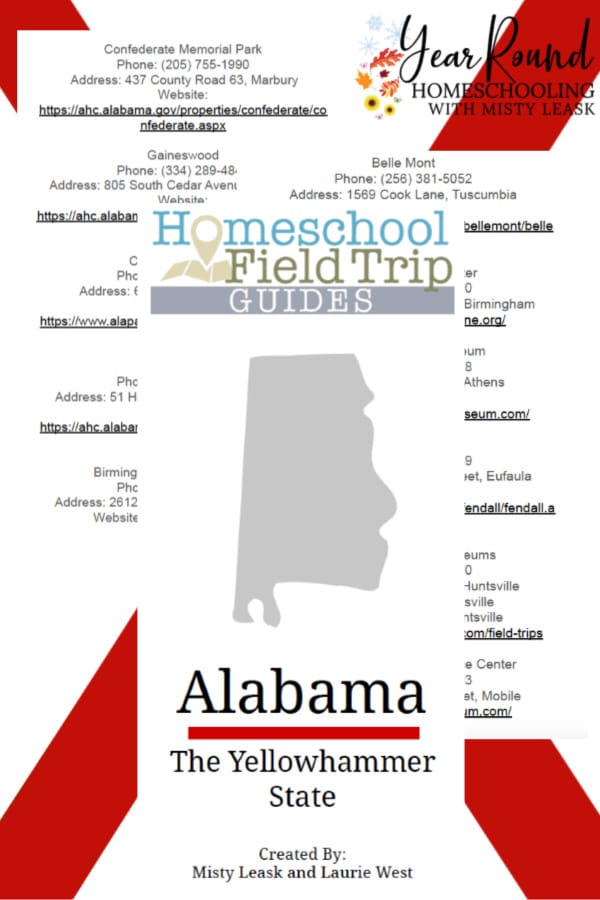 I had so much fun researching and putting together this resource. In fact, on my next trip south I already know one place that we are absolutely stopping because I created this guide. It is included in this guide, can you guess which one it is?
It always amazes me the things that I learn while homeschooling my children and helping you homeschool yours. There is always something new to learn and I've always loved to learn.
Before you head out to explore the state of Alabama, make sure your kids have learned all about Alabama. This Alabama State Study is a great place to start! There are also notebooking pages, a coloring pack and an Alabama Road Trip Adventure Journal that together make a balanced study.
Inside this Alabama Field Trip Guide, you'll find 20+ field trips in Alabama as well as their contact information, phone number and clickable website address.
I've tried to include something for everyone in this guide. Options include museums, outdoor locations, hands-on activities, historical places and much more.
If you're unable to get out and explore Alabama, these virtual field trip options might be a great resource for you.