Unfortunately, not everyone can always pack up and head to the beach. That doesn't mean that you can't think outside of the box and begin creating an indoor beach day for your family to enjoy though!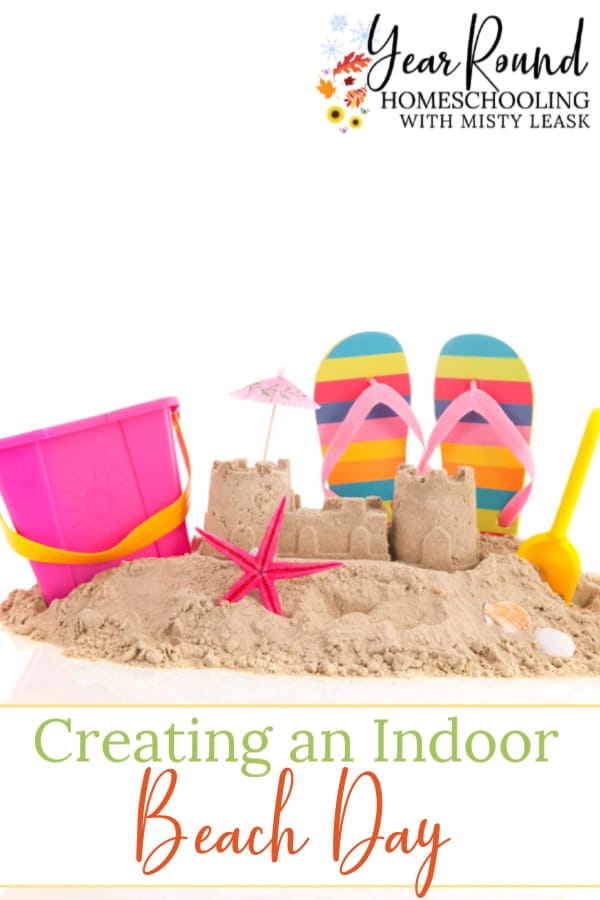 Someday I hope to live somewhere that will allow me to visit the beach every single day. Right now, that isn't possible though and I find myself missing the beach more often than not.
So, I decided that I needed to be creative and figure out how to bring the beach to us!
How to Create an Indoor Beach Day
Decorating your living room, porch or dining room for your indoor beach day fun will really make it feel like you're spending the day at the beach!
I love surprising my kids, so I found easy ways to decorate while they're sleeping!
Before you begin your indoor beach day, take some time to prep snacks that your kids are sure to enjoy. That way you'll already have the answer to the question that will be coming…"What can we eat?".
I found a few beach-themed snacks that are both fun for your kids and easy for you to prepare! This is a super cute way to decorate your beach snacks.
Reading while laying on a beach towel soaking up the sun is my favorite thing to do at the beach. Pull out the beach towels and place a book on each one for your kids to enjoy.
These are a few of my favorite beach-themed books, but if you need more I've put together a list of more than 50+ beach books!
Set up a fun scavenger hunt on the beach using this printable beach scavenger hunt. All you'll need is a few sea animal and seaweed toys and seashells to get this set up.
Everyone loves to play bingo, download these free beach-themed bingo cards to play.
Fun can be educational! Turn your indoor beach day into an educational experience using a beach or ocean unit study.
I love digging my toes into the warm sand on the beach. You can easily bring that experience home using a kiddie pool and sand. Add a few mini beach toys and your kids are sure to have a blast!
While that may be a bit messier than you'd like, sand is an important part of your indoor beach day. A less messy sand activity would be to use a tray or kinetic sand.
Can you still limbo? As it is said, "Limbo, limbo, limbo, like me". Set up a limbo game and show your kids how low you can go!
Have fun creating family pictures that are both fun and scrapbook worthy using this backdrop and these selfie props.
Spend time crafting together as a family using one or more of these indoor beach craft ideas. For an added twist, choose the same craft for everyone and make it a competition!
My favorites from that list are the Colorful Jellyfish Craft, the Sea Shell Creatures and the Tie Dye Painted Seashells.
After a long day at the beach, it is time to chill. A movie night is just the thing for tired kids and a tired mom.
These are a few of my favorite beach-themed movies that would make a perfect end to a fun indoor beach day.
I would love to hear about how your indoor beach day turned out?! So, please share your day with me in the comments!