What do your kids know about the state of Alabama? Better yet, what do you know about 'The Yellowhammer State'? Studying the United States can be a fun geography class for your homeschool. These Alabama Notebooking Pages provide the perfect opportunity for your kids to share what they're learning.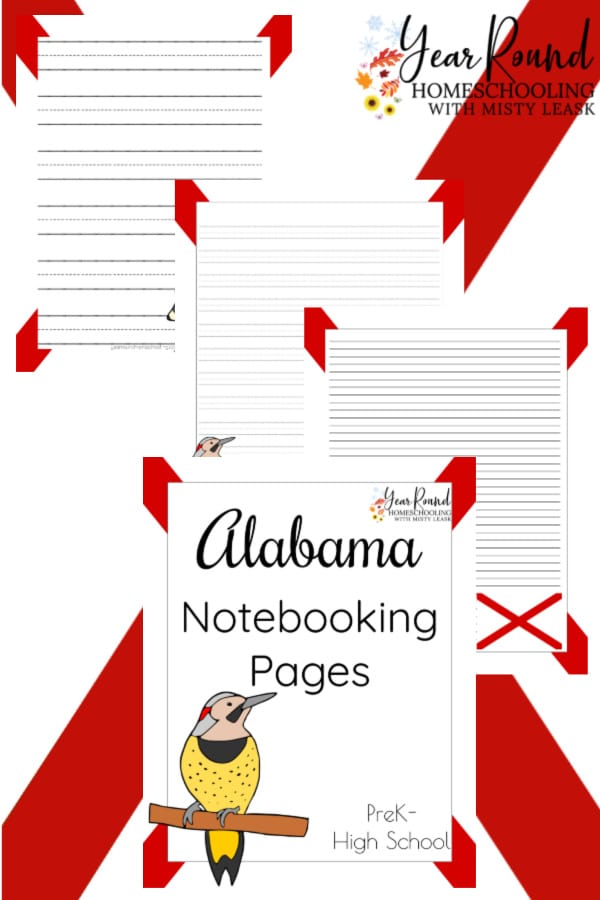 Notebooking pages give your children just a bit of inspiration for writing. Sometimes that is all that they need, even your reluctant writers.
All children need to learn to write well. Some of your children may not seem interested in writing, while others can't wait to put a pencil to paper.
Encourage all of your children to write and recognize that it may not come easy to all of them. For those that struggle with writing, remind them that nothing comes easy for everyone, but that we all must complete the tasks set in front of us.
Each page inside this pack features a state symbol from Alabama. Your kids can use the symbols as inspiration about what to write on each page, use them to complete research as part of their Alabama state study or just to share what they've learned about the state of Alabama.
Inside this Alabama Notebooking Pages Pack, you'll find fun Alabama themed lined pages for all your students from Preschool through High School; featuring the state animal, state mascot, state flag and much more!