Sweet Home Alabama and Alabama. These are what most people think of when they hear the name, Alabama. While these are fun facts surrounding the state of Alabama, this Alabama State Study will teach your kids about its history, state facts and much more!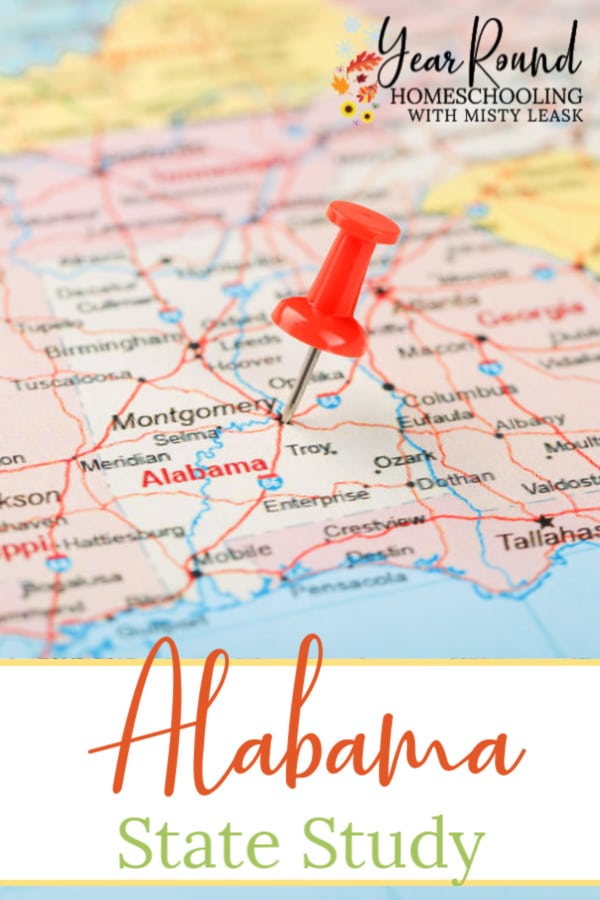 Learning about the country we live in is an important part of your children's education. While you may not be able to visit all 50 states in the U.S. You can still ensure your children learn about the important role each state plays in our country.
This Alabama State Study was designed to make learning about 'The Yellowhammer State', both fun and educational. I've included videos, articles, literature options, state facts, famous landmarks and more to provide thorough learning opportunities for your children.
Alabama State Study
History of the State of Alabama
Alabama State History Timeline
The History of Alabama by Britannica
Alabama History by History.com
Civil Rights History of Alabama
History of National Forests in Alabama
Historical Climate Summaries of Alabama
Alabama's Presidential Election Voting History
Alabama Literature and Research Resources
All About Alabama
Year Alabama Became a State
December 14, 1819
State Capital
Montgomery
State Abbreviation
AL
State Population
4.903 million
State Size
52,420 square miles
State Name Origin
The state of Alabama was named after the Alabama River, which received its name from the Indian tribe that lived in the Alabama territory.
State Motto
Alabama's motto, "We dare to defend our rights", comes from the Latin, "Audemus jura nostra defenders". The director of the Alabama state archives, Marie Bankhead Owen, was inspired by Sir William Jones's poem called 'An Ode in Imitation of Alcaeus'. This Latin phrase was included on Alabama's coat of arms completed in 1923.
State Nickname
The Yellowhammer State
Legend says that Confederate soldiers from Alabama were called 'The Yellowhammers' due to the bright yellow patches on veteran's faded, worn uniforms.
State Song
Alabama's state song was written by Julia S. Tutweiler after she returned home to Alabama after visiting Germany.
State Flag
In 1895, the Alabama Legislature authorized the official state flag of Alabama. The Acts of Alabama, 1895, state that the flag was to bear red bars of a cross similar to the cross of St. Andrew on a white background.
In 1987, the Alabama Attorney General determined that the correct shape for the flag of Alabama was rectangular, though the argument had been made that it was to be square like the Confederate battle flag.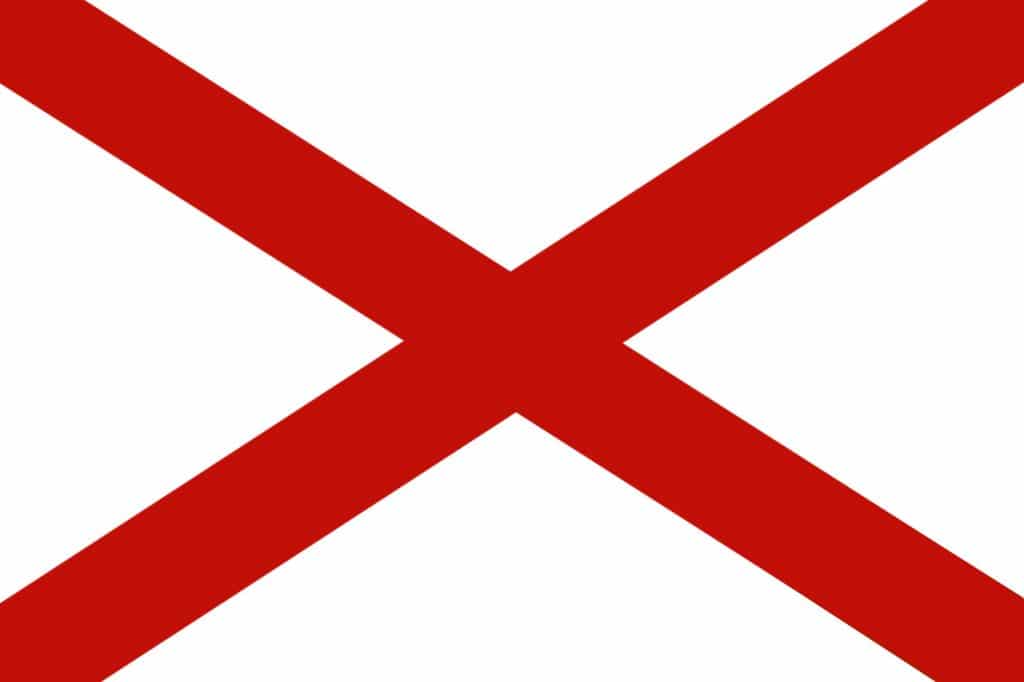 State Bird
In 1927, a bill was passed making the Northern Flicker, Alabama's state bird.
State Tree
The legislature of Alabama specified that the Southern Longleaf Pine was the state tree in 1997. This changed the previous designation of the more general 'Southern pine tree' in 1949.
State Freshwater Fish
In 1975, the Largemouth Bass, Micropterus salmoides, was selected as the freshwater fish of Alabama.
State Saltwater Fish
Originally, the Tarpon was designated as the state fish of Alabama in 1955. However, this changed when the state adopted the Largemouth Bass as its freshwater fish in 1975. Thus, the Tarpon became Alabama's state saltwater fish.
State Mascot and State Butterfly
In 1989, The Selma City Council requested that the Eastern Tiger Swallowtail be both Alabama's state mascot and butterfly.
State Animal
The Alabama legislature approved the Black Bear to be the state animal in 2006.
State Amphibian
The Red Hills Salamander has been under federal protection since 1976 through the Endangered Species Act.
State Fruit
Blackberry became Alabama's official fruit through Senate Bill 163.
State Flower
Originally, the goldenrod was designated as the state flower of Alabama. It wasn't until 1999 that the Alabama Legislature recognized the Camellia as the official state flower.
Geography
Rivers

Cahaba River
Tennesse River
Tallapoosa River
Conecuh River
Buttahatchee River
Sepulga River
Chattahoochee River
Pea River
Tombigbee River
Elk River
Escatawpa River
Coosa River
Alabama River
Black Warrior River
Lakes

Guntersville Lake
Lewis Smith Lake
Logan Martin Lake
Martin Lake
Pickwick Lake
Walter F. George Reservoir
Weiss Lake
West Point Lake
Wheeler Lake
William Dannelly Reservoir
Highways
Interstate 59 – North and South
Interstate 65 – North and South
Interstate 85 – North and South
Interstate 10 – East and West
Interstate 20 – East and West
National Parks
State Parks
Famous Landmarks
Famous People
Pat Garrett was born in Chambers County, Alabama in 1850. He is most famous for being the man that killed "Billy the Kid" in 1881.
Helen Keller was born in Tuscumbia, Alabama in 1880. She lost her sight and hearing at the age of 2 due to an unknown illness. However, this didn't stop her from achieving great things including being the first blind-deaf person to earn a Bachelor's Degree.
Zelda Fitzgerald was born in Montgomery Alabama in 1900. The creator of the most popular video game series, 'The Legend of Zelda', named it after Zelda Fitzgerald.
Jesse Owens was born in Oakville, Alabama in 1913. He became a four-time Olympic gold medalist in track and field at the 1936 Olympics in Berlin.
Rosa Parks was born in Tuskegee, Alabama in 1913. She is well known as a civil rights activist, specifically for refusing to give up her seat on a segregated bus.
Joe Louis was born in Lafayette, Alabama in 1914. Also known as the Brown Bomber, Louis held the national heavyweight title for a record of 12 years and defended it 25 times.
Nat King Cole was born in Montgomery, Alabama in 1919. He was the first black host of a television variety series in 1956 and is the well-known singer of "Mona Lisa" and "Unforgettable".
Hank Williams Sr. was born in Mount Olive, Alabama in 1923. He became one of country music's first stars before passing away at the young age of 29.
Harper Lee was born in Monroeville, Alabama in 1926. She is the Pulitzer Prize-winning author of "To Kill a Mockingbird".
Willie Mays was born in Westfield, Alabama in 1931. He is currently tied with his friend and teammate, Bobby Bonds, at third for all-time home runs in the MLB.
Hank Aaron was born in Mobile, Alabama in 1934. He broke Babe Ruth's home run record of 714 in 1971. He finished his baseball career with 755 home runs of his own.
Percy Sledge was born in Leighton, Alabama in 1941. He is known for his hit song, "When a Man Loves a Woman".
Lionel Richie was born in Tuskegee, Alabama in 1949. He was a founding member of the 1970's group, 'The Commodores', before branching out as a solo artist in 1982.
Condoleezza Rice was born in Birmingham, Alabama in 1954. She was the first black woman to serve as the U.S. National Security Advisor and the United States Secretary of State.
Carl Lewis was born in Birmingham, Alabama in 1961. At the 1984 Olympics, Lewis won four gold medals matching Jesse Owens' wins at the 1936 Berlin Olympic Games.
Evander Holyfield was born in Atmore, Alabama in 1962. He won the heavyweight championship four times, surpassing Muhammed Ali's record three.
Bo Jackson was born in Bessemer, Alabama in 1962. He is known as being a multi-talented athlete that played both professional football and baseball.
Charles Barkley was born in Leeds, Alabama in 1963. He is known by the nickname 'The Round Mound of Rebound' and for being the leading scorer for the U.S. Olympic Basketball Team at the 1992 Barcelona Olympics.
Mia Hamm was born in Selma, Alabama in 1972. She is recognized as the greatest women's soccer player of all time.
Lucas Black was born in Decatur, Alabama in 1982. He is most known for his role as Agent LaSalle in NCIS: NOLA.
Interesting Facts
In 1836, Alabama became the first state to declare Christmas a legal holiday.
The United State's first Mardi Gras celebration took place in Mobile, Alabama, in 1703.
A telegram from Alabama began the Civil War.
All of the major natural resources needed to make steel and iron can be found in Alabama. It is the only state in the U.S. to have all of these resources within its borders.
The Marshall Space Flight Center in Huntsville, Alabama designed the Saturn V rocket, which sent the first Americans to the moon.
America's first African-American military airmen, The Tuskegee Airmen, were trained in Alabama.
Alabama's state constitution holds the record of being the longest in the U.S. with more than 300,000 words.
The first celebration of Veteran's Day was held in Alabama through a Veteran's Day Parade that took place in Birmingham, Alabama in 1947.
Magnolia Springs, Alabama is home to the last all-water mail route in the United States where mail is delivered entirely by boat.
Jack Sparrow's 'The Black Pearl' was built in Alabama.
A historic house in Bessemer is really called Sweet Home Alabama. It was built in 1906 by architect William E. Benns for Bessemer's first undertaker, H.W. Sweet.
Alabama Learning Resources
What did your children enjoy learning the most about the state of Alabama?