One of my favorite childhood memories is watching movies with my family. My mom instilled in me a love for movies that were based on literature. That is probably why I require my children to read the book before they see the movie version. For my 12th birthday I received Anne of Green Gables and Anne of Avonlea on VHS. Over the years we wore those VHS' out because we watched them so many times. I loved Anne, Gilbert and Diana. I dreamed of living on P.E.I. one day and the puff sleeves, I wanted a dress with them too! This Anne of Green Gables Movie Study would have been a fun addition to my own homeschool journey.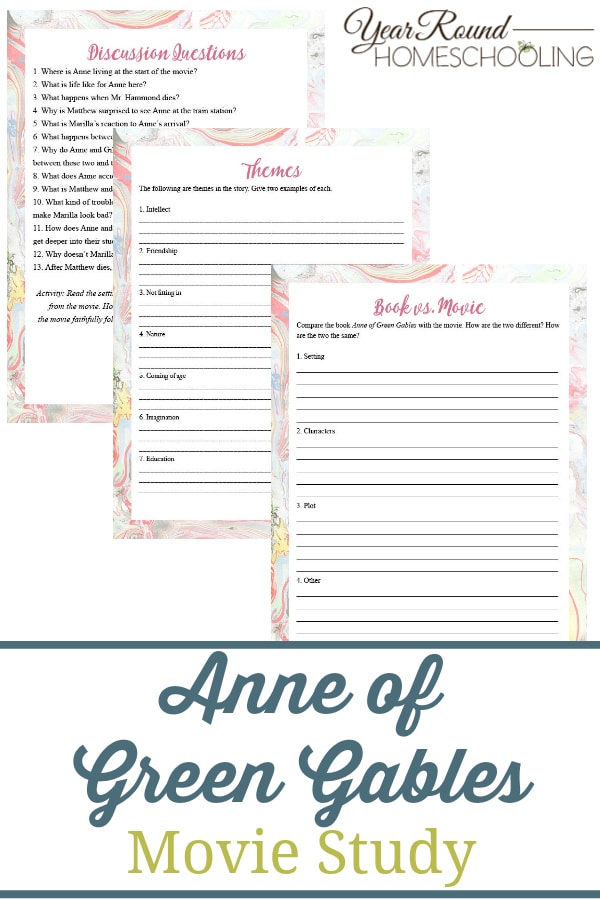 While I love this movie, I highly recommend that you take time to read Anne of Green Gables and complete the book study with your kids prior to watching the movie. There is so much more inside the pages of a book than can be fit into a movie!
Inside you'll find discussion questions, an author study, comparison activities and more!
Coming soon –> Anne of Avonlea Book Study and Anne of Avonlea Movie Study!