I love reading aloud to my children. While I love reading picture books with my kids, my favorite books to read aloud to my kids are classic literature.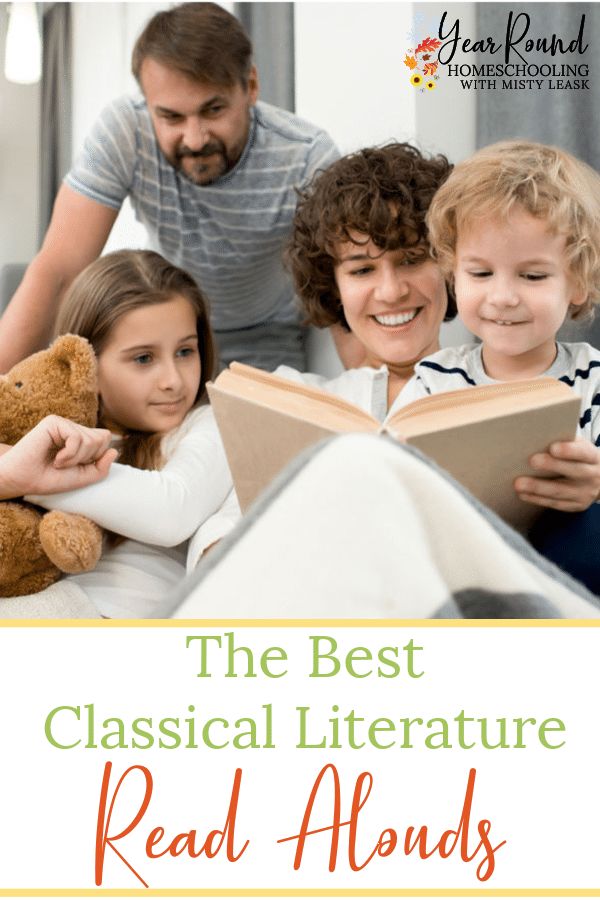 I loved being read to as a child by my mother, that's probably why I love reading to my own children. She instilled a love of reading aloud in me from a young age, however, I don't remember her reading short, silly stories to me.
My mom loves classic literature, so that is what she read to me. When I became a mother, I read the same to my children. There were times for fun and even silly picture books, but the best classic literature read alouds are my favorite books of choice for our storytime.
Classics stand the test of time. They were loved by children when they were published and are still loved today. You can't replace classics with the new literature of today.
Grab a copy of your favorite classic literature and begin reading it aloud to your children. See it through their eyes – set off on an adventure, dream of impossible things and make memories that will truly last a lifetime.
The Best Classic Literature Read Alouds for Your Homeschool
The Lion, the Witch and the Wardrobe
The most well known of all the Chronicles of Narnia books makes a wonderful read aloud for the entire family. It is full of magic and adventure will inspire your imagination!
Five Little Peppers and How They Grew
My mom read this book to my brothers and I as part of our homeschooling journey. It is one of my favorite classic literature read alouds.
All of us at some point in our childhood realize that we don't really grow up. That's why we all love the story of Peter Pan and Wendy. Use your imagination and relive those childhood memories with your children as you read this story aloud to your kids.
I grew up watching the movie with my little brothers. Where the Red Fern Grows is a story about a boy who raises and trains his own coon dogs. Be sure to have tissues on hand.
If your family enjoys historical fiction or is looking for a book series to start reading aloud, this classic is a family favorite!
Spend a bit of time growing up in the 1840s along the Mississippi River with the adventurous Tom Sawyer a classic by Mark Twain. Moms of boys, this needs to be next in your read aloud pile.
We read this book aloud and watch this movie every Christmas. There are life lessons for everyone to learn that also make great topics for discussion.
The prequel to the Lord of the Rings is a family friendly fantasy classic book. This book is easier for younger students to understand than the LOTR triology, thus it is a great introduction to the classics by J.R.R.Tolkien.
Encourage your children to play outside by reading through the adventures of Jess and Leslie. I love this story (and so do my children), but, tissues are required.
Every little girl wants to be a princess, yet what happens when a princess loses everything? Sara Crewe is the princess in this story that will warm your hearts and teach a few life lessons along the way.
Sometimes your home may feel like a jungle, so why not read Mowgli's life in the jungle during family read aloud time? The adventure and lessons on family relationships will be enjoyed by everyone.
I loved hearing my mother read me the story of the Borrowers when I was growing up. Their adventures while small seemed so much larger than my own!
A spoonful of sugar, supercalifragilisticexpialidocious, in every job there is an element of fun – just a few things you'll learn in the world of Mary Poppins. This classic needs to be in your read aloud pile.
Everyone loves a secret, right?! Discover the secret of the garden with your family as you read this classic book aloud together. P.S. It isn't a story just for girls.
Pippi Longstocking is coming into your world. A freckle-faced red-haired girl you ought to know. The adventures of Pippi are like none other. Everyone will be laughing during this read aloud time!
Visit the Wisconsin frontier as you read about the adventurous, tomboy Caddie Woodlawn. This is a great story for girls that would rather be playing outside than inside with sewing wearing frills and bows.
Books about horses abound, but this classic is a must read for horse lovers. Follow the journey of Black Beauty as he is passed from owner to owner, facing cruelty, bitterness and indifference.
Every boy wants a loyal dog to call their own and Old Yeller is as loyal as they come. He sees it as his job to protect the family while dad is away on a cattle drive. Another great read aloud that requires tissues to be on hand.
"Tomorrow is fresh. With no mistakes in it." One of my favorite quotes of all time comes from L.M. Montgomery's, Anne of Green Gables. This is on my must-read list and also makes a great read aloud.
I was first introduced to Christy by watching the TV series with my family. I fell in love with the city girl, turned Cutter Gap schoolteacher. This book teaches so many lessons that everyone in the family can learn from.
A father without a son, used to mean he had no heir. Yet, the March family didn't let that bother them. Their daughters are the well-known and beloved, Little Women of Louisa May Alcott.
Head out on a pirate's adventure in search of gold during your next read aloud time. While the vocabulary might be a bit much for your younger students to read on their own, that's what makes this a perfect read aloud!
The Adventures of Huckleberry Finn
Every child dreams of adventure and living out on their own. So, take a trip and travel down the Mississippi River with Huckleberry Finn during your next read aloud time.
I grew up watching the movie based on this piece of classic literature. The story of Edmond Dantes is based on real-life and tells the story of a man imprisoned wrongly and his fight to escape prison and save his life.
I believe that classic literature needs to be a substantial part of every child's education. Today's literature is lacking in so many ways to truly build children up and entertain them in wholesome, meaningful ways.
By utilizing your read aloud time for classic literature you'll have the opportunity to teach your children new vocabulary words, discuss important topics and make memories that last a lifetime.
What are your favorite classic literature read alouds?