Heading out on a road trip to 'The Grand Canyon State'? Studying the state of Arizona as part of your geography class? These Arizona Notebooking Pages provide a fun way for your children to record their thoughts, papers and more!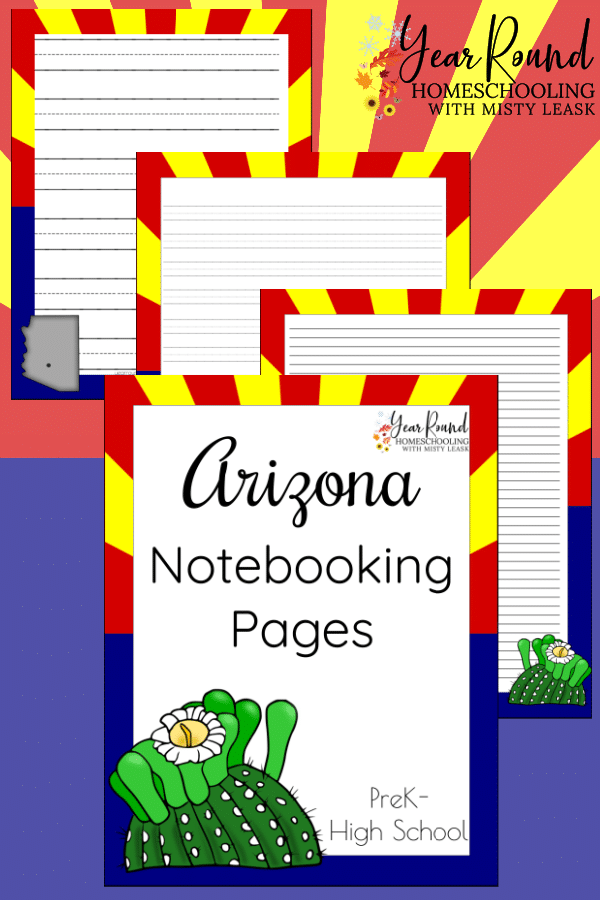 My children and I had the opportunity to visit Arizona a couple of times on a road trip a few years ago. While we were there, we explored and took lots of pictures of the Grand Canyon.
It truly was beautiful. A sight unlike anything else I'd ever seen. Someday my husband and I hope to go back as he was unable to make that trip. Our kids would like to go back as well because mom wouldn't let them go out on the glass bridge alone.
Whether you're able to visit Arizona or the Grand Canyon or not, there is so much to learn about the state and you can visit many places virtually!
This pack features a state symbol from Arizona on each page. Your kids can use the symbols as inspiration about what to write on each page, use them to complete research as part of their state study or just to share what they've learned about the state of Arizona.
Inside this Arizona Notebooking Pages Pack, you'll find fun Arizona-themed lined pages for all your students from Preschool through High School; featuring the state animal, state tree, state flag and much more!