Our last trip out west included a stop in Arizona and we were blessed to see the Grand Canyon. It was an amazing experience and the views were spectacular. While that is what the state of Arizona is most known for, this Arizona State Study will teach you much more!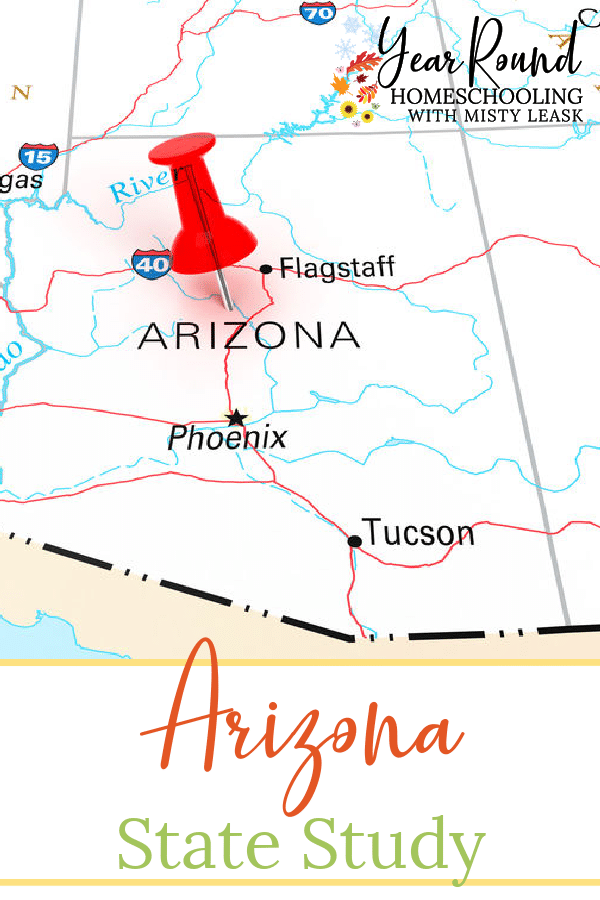 The more resources I create for homeschooling, the more I learn. While putting together this study, I was brought back to my childhood and it made me smile. My brothers loved the TV show, 'The Lone Ranger'. In fact, they would take turns pretending who was going to be 'The Lone Ranger' and who would be 'Tonto'. As your children will discover through this study, there is a national forest that bears the name of my brothers' favorite sidekick.
I designed this Arizona State Study to make learning about 'The Grand Canyon State', both a fun and educational experience. I've included videos, articles, literature options, state facts, famous landmarks and more to provide thorough learning opportunities for your children.
Arizona State Study
History of the State of Arizona
Arizona State History Timeline
Civil Rights History of Arizona
Arizona's Native American Culture Center
Arizona's Presidential Election Voting History
Arizona Literature and Research Resources

All About Arizona
Year Arizona Became a State
February 14, 1912
State Capital
Phoenix
State Abbreviation
AZ
State Population
7,278,717
State Size
113,990 sq mi
State Name Origin
Some have thought that the name Arizona came from the Spanish term Arida zona. However, that is a popular misconception. The name actually comes from the O'odham name for the area, Ali sonak, which means "small stream". In fact, that name is still used for that area by the O'odham today. To European settlers, their pronunciation of the place sounded like Arissona. That is how the name Arizona came to be.
State Motto
Ditat Deus: God Enriches
In 1863 Richard McCormick designed the first Arizona seal on which he wrote the Latin phrase Ditat Deus which means "God enriches". Statesmen complained about the seal saying it looked like the picture of a baking powder can and it has been improved upon several times over the years, but the motto Ditat Deus has stayed and become the state motto.
State Nickname
The Grand Canyon State
State Song
On February 28, 1919 "The Arizona March Song" was adopted by the 4th legislature as the Arizona State Song. The words were written by Margaret Rowe Clifford and the music was composed by Maurice Blumenthal.

"I love you, Arizona" written by Rex Allen, Jr. was adopted by the 35th Legislature as an alternative state song.

State Flag
The upper half of the flag consists of 13 red and yellow strips representing the original 13 colonies of the United States. The colors represent the Spanish flag that Coronado originally brought with him when he came to Arizona in 1540.
The lower half of the flag is the same blue color as in the American flag. The star in the center is copper in color representing the fact that Arizona is the largest producer of copper in the United States. The flag was originally made for the Arizona Rifle Team and was adopted as the Arizona State Flag in 1917 by the 3rd legislature.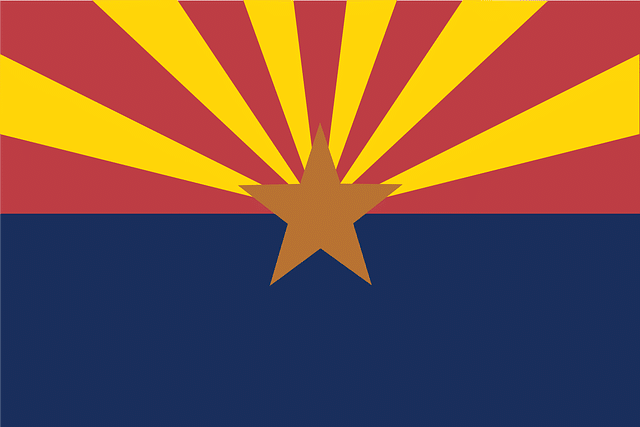 State Bird
The Cactus Wren was adopted as the Arizona state bird on March 16, 1931.
State Tree
In 1954, the Palo Verde Tree became the official state tree.
State Amphibian
The Arizona Tree Frog became Arizona's state amphibian in 1986.
State Butterfly
In 2001, the Two-tailed Swallowtail Butterfly was selected as the state butterfly.
State Mammal
The Ringtail (also known as the Miner's Cat) was chosen to be Arizona's state mammal in 1986.
State Reptile
Also in 1986, the Arizona Ridge nosed Rattlesnake became the state reptile.
State Neckwear
The Bolo Tie became official Arizona State Neckwear in 1971!
State Flower
On March 16, 1931, the Saguaro Cactus Flower became Arizona's State Flower.
State Drink
Arizona declared Lemonade as their state drink in 2019.
Geography
Rivers

Colorado river

Gila River

Little Colorado River

Salt River

Santa Cruz River

Verde River

Puerco River

Virgin River

San Francisco River

Kanab Creek
Lake Powell

Roosevelt Lake

Lake Mead

Lake Mohave

Mormon Lake

Lake Havasu

San Carlos Lake

Lake Pleasant

Alamo Lake

Bartlett Lake

Horseshoe Reservoir

Apache Lake

Lyman Lake

Saguaro Lake

Canyon Lake

Martinez Lake

Watson Lake

Rainbow Lake

Val Vista Lakes

Desert harbor Lake

Garden Lakes

Dawn Lake

Roper Lake
Highways
I-15 North and South

I-17 North and South

I-19 North and South

I-8 East and West

I-10 East and West

I-40 East and West
National Parks
State Parks
Famous Landmarks
Famous People
Cochise

was an Apache Indian chief in the 1800s. He along with Geronimo was one of the most famous Apache leaders that resisted American intrusion. Cochise County, Arizona was named after him and his descendants currently live on the Mescalero Apache Reservation in New Mexico.

Cesar Estrada Chavez

was born in 1927 in Yuma, Arizona. He was one of America's most important labor activists and organizers. He founded the first successful union for farm laborers in the United States.

Joan Ganz Cooney

was born in Phoenix, Arizona in 1929. She is a well-known producer, but probably most well-known as a co-creator of the Children's TV show, Sesame Street!

Helen Hull Jacobs

was a tennis champion born in Globe, Arizona on August 6, 1908. She grew up playing tennis and became a top American champion who won nine Grand Slam titles.

Sandra Day O'Conner

was born in 1930 in El Paso, TX but grew up on a ranch near Duncan, Arizona. She studied law at Stanford Law School and became the first woman to serve on the Supreme Court of the United States.

Chester Bennington

was born in Phoenix, Arizona on March 20, 1976. He had a troubled childhood and began singing at a young age. Later, he became well known as a vocalist after the release of Linkin Park's album "Hybrid Theory" in 2000. Afterwards, he performed in various bands from 2000- 2017.

Hailey Baldwin

was born on November 22, 1996, in Tucson, Arizona. She began modeling at a young age and has also hosted several TV shows. She is currently married to Justin Bieber and they both attend Hillsong Church in New York.

Steven Spielberg

was born in 1946 in Ohio, but his family moved to Phoenix, Arizona when he was seven years old. He began making movies at the age of 12 and at the age of 13 he had already won his first prize for a short 40-minute movie that he made using high school friends as actors. Today he is considered one of the founding pioneers of the New Hollywood era and is one of the most well-renowned directors and producers in the film industry.
Interesting Facts
Arizona's state flower, the Saguaro Cactus flower, is only grown in one place in the entire world- Arizona's Sonoran Desert.

The Arizona Trail is 800 miles long!

Two of the top-rated waterfalls in the United States are found in Arizona.

3 of the top 10 spas in the world listed in Travel + Leisure are found in Arizona.

Only one of the 7 wonders of the world is found in the United States and it is located in Arizona- The Grand Canyon.

There are 100 wineries in Arizona and over 75 breweries.

The very first McDonald's Drive-Thru was opened in Arizona.

The musical, Oklahoma!, was filmed in Arizona.

The original London Bridge from London, England was purchased in 1968, dismantled brick by brick, shipped over to the United States, and reconstructed in Arizona!
Arizona Learning Resources
What did your children enjoy learning the most about the state of Arizona?