This Astronomy challenge will have your kids asking to stay up late at night studying the night sky — be sure to say YES!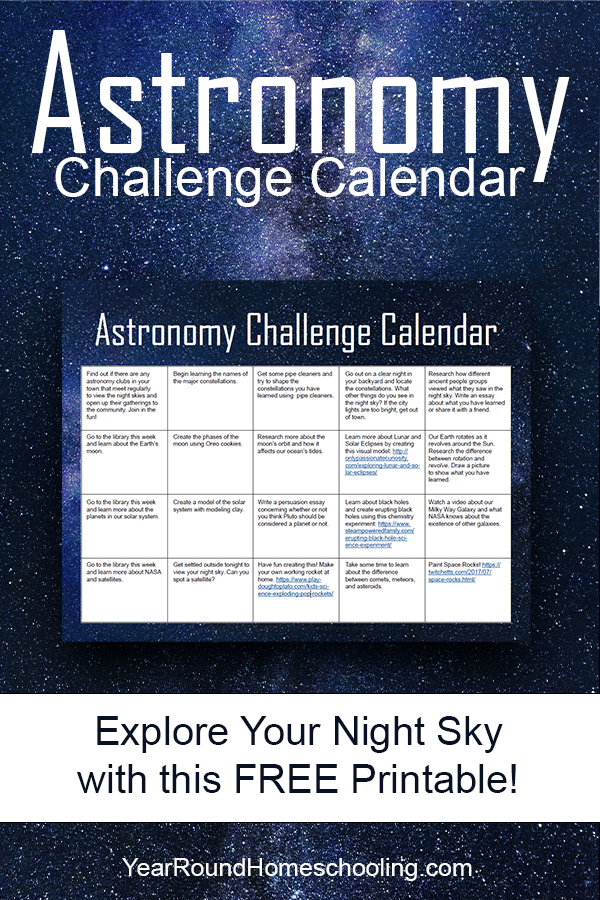 Giving up our nighttime hours can be a challenge as it is often the only quiet that we get as parents.
However, there are some times when we have to share our evening hours with our kids.
Studying the night sky is just one of them and this Astronomy Challenge is a great way to get started.
In our neck of the woods, fall and winter are often the best seasons of the year to see the stars.
When the temperatures drop, the night sky is a wonder to behold.
While I don't know as many constellations as my husband, I truly enjoy the beauty of the night sky.
Growing up, all of our kids enjoyed looking at the stars and the planets with their dad through his telescope.
My own childhood memories include singing a song with my family around the campfire while gazing up at the stars.
In The Stars His Handiwork I See
On The Winds He Speaks Of Majesty
Though He Ruleth Over Land And Sea
What Is That To Me
I Will Celebrate Nativity
For It Has Its Place In History
Sure He Came To Set His People Free
What Is That To Me

Till One Day I Met Him Face To Face
And I Sought The Wonder Of His Grace
Then I Knew That He Was More Than
Just A God Who Didn't Care
That Lived Away Up There, And
Now He Walks Beside Me Day By Day
Ever Watching Over Me Lest I Stray
Helping Me To Find That Narrow Way
He's Everything To Me
You'll find more fun monthly challenges to use throughout the coming year, be sure to check out my store page here.