Even a Christian homeschool mom gets weary. Most people think we have all the patience in the world, but we are human and loose our cool just like anyone else. That is why I think it is important that we not only surround ourselves with friends to support us, but books for Christian homeschool moms that will encourage us when others can't.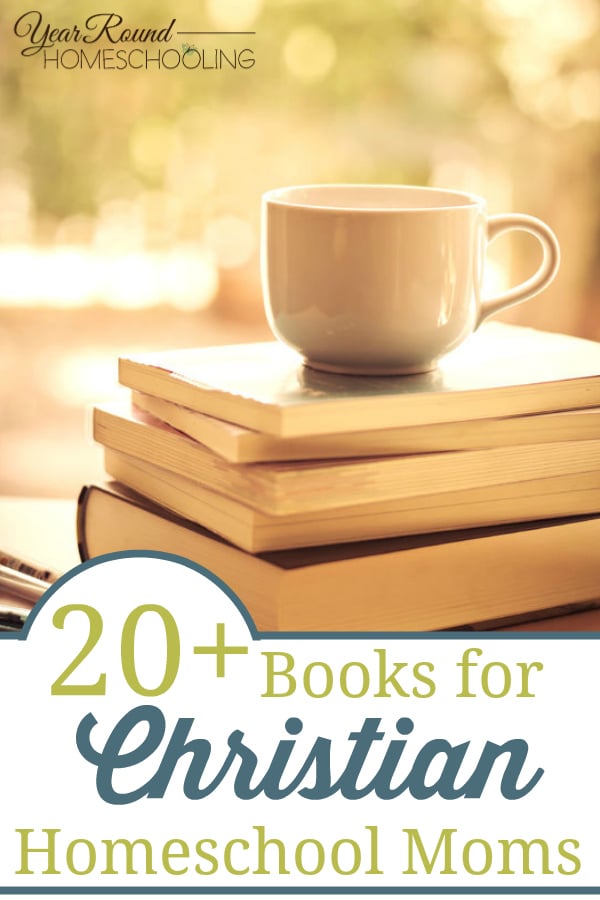 I know that sounds weird, but sometimes you need someone, even an author you've never met, who has been in your shoes. These are some wonderful Christian homeschool mom books. These are in no particular order, but are ones that either I have read all (or part of), heard about from other homeschooling moms or are on my list to read (in my spare time).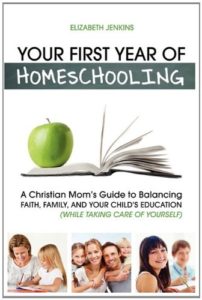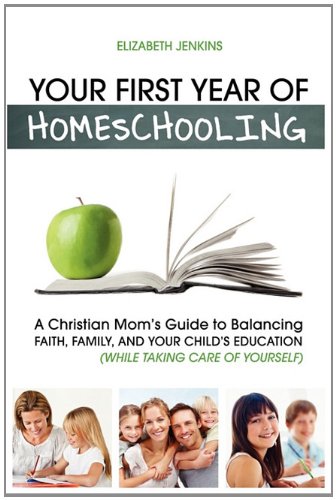 Your First Year Homeschooling – A Christian Mom's Guide to Balancing Faith, Family, and Your Child's Education (While Taking Care of Yourself) by Elizabeth Jenkins
"How Do Homeschool Mothers Do it All?"
Homeschooling your children can be difficult. Faith, family, finances, and your child's education are just a few of the things you have to consider. And in the midst of it all, you have to find time to take care of yourself.
How do you fit it all in? As a homeschooling mother myself, I know what you're going through! I too was a "first year" homeschooler and remember the excitement (and the frustration) well!
In the beginning, it was tough finding a way to make everything work. I was overwhelmed! After a little time though, I learned how to homeschool with ease.
Now, I want to share my secrets with you, so you can…"Have a Great First Year!"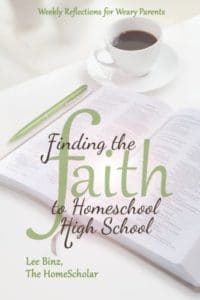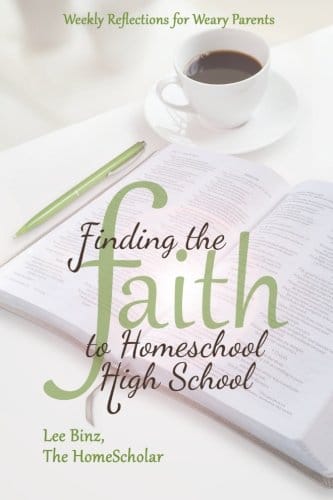 Finding the Faith to Homeschool High School: Weekly Reflections for Weary Parents by Lee Binz
When you homeschool high school, sometimes the only thing separating success from failure is faith and a friend. This book will give you both! Imagine sitting across the table with a dear friend at your favorite coffee shop, sharing struggles and scriptures with each other. Let Lee Binz, The HomeScholar, be that dear friend who can lift you up with scriptural hope and encouragement.
This weekly devotional covers the challenges parents face while homeschooling high school. Gain a refreshing perspective on homeschooling that will support and encourage you along the way, throughout the year.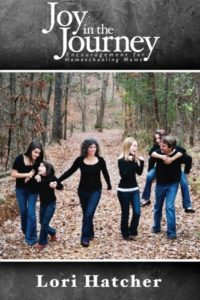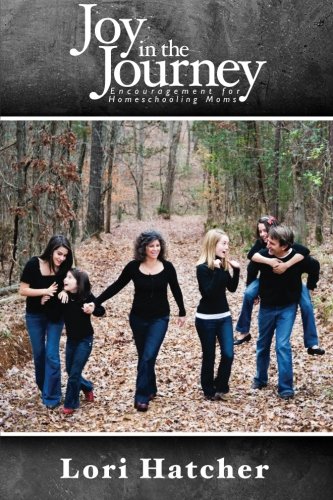 Joy in the Journey – Encouragement for Homeschooling Moms by Lori Hatcher
In Joy in the Journey, veteran home educator Lori Hatcher speaks candidly about the unique challenges homeschooling mothers face. With humor and faith, she shares lessons from her own homeschooling journey and challenges you to press on.
With a devotion for every week of the school year, Lori tackles tough subjects such as discouragement, sibling relationships, busyness, priorities, and character training (yours and theirs). She'll teach you how to know the difference between good, better, and best, and how to seek God for everything you need to successfully homeschool your children.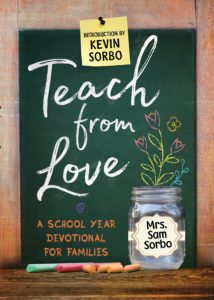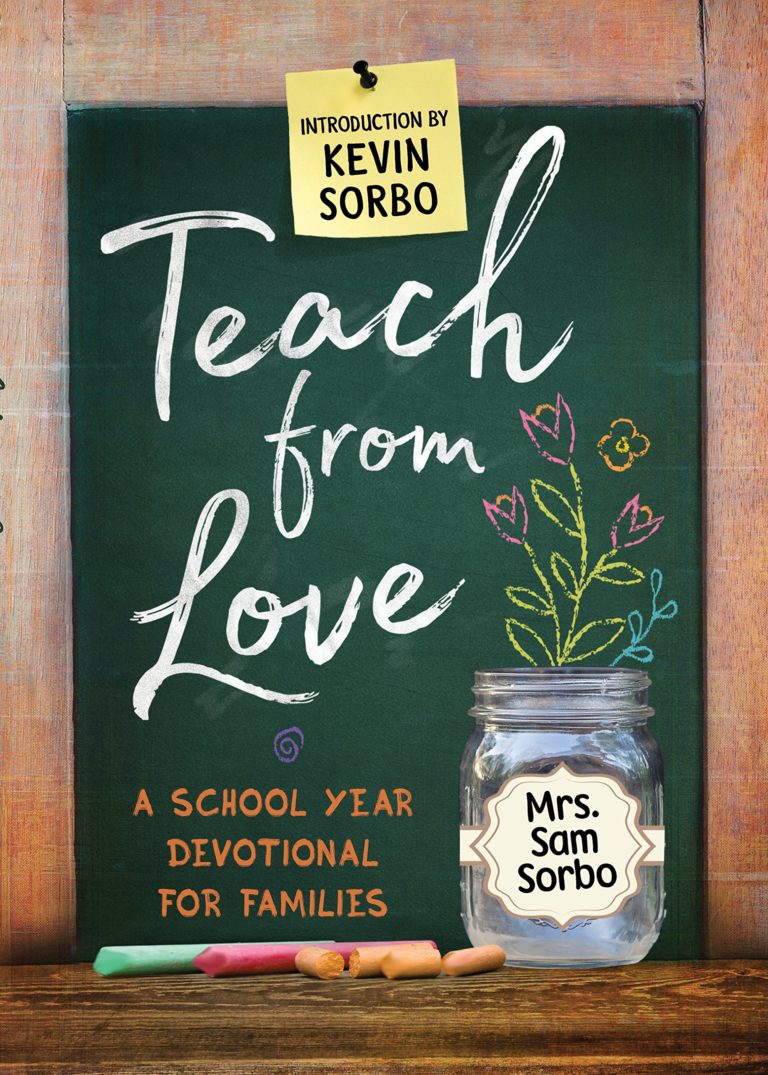 Teach from Love by Sam Sorbo
Learning and transformation happens when education goes beyond books into the heart.
Teach from Love is an inspirational and educational devotional for families to explore and embrace the godly qualities we want for our kids (and for ourselves). It contains thirty-six pairs of weekly character themes designed to be read five days a week for the thirty-six weeks of a school year. Each day includes a Scripture, a short reading, a prayer, and two questions for family discussion.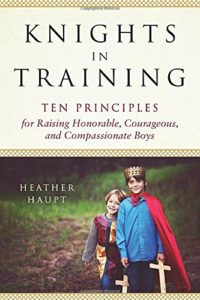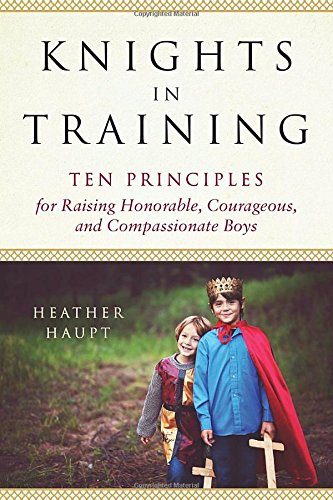 Knights in Training: Ten Principles for Raising Honorable, Courageous, and Compassionate Boys by Heather Haupt
In an age when respect and honor seem like distant and antiquated relics, how can we equip boys to pursue valor and courageously put the needs of others before their own? This book helps parents to inspire their boys by captivating their imagination and honoring their love for adventure.
Heather Haupt explores how knights historically lived out various aspects of the knights' Code of Chivalry, as depicted in the French epic Song of Roland, and how boys can embody these same ideals now. When we issue the challenge and give boys the reasons why it is worth pursuing, we step forward on an incredible journey towards raising the kind of boys who, just like the knights of old, make an impact in their world now and for the rest of their lives.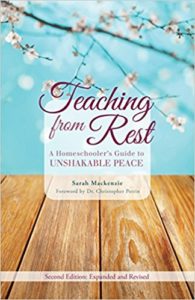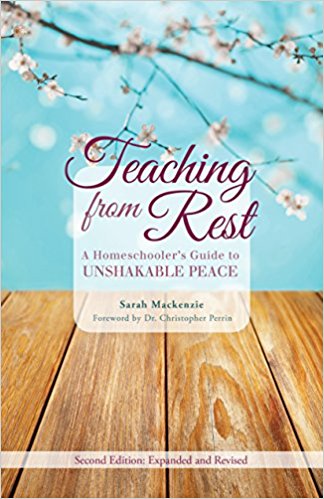 Teaching from Rest: A Homeschooler's Guide to Unshakeable Peace by Sarah Mackenzie
Those who have made the decision to homeschool their children have done so out of great love for their children and a desire to provide them an excellent education in the context of a warm, enriching home. Yet so many parents (mainly mothers) who have taken up this challenge find the enterprise often full of stress, worry, and anxiety.
In this practical, faith-based, and inspirational book, Sarah Mackenzie addresses these questions directly, appealing to her own study of restful learning (scholé) and her struggle to bring restful learning to her children.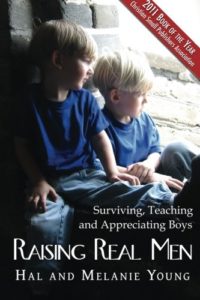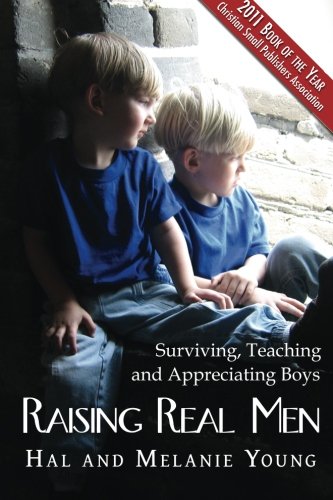 Raising Real Men: Surviving, Teaching and Appreciating Boys by Hal Young
Raising Real Men looks beyond the untied shoes and dirty jeans to what the Lord means your son to be. Learn how to help him focus on schoolwork, find real heroes, stand alone when he needs to, and become a real man one day. Don t just survive raising boys, succeed at it and learn how to love them as they really are.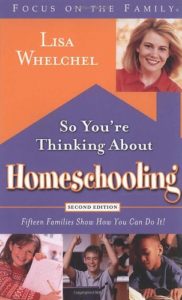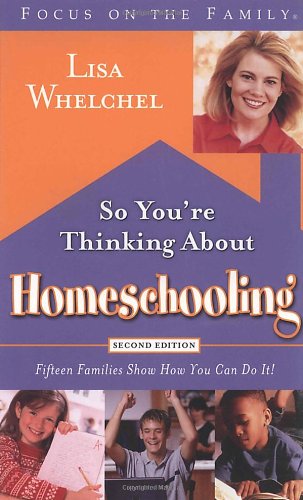 So You're Thinking About Homeschooling: Second Edition: Fifteen Families Show How You Can Do It (Focus on the Family) by Lisa Whelchel
Confused and intimidated by the complexities of homeschooling, many parents assume it could never work for them. Now an updated edition of So You're Thinking About Home Schooling by Lisa Whelchel—herself a homeschooling mother of three—introduces to readers fifteen composite portraits of homeschooling families who show how every family can successfully face the unique challenges of its situation.
The story-based approach deals with common questions of time management, teaching weaknesses, and outside responsibilities, as well as children's age variations, social and sports involvement, learning disabilities, and boredom. Seeing a wide variety of homeschooling families in action gives parents the information and confidence they need to make their own decisions about home-based education. Includes a new chapter from Lisa and an all-new resource guide with recommendations from real-life homeschooling families!
KJV, Homeschool Mom's Bible, Hardcover: Daily Personal Encouragement by Zondervan
This hardcover Bible offers 365 encouraging devotions for moms who educate their children at home. It offers heartfelt inspiration to revive, encourage and strengthen you as you juggle the needs of building a home and caring for your family while striving to instill your faith and values in your children.
With a full year's worth of insightful and empowering devotions written by a homeschooler for homeschoolers, this KJV Bible will warm your heart and restore your soul.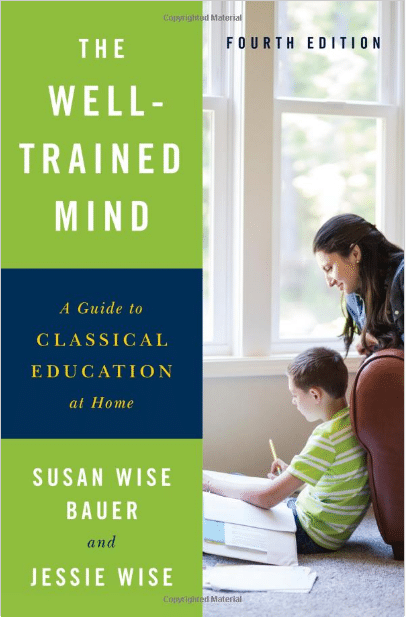 The Well-Trained Mind: A Guide to Classical Education at Home by Susan Wise Bauer
The Well-Trained Mind will instruct you, step by step, on how to give your child an academically rigorous, comprehensive education from preschool through high school―one that will train him or her to read, to think, to ?understand?, to be well-rounded and curious about learning.
Veteran home educators Jessie Wise and Susan Wise Bauer outline the classical pattern of education called the trivium, which organizes learning around the maturing capacity of the child's mind and comprises three stages: the elementary school "grammar stage," the middle school "logic stage," and the high school "rhetoric stage." Using this theory as your model, you'll be able to instruct your child in all levels of reading, writing, history, geography, mathematics, science, foreign languages, rhetoric, logic, art, and music, regardless of your own aptitude in those subjects.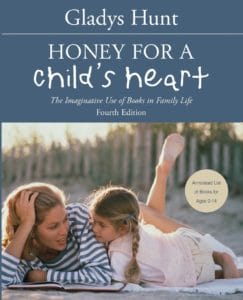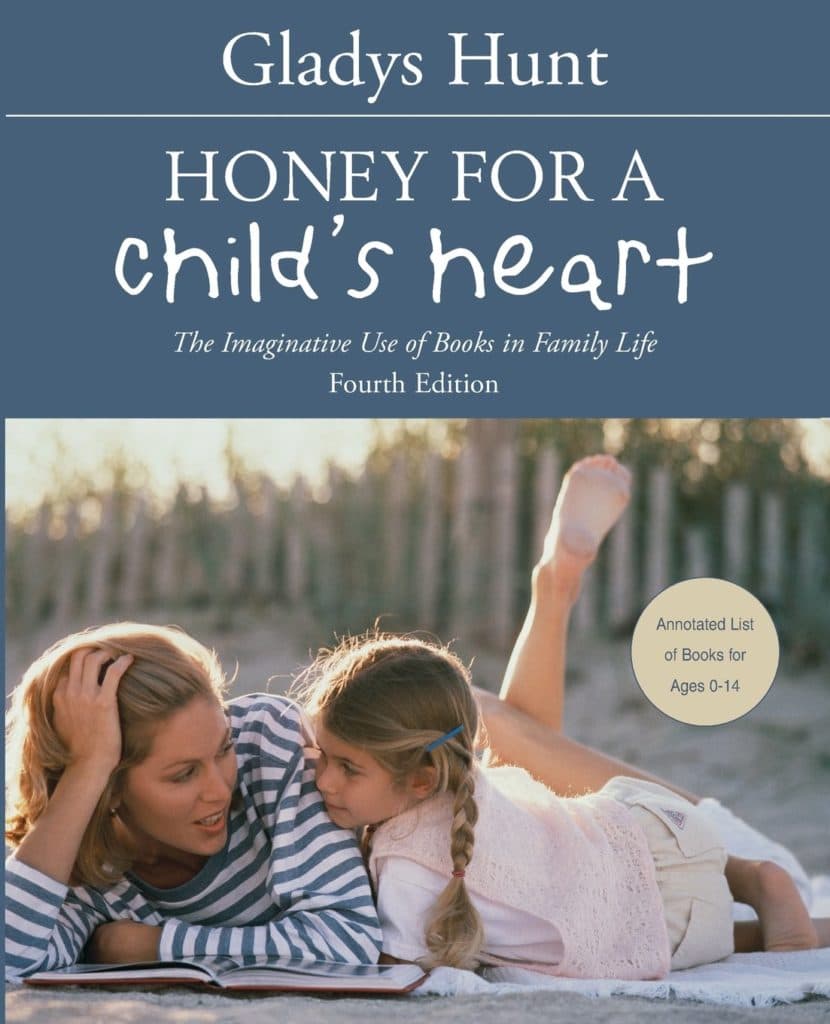 Honey for a Child's Heart by Gladys Hunt
Now in its fourth edition, Honey for a Child's Heart discusses everything from the ways reading affects both children's view of the world and their imagination to how to choose good books. Illustrated with drawings from dozens of favorites, it includes an indexed and updated list of the best new books on the market and the classics that you want your children to enjoy.
Author Gladys Hunt's tastes are broad, her advice is rooted in experience, and her suggestions will enrich the cultural and spiritual life of any home.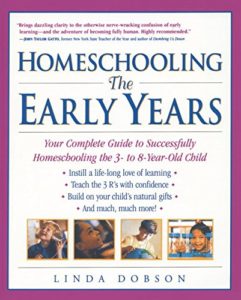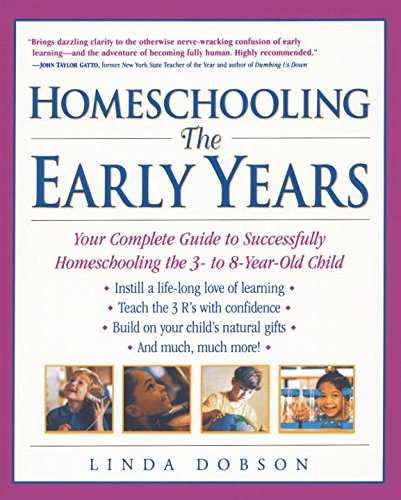 Homeschooling the Early Years by Linda Dobson
Young children are full of curiosity, imagination, and a sense of wonder. They're willing to try new things and possess a natural joy of discovery. Yet in a traditional school, these natural behavior traits are too often squelched. That's why more and more parents just like you are choosing to teach their children at home during these critical years—the years that lay the foundation for developing learning skills that last a lifetime.
Inside, respected homeschooling author Linda Dobson shows you how homeschooling can work for you and your young child.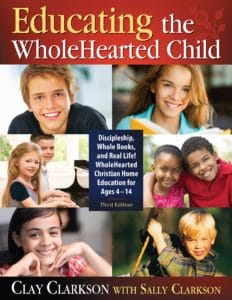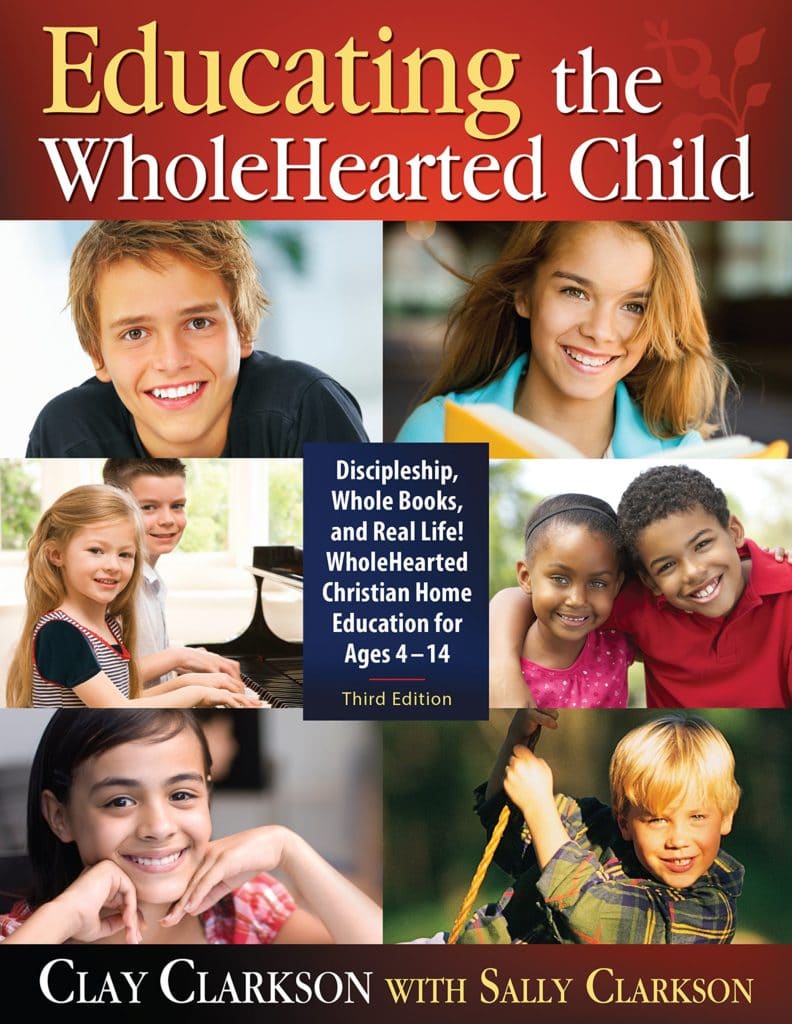 Educating the Wholehearted Child by Clay Clarkson
A handbook for Christian home education. A commonsense, disciple-based biblical approach to home schooling using real books and real life. Filled with Scriptures, anecdotes, insights, ideas, methods, lists and charts to make living and learning at home natural and enjoyable.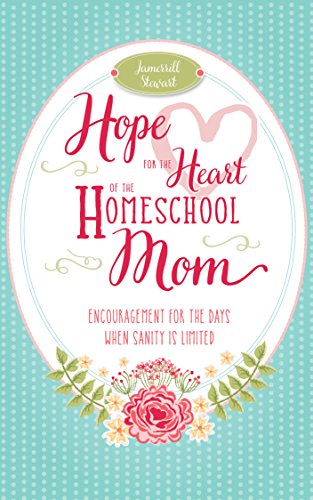 Hope for the Heart of the Homeschool Mom: Encouragement for the Days when Sanity is Limited by Jamerrill Stewart
Hope. Encouragement. Sanity. On any number of homeschooling days, I've needed all three. It's not that homeschooling is an unwanted chore. Homeschooling my children is one of my greatest joys. It's a privilege. I'm so incredibly blessed by this undertaking.
And I'm challenged. I'm pulled. I'm stretched. I'm growing. I'm finding my reheated coffee in the microwave at 2 p.m. wondering where the morning went. Trying hard to soak up the sweet and sacred moments with these souls and miss stepping on the Lego pile in the process.
Friend, I'm sure you've felt the same. The pages of Hope for the Heart of the Homeschool Mom is a collection of encouragement to prayerfully strengthen your soul for this God-given journey. A journey that's beyond stretching and beyond worth it.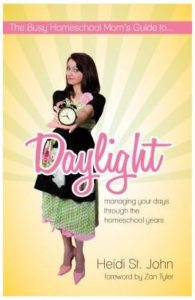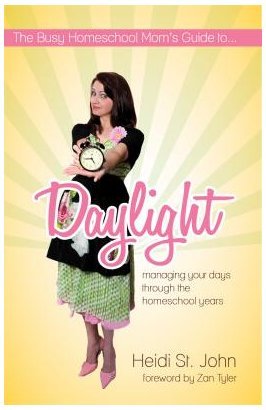 Busy Homeschool Mom's Guide to Daylight Managing Your Days through the Homeschool Years by Heidi St. John
Do you need encouragement and fresh ideas for your homeschool day? Help is on the way! Tick Tock, Tick Tock… Can you hear it? Are you "burning daylight?" If you have ever experienced a series of days, weeks or even months when you felt like you just could NOT get on top of all you had to do, you are not alone. Juggling homeschooling and homemaking can be challenging-or so we've heard!
Whether you're struggling with managing your day, or simply looking for encouragement and fresh ideas for tackling your list of things to do, you will enjoy hearing from the heart of busy homeschool mom of seven, wife and author, Heidi St. John. You'll laugh out loud, learn some of Heidi's favorite tips on everything from home organization to meal preparation, and discover how you can homeschool in freedom and joy. Are you ready to be encouraged? Then join Heidi in discovering that real moms sometimes serve cereal for dinner-and live to write about it!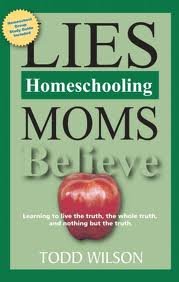 Lies Homeschooling Moms Believe by Todd Wilson
Your house is a disaster, your kids seem out of control, and you wonder how you'll ever make it through another day of school. Your 'get up and go' has 'gotten up and went'. You used to think homeschooling was the best thing since sliced bread, but now you're feeling like burnt toast. Take heart– you're not alone!
Most homeschooling moms are prone to believing lies that say, you're not good enough… you aren't qualified … and you are ruining your children. If you believe these lies, you will crumble under the weight of homeschooling and feel defeated and alone. But if you learn to recognize these lies and combat with the TRUTH, then you will experience peace, joy, and freedom. Look inside these pages to discover the steps to combat the lies homeschooling moms believe and to fill your mind and heart with the truth.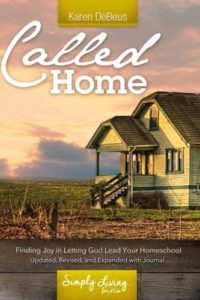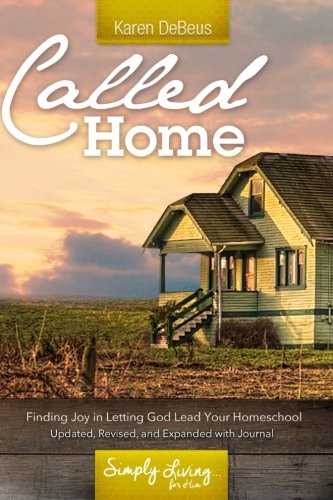 Called Home: Finding Joy in Letting God Lead Your Homeschool by Karen DeBeus
In the Spring of 2006, I was called to homeschool. It was never my intention or my plan, but God clearly showed me this was a calling. It was a hard step to take, but the Lord directed my steps… I have not looked back since.
Although the homeschooling journey is difficult at times, if God has put you on this path and called you here, He will lead you through each day. We simply need to stop chasing things and start chasing Him.
This book will encourage you to keep your focus on the One who has called you here. Through my personal story and experience, you will see what happens when we take our eyes off of Him, and how each day can look when we regain our focus, fix our eyes on Him and on the true goals of homeschooling.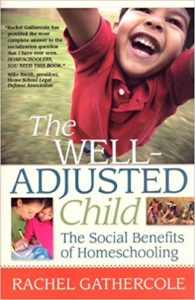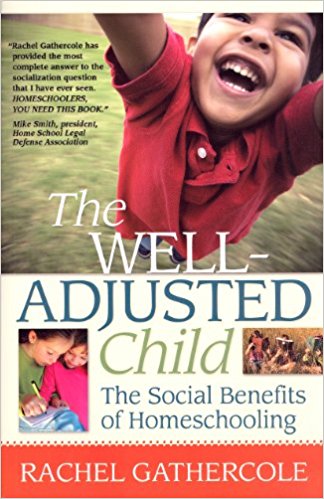 The Well-Adjusted Child: The Social Benefits of Homeschooling by Rachel Gathercole
Socialization may well be the single most important aspect of education today. With high and rising rates of divorce, drug abuse, youth violence, alcoholism, teen promiscuity, and so forth, we cannot afford to let this issue go unexamined.To cling to the idea that what we, as a culture, are doing now is the right and best way for all children simply because it is what we are used to is to shut our eyes and minds to other possibilities-possibilities that may well afford greater happiness, success, peace, and safety to our own children.
At a time when people feel more disconnected than ever before, we cannot afford to overlook or allow ourselves to be blinded to an option which offers great benefits, including a rich, fulfilling, and healthy social life, that our children may well need for the future. Homeschooling offers great social benefits to kids and parents. And when we understand them, our children are the ones who will win.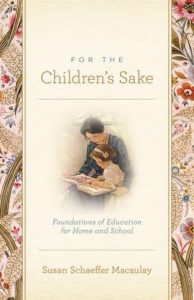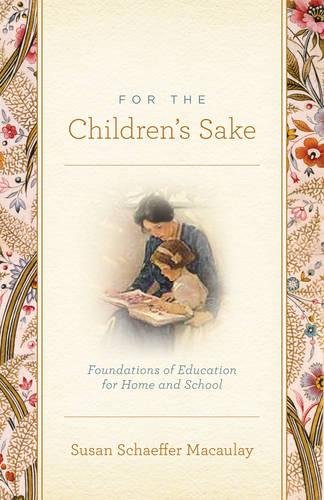 For the Children's Sake: Foundations of Education for Home and School by Susan Schaeffer Macaulay
Shows parents and teachers how children's learning experiences can be extended to every aspect of life, giving them a new richness, stability, and joy for living.
Every parent and teacher wants to give his or her children the best education possible. We hope that the education we provide is a joyful adventure, a celebration of life, and preparation for living. But sadly, most education today falls short of this goal.
For the Children's Sake is a book about what education can be, based on a Christian understanding of what it means to be human-to be a child, a parent, a teacher-and on the Christian meaning of life. The central ideas have been proven over many years and in almost every kind of educational situation, including ideas that Susan and Ranald Macaulay have implemented in their own family and school experience.
For the Children's Sake will benefit parents and teachers in any educational setting-homeschooling, public school, or private school. This new edition features an updated cover design.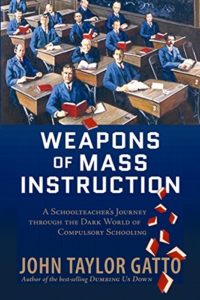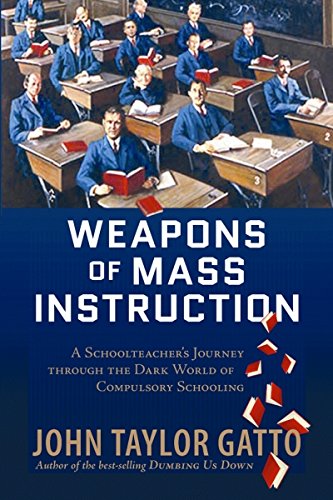 Weapons of Mass Instruction: A Schoolteacher's Journey Through the Dark World of Compulsory Schooling by John Taylor Gatto
John Taylor Gatto's Weapons of Mass Instruction, now available in paperback, focuses on mechanisms of traditional education that cripple imagination, discourage critical thinking, and create a false view of learning as a byproduct of rote-memorization drills. Gatto's earlier book, Dumbing Us Down, introduced the now-famous expression of the title into the common vernacular. Weapons of Mass Instruction adds another chilling metaphor to the brief against conventional schooling.
Gatto demonstrates that the harm school inflicts is rational and deliberate. The real function of pedagogy, he argues, is to render the common population manageable. To that end, young people must be conditioned to rely upon experts, to remain divided from natural alliances, and to accept disconnections from their own lived experiences. They must at all costs be discouraged from developing self-reliance and independence.
Escaping this trap requires strategy Gatto calls "open source learning" which imposes no artificial divisions between learning and life. Through this alternative approach, our children can avoid being indoctrinated—only then that can they achieve self-knowledge, judgment, and courage.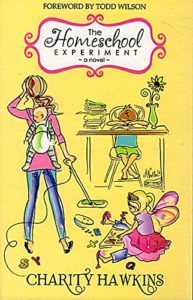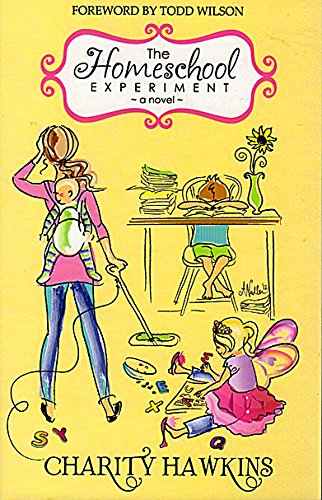 The Homeschool Experiment by Charity Hawkins
A delightful novel for moms set in the hilarious, hard, and beautiful world of homeschooling. It's the perfect first book for those just starting out on their homeschooling journey, or beginning to consider the idea, and it's a reminder to the verteran homeschooler that you're not alone. It's sort of like living in the house of a homeschool family for a year. You see the daily challenges, but also the rewards.
With refreshing humor and honesty, Hawkins offers moms encouragement in their noble work at home, a chance to laugh at the moments only a mom would understand, and a reminder to cherish those gifts right under their roofs- those wild, irrational, precious people-their own children. Though the book deals with homeschooling, it also addresses the larger question, "What happens when you feel called to do something that seems entirely too big for you?" Between laughs, don't be surprised when you pick up ideas that will simplify your own homeschooling plan. So, come join Julianne and her co-op friends as they navigate through a hard but humorous year of diapers, dinners, husbands, meltdowns, and math lessons. And that's just September.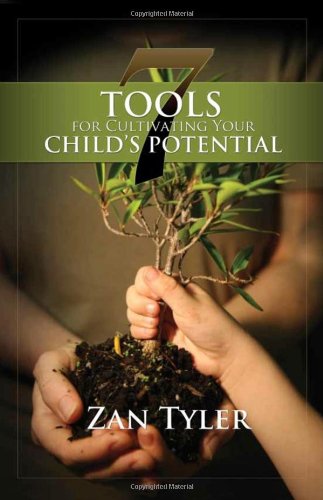 7 Tools for Cultivating Your Child's Potential by Zan Tyler
God created the family to be a powerful, life-shaping force in the lives of our children to be the place where their potential can be energetically and effectively nourished and cultivated. Sadly, in today s culture, kids and parents alike often treat the home as the spot to recharge their cell phones, change clothes between activities, and crash at night. It's time we moved beyond the status quo and learned to use the tools the Master Gardener has provided for tending our homes and teaching our children.
Zan Tyler will help you recognize the signs of potential in each of your children, signs that are easy to miss yet are ripe for cultivation. As you read, you will find exciting ways to enable your kids to establish a godly identity, discover their purpose, develop a biblical worldview, and build leadership and communication skills.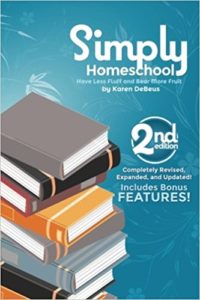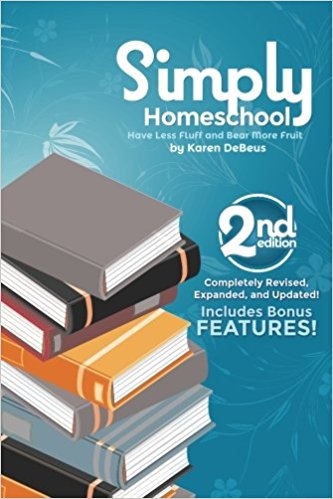 Simply Homeschool: Second Edition: Have Less Fluff and Bear More Fruit by Karen DeBeus
Are you feeling disheartened, discouraged, or lost on the homeschooling journey? It doesn't have to be so complicated… I want to tell you to stop. Slow down. Stop chasing. Stop striving. Stop making it about the world. Make it about Him. This world and all it has passes away, but He is eternal. Stop. Look in your child's eyes. Focus on the relationship with your child. At that moment. These are the things that matter for eternity. Let the extras go…if they are bogging you down, then they aren't meant to be there. This journey isn't going to last forever. In fact, each year it gets shorter and shorter…so do it well. I always tell my kids to do all tasks well. Whatever lies before them, no matter how big or small, do it well.
So, we as homeschool moms…are we doing it well? Are you stretched so thin we are giving a little in a lot of places? Or are we focused on what really matters? Join me as we get back to the heart of our homeschools and simply…homeschool. *Get rid of physical and mental "clutter" *Meal planning tips *Homeschooling multiple ages *Simple Preschool *Schedules *Choosing Curriculum *..and more!
What are your favorite books for Christian homeschool moms to read?