When traveling with kids, it is important to make a few plans before heading out. This California Field Trip Guide will help you make plans for exploring 'The Golden State'.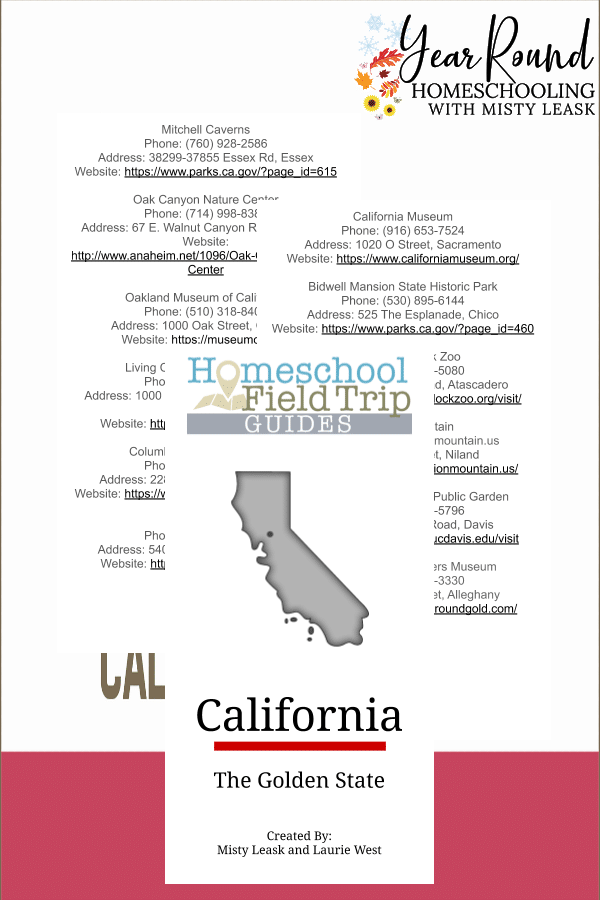 While I've only visited California twice and for very short time periods, I have wonderful memories from both trips.
The Redwoods in King's Canyon are a must-see, in my opinion, so don't forget to add them to your plans.
California is a big state and there are countless field trip opportunities throughout the state. There truly is something for everyone.
I've tried to include something for everyone in this field trip guide. Options include museums, national parks, historical places, gardens and much more.
If you're ready to hit the road and head to California, make sure your kids have learned all about California before you head out. This California State Study is a great place to start! There are also notebooking pages and a coloring pack that are fun additions to a study of the state of California.
At times travel isn't possible, so if you're unable to get out and explore California, these virtual field trip options might be a great resource for you.
Inside this digital California Field Trip Guide, you'll find 20+ field trips in California which include their contact information, phone number and website address.