Studying composers is one of my favorite ways to teach music in our homeschool. This Chopin Composer Study Pack was designed to coordinate with our Frederic Chopin Unit Study.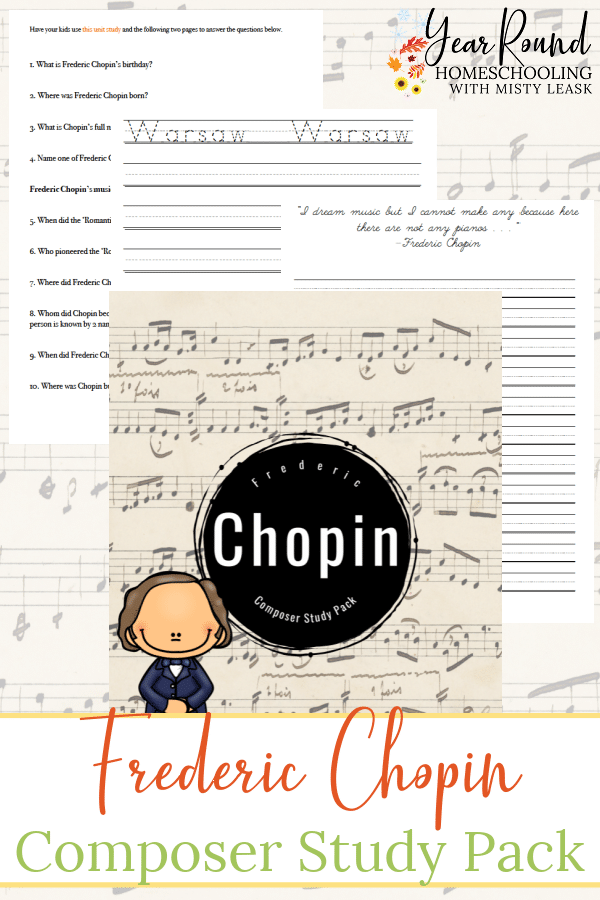 Over the years, my children have been exposed to countless styles of music as part of their homeschooling. Classical music was often played quietly in the background while they completed their schoolwork.
I grew up playing the piano from a very young age and as a teenager picked up my first bow and fell in love with the violin.
While my life hasn't allowed me to continue playing music as much as I would like, I hope that my love for music will continue to live on through my children.
Chopin was not one of my favorite composers, but I learned to appreciate the skills and techniques of each composer as a musician.
I can read music, but just as I'm not an artist, neither am I a composer. Still, music is the voice of my soul…just not my musical creations.
Whether or not you and/or your children enjoy Chopin, there is much to be learned from him through his life and music.
Inside this Frederic Chopin Composer Study Pack, you'll find lesson questions (answers are found in this unit study), copywork pages (manuscript and cursive), a coloring page, word search and more.