Studying the composers of the past is a beautiful way to cover history and music with your children. Discover the history of the composer, Chopin, through this Chopin Unit Study.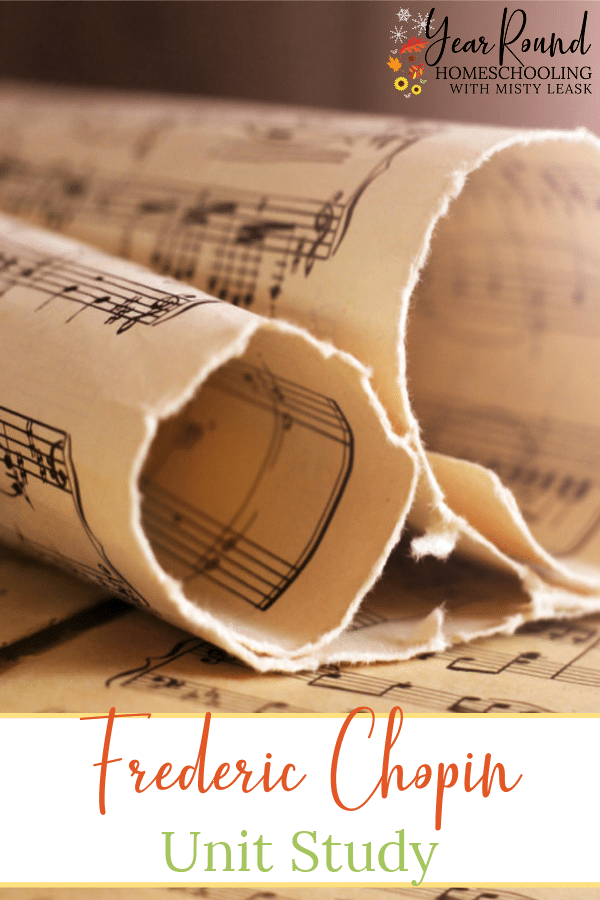 Are you ready to travel back to the Romantic Era? Take a trip back in time, to the 1800s, and learn all about the life and music of Frederic Chopin.
Frederic Chopin Biography
Frederic Chopin (Fryderyk Franciszek Szopen) was born in Poland in a small village called Zelazowa Wola which is about 30 miles west of Warsaw.
He was born on March 1, 1810, and interestingly enough, when he was baptized two months later, his birthday was mistakenly listed on his baptismal certificate as February 22nd, the birthday of his godfather. This has caused some contention in the music world as people argue about which date Chopin's birthday should be commemorated on.
Chopin's father, Nicholas, was a French emigrant who worked as a tutor for aristocratic families. Chopin's mother Justyna was the poor relation of one of the families for which his father worked.
Chopin came from a very musical family. His father played the violin and flute and his mother the piano. Chopin showed an affinity for music even as a small baby, reacting in a remarkable way to the piano whenever his mother or sister would play and as a small child began trying to copy what he'd heard and compose his own pieces.
At age six he began taking lessons from Wojciech Zywny, but a year later he'd so surpassed his tutor that he stopped taking formal lessons and was invited to play his music from time to time at small private parties.
He made his first public appearance by age 8 at a charity event and a mere three years later he played in the presence of the Russian czar Alexander I who was in Warsaw to open Parliament. This same year he wrote his earliest surviving manuscript, Polonaise in A-Flat Major and dedicated it to his tutor, Wojciech Zywny.
Within the next few years, he composed several other pieces in various styles and his parents began to realize that he could benefit from formal training so they enrolled him in the Warsaw Conservatory of Music (what is now known as the Chopin University of Music).
Chopin studied at the Warsaw Conservatory of Music for three years under the composer Josef Elsner who while teaching him the academic side of musical theory, allowed him creative freedom. During this time he became enthralled with Polish folk music, the influence of which can be heard and felt all throughout Chopin's music.
During his years at the conservatory, Chopin traveled, played and composed the works Introduction and Polonaise Brillante in C Major for the Cello and Piano and Piano Concerto No. 2 in F minor.
Having completed the three-year course at the conservatory, Chopin intended to travel with a friend to Italy, however, because of the political unrest there, he went to Paris instead. In Paris, his style was not as popular among large audiences, but in 1831 he was by chance introduced to the Rothschild family who enjoyed his playing. Soon he was engaged by many high society households as both concert pianist and tutor, and within the year he'd established his reputation among the Paris musical elite. He continued to compose and among other works, wrote G-minor Ballade and Nocturne in C-sharp Minor Op. 27.
About 6 years into his time in Paris, Chopin was introduced to novelist Aurore Dudevant (better known by her pen name, George Sand) and two years later Chopin and Dudevant became romantically involved. Although the two never married, they lived together for the next ten years, some of the most productive years of Chopin's musical career during which he composed one of his most beloved works Polonaise in A-flat Major Op. 53 (also known as the Heroic Polonaise).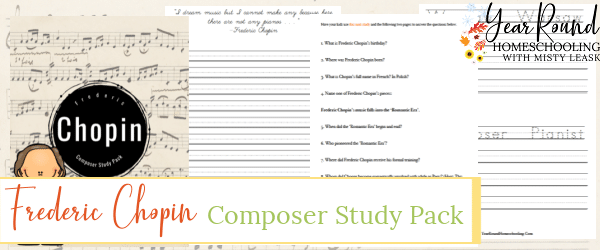 In the winter of 1838, Chopin became ill after spending some time on an island in Spain. He developed tuberculosis but recovered sufficiently after three months to continue his work. However, his bout with tuberculosis had lasting effects on his health. In 1848, Dudevant left Chopin because of various relational disagreements. Although they both regretted the separation, both were too proud to reconcile.
Chopin was broken both emotionally and health-wise and decided to take a long tour of the British Isles, where he made his last appearance on November 16, 1848. After a long, taxing schedule in Britain, Chopin returned to Paris where he died a year later on October 17, 1849, at the age of 39. His body was buried in Paris, but his heart was taken and buried in Warsaw near the place of his birth.
Frederic Chopin's Most Famous Works
This work was composed in 1831 during the November Uprising in Poland and displays the emotions Chopin felt for the unrest in his homeland.
This composition was written in 1834 but published posthumously. Although some critics said it lacked nobility, it is one of Chopin's most popular pieces.

A Young Girl's Wish Op. 74
Chopin loved to use traditional Polish poetry for his music. This particular piece is inspired by a poem by Stefan Witwicki and tells the story of a peasant girl who is in love.
Nocturne in C- sharp Minor
This work was composed in 1847 and was dedicated to his older sister Ludwicka Chopin along with the message, "To my sister Ludwicka as an exercise before beginning the study of my second concerto." It was not published until 21 years after Chopin's death.

This composition is another of Chopin's most well-known, also written in 1847. It was dedicated to Countess Delfina Potocka.

Polonaise in A-flat Major Op. 53

(The Heroic Polonaise)
This piece was written in 1848 and is one of Chopin's most beloved compositions. Its inspiration came from the French Revolution of 1848 and its nickname
The Heroic Polonaise
came from a letter written by George Sand in which she said that the polonaise should be a symbol of the heroicness of the Revolution.
Additional Activities
Taking a field trip to Poland and France to see where Chopin lived and died would be quite expensive and time-consuming, but today's technology allows us to experience those places from the comfort of our own homes. You can take your children on the following three short field trips:
Science- DNA and Heredity:
Chopin came from a very musical family. Both of his parents were musical and all of his brothers and sister learned how to play the piano. Music must have been, as many would say, "In their genes". What does that mean? Take a few minutes to learn about what DNA is and how DNA works.
*For younger students

*For older students

You may want to ask older students to answer the following questions:
What is the likelihood that Chopin's parents (who were both musical) would have a child that didn't have any musical talent at all?

What if one of Chopin's parents was not musical? What would the likelihood be then?
Geography/History- The November Uprising
The November Uprising took place in Poland from 1830-1831. Right after Chopin left Poland. In fact, the friend Chopin was traveling with returned to Poland and enlisted, leaving Chopin to travel to Paris alone.
This is an article with pictures explaining what the November Uprising was all about. You may want to read the article with your child and mark out on a map of Europe who controlled Warsaw before the November Uprising, and who controlled it afterward. You may also want to draw an arrow from Warsaw to Paris showing where Chopin went to live in 1830 until his death in 1849.
Musical Appreciation- Chopin
Above are 6 links to Chopin's most famous compositions. You may want to create a YouTube Playlist for them (or use this one!) and have your children listen to a "Chopin Concert". If you want to really go all out; make some fancy snacks, get all dressed up and invite some friends over for an evening of culture and musical appreciation!
Music Lesson: Polonaise in A-flat Major
If your child plays the piano, this is a piano tutorial for Chopin's earliest surviving manuscript, Polonaise in A-flat Major. It may take your child a while to learn it, but the tutorial goes very slowly, piece by piece. It could be a fun challenge for them.
Kids tend to retain what they've experienced, and food is an excellent way to experience a new place. Most people love Polish pierogi. Making pierogi could be a great way to experience the Polish culture and see what kind of food Chopin may have eaten and enjoyed.
Books are a great way to add to your children's study of Frederic Chopin. You can add reading time easily during your homeschool quiet time or use them as read-alouds.