The Christmas season is often a busy one – especially for homeschool moms. This Christian Christmas Elementary Pack is a great resource for one of your busy holiday days.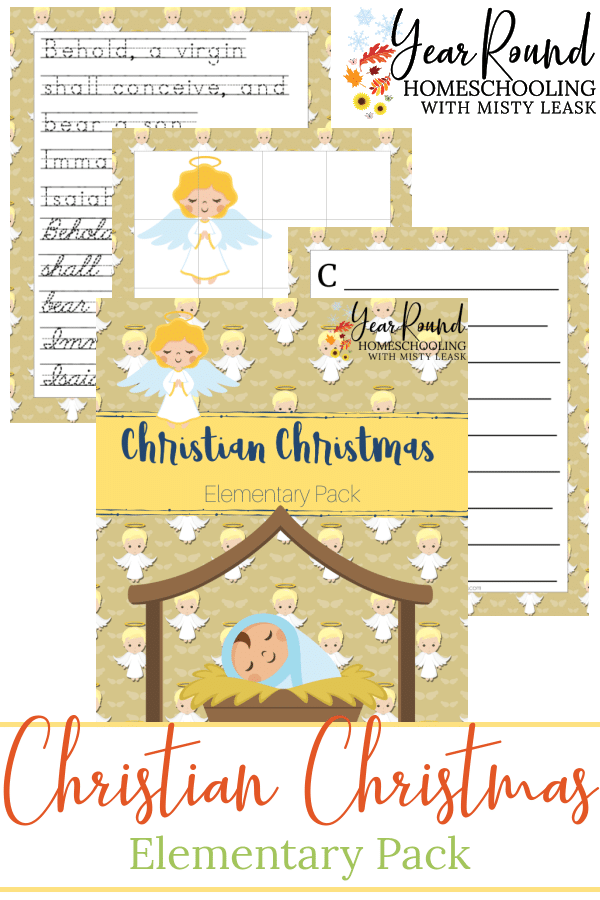 Children love Christmas. Their excitement is often contagious and even helpful for those years when decorating or celebrating isn't thrilling to parents.
My children have always been part of decorating, planning and celebrating at Christmastime. Some years I've even let them do it all on their own.
It is nice to let someone else take over once in a while and seeing their ideas come to life brings a smile to my face and warmth to my heart.
I love Christmas. Always have. It has never been all about the presents under the tree, but rather the beauty the season reminds me of.
Jesus is the Reason for the season. It is because of Him that we have the greatest gift of all.
While this isn't only true at Christmastime, I love that around the world Christians are coming together each in their own homes on the same day remembering His birth.
In God's Word, He reminds us of the importance of coming together and for me, Christmas is a beautiful sign of Christians fulfilling these Scriptures.
"For where two or three are gathered together in my name, there am I in the midst of them." (Matthew 18:20)

"Not forsaking the assembling of ourselves together, as the manner of some [is]; but exhorting [one another]: and so much the more, as ye see the day approaching." (Hebrews 10:25)
This Christmas, I hope that your family spends time together celebrating the gift of Christmas. A tiny babe. Born in a manger. Long ago. Still living today.
For those moments when you need time to breathe, your kids will enjoy working on their drawing, math, handwriting and more using the fun activities inside this Christian Christmas Elementary Pack!