Christmas is a busy time of year. It can seem like your to-do lists double overnight when November arrives. This Christian Christmas PreK and Kindergarten Pack will be very helpful in keeping your little ones learning in a few of your busiest moments.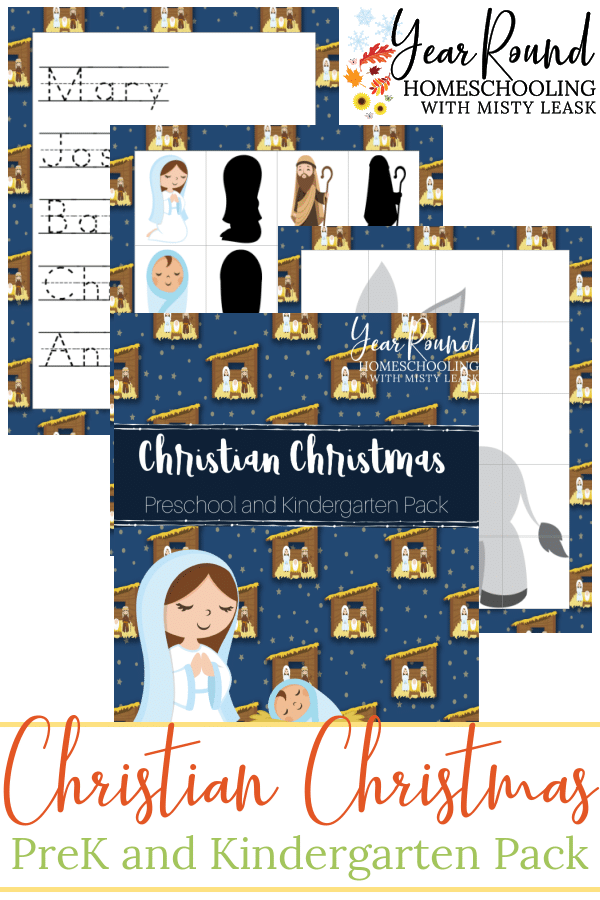 Not only is it a busy season, but Christmas is also a beautiful time of year. The twinkling lights. Carols playing on the radio. Christmas movies – both new and old.
While it is easy to get caught up in the beauty of the season, we must always remember the Reason for the Season. Jesus.
The original Christmas story is often forgotten around the world today. One of our responsibilities as parents is to ensure that our children never forget what Christmas is really about.
From the time my children were toddlers, every Christmas morning has begun with the reading of The Story of Christmas.
As Christmas Day comes to a close, we sit down together and watch, The Nativity Story. Everything begins and ends with Jesus. Shouldn't the celebration of His birth be the same?
These traditions haven't changed as my children have grown up nor do I plan to stop when they're grown and out on their own. Empty nest moms need to hold tight to a few Christmas traditions.
If you haven't started any Christmas traditions with your little ones, I encourage you to start at least one this holiday season. These traditions will become precious memories that will be near and dear to your heart always.
Take a moment and download this fun pack for your little ones to use while you're busy preparing Christmas dinner or wrapping the last few gifts to place under the tree.
Your Preschool and Kindergarteners will have fun working on handwriting, reading, drawing, matching skills and more using this fun Christian Christmas PreK and Kindergarten Pack!