I love the new year. It is a clean slate. A fresh start. A new beginning. My love for each new year thrives on choosing a word of the year. I created this word of the year resource to share my favorite part of my new year preparations with you.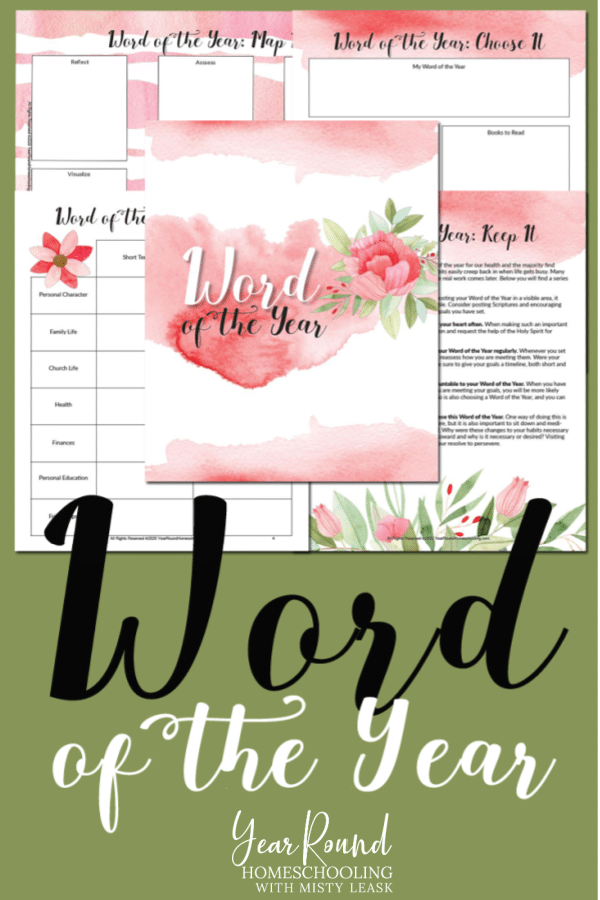 How do you prepare for a new year? Do you make resolutions? Perhaps you set goals for specific areas of your life? I don't make big plans for a new year because I tend to get distracted. Resolutions and goals don't work well for me.
There is one thing that I do to prepare for a new year though and that is to pick a word of the year. Honestly, God picks the word for me, but once He has laid it on my heart, I get to work figuring out how I need to apply it to all areas of my life.
It has been amazing to watch God work in my life through words like; peace, unplanned, love, survivor and joy. At the start of each new year, I'm filled with hope knowing that God not only has a plan for my year but that He has given me a snapshot of what He will do in and through me throughout the year.
If you've never had a word of the year, I encourage you to seek the Lord and ask Him to reveal one to you. This new year's preparation has been a tremendous blessing in my life – at the beginning, end of the year and looking back at years gone by.
This Word of the Year Pack was designed to help you not only choose a word for each new year but to map it out in detail for every area of your life. It is my hope and prayer that this resource is a blessing to you!