Homeschooling through the holidays can be done without adding stress or increasing your overwhelming feeling. This Christmas PreK and Kindergarten Pack will keep your early learners busy having fun learning!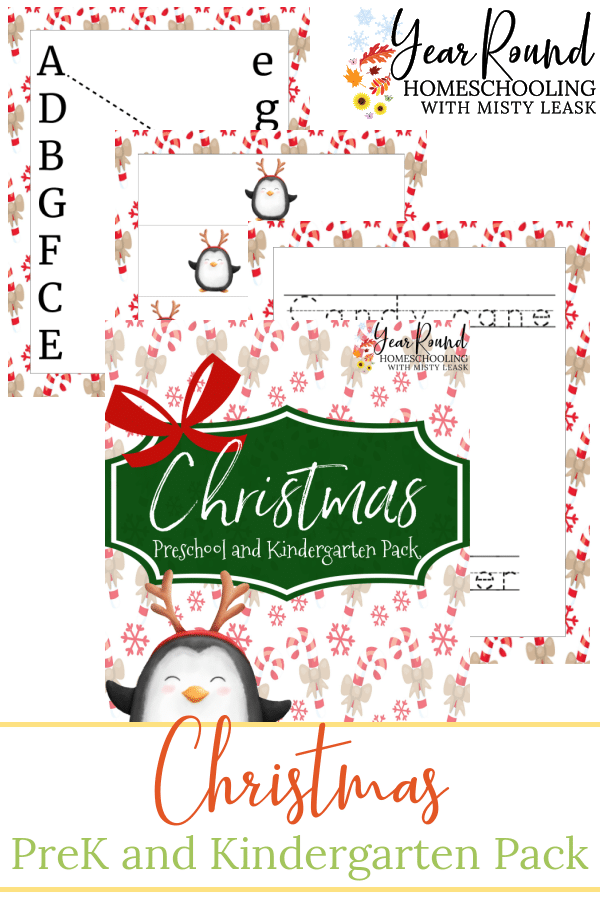 The holidays are a perfect time to put away the normal resources you use in your homeschool. Everyone, including you, needs a break once in a while.
This time of year, I've found that my children are more willing to learn when activities are centered around the holidays.
We play a lot of Christmas music, spend a considerable amount of time in the kitchen, read Christmas books together and snuggle up with hot chocolate watching Christmas movies together at night.
That may not seem like a school day, but it is! Music, reading, character analysis, story-telling, relationship building — all of these are educational. Most of all? They're memories in the making.
Rather than trying to push through and get school done, I encourage you to embrace the holiday season. Let go of your homeschool schedule for a little while.
Start a new Christmas homeschool tradition with your little ones this year. String popcorn together to decorate the tree. Bake gingerbread men for an afternoon snack together.
If you aren't sure what they would enjoy, ask them. You're likely to be surprised! Little ones are full of ideas and ready to try new things!
Who knows?! Their idea might be one that the entire family can enjoy together or it might be a special holiday moment just for the two of you.
There are sure to be moments when you need to sneak away, so be sure to download a copy of this fun pack for your Preschool and Kindergarteners.
Your early learners will have fun working on alphabet recognition, reading, puzzles and more in this fun Christmas PreK and Kindergarten Pack!