Classic. Noah Webster defines it as, "A writer whose style is pure, correct, and refined." This is the type of literature I want my children to read. Pure. Correct. Refined. If you're looking for literature that inspires, educates and entertains, these classic literature must reads are a great place to start.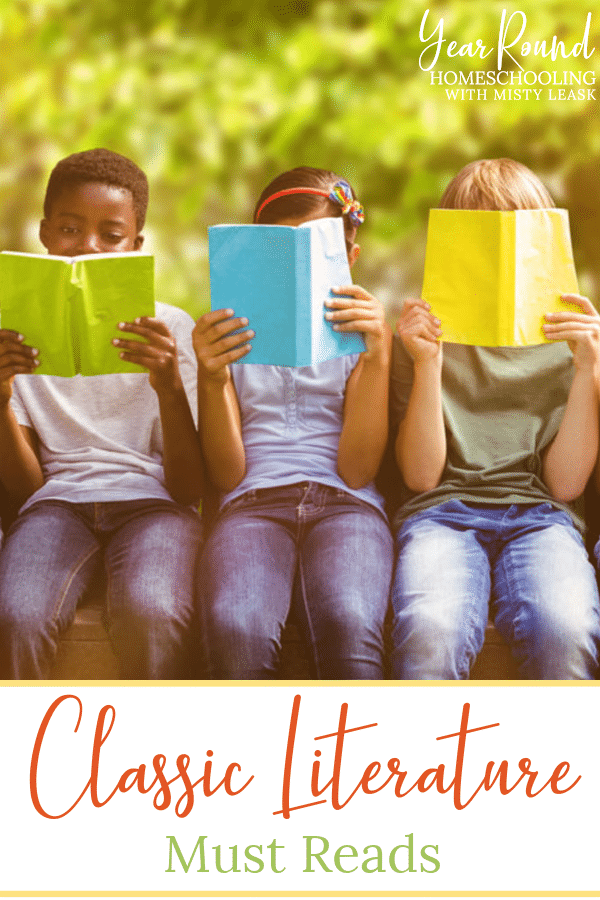 The newest literature on the market rarely can have these words applied to it. Reading should cause the reader to grow by broadening their horizon, expanding their vocabulary and increasing their knowledge. Classic literature can do all that and more!
My kids and I love to read. My mom is the reason we do, without a doubt. Growing up I remember her reading to my brothers and I all the time.
My children were blessed to grow up in my parents home when they were young. So, they were read aloud to by my mom too. She loves classic literature and read these books to us from a young age. Thus, it is no surprise that I believe classic literature must be read.
My Classic Literature Must Reads
The Lion, the Witch and the Wardrobe
The most well-known of all the Chronicles of Narnia books makes a wonderful read-aloud for the entire family. It is full of magic and adventure will inspire your imagination!
"Tomorrow is fresh. With no mistakes in it." One of my favorite quotes of all time comes from L.M. Montgomery's, Anne of Green Gables. This is on my must-read list and also makes a great read-aloud.
The continuing story of Anne with an E, all grown up. She is now a schoolteacher herself, romance is all around her and surprises await her when she goes back home to Green Gables.
The story of an orphan that finds herself in the hands of cruel relatives and a harsh boarding school before becoming a governess. Her previous life helped prepare her for the master of the house who is prone to being proud and has a difficult nature.
This is my absolute favorite book of all time. I love everything by Jane Austen, but this is my favorite. Jane, Elizabeth, Mary, Kitty and Lydia Bennett are sisters, but are all as different as night and day. Jane and Elizabeth are the eldest, so their younger sister's matches depend on them marrying wealthy men.
I actually own a copy of this book with the illustrator's autograph and my daughter has read it over and over again. The story of Fern, Wilbur, her pet pig, and Charlotte, a spider in the barn, is a heartwarming read for the entire family.
Kidnapped is a historical fiction novel set during the Jacobite rising through which you'll take a trip with a young orphan to a desert isle who found himself heir to his uncle's estate.
Head out on a pirate's adventure in search of gold during your next read aloud time. While the vocabulary might be a bit much for your younger students to read on their own, that's what makes this a perfect read aloud!
Everyone loves a secret, right?! Discover the secret of the garden with your family as you read this classic book aloud together. P.S. It isn't a story just for girls.
A young orphan girl, Heidi, finds herself living with her grandfather which she discovers to be frightening. Somewhere along the way she realizes how very much she loves him, but is then taken away by an aunt to live with a family in the village.
The Adventures of Huckleberry Finn
Every child dreams of adventure and living out on their own. So, take a trip and travel down the Mississippi River with Huckleberry Finn during your next read aloud time.
A father without a son, used to mean he had no heir. Yet, the March family didn't let that bother them. Their daughters are the well-known and beloved, Little Women of Louisa May Alcott.
One of the most well known "horror" books tells the story of Victor Frankenstein's creation. A horrific creature that wrought havoc wherever it went.
Emma is a heroine like no other, proud, self-centered and spoiled. She enjoyed playing matchmaker, only to discover that she isn't so good at it after all. Among the mistakes she makes along the way, friendships are lost and hearts are broken.
Take a trip around the world with Phileas Fogg of London. The journey begins as part of a wager made by his friends due to an argument regarding a new railway system in India boasting that it is now possible to travel the world in 80 days.
Journey to the Center of the Earth
Professor Lidenbrock discovers a 16th-century explorer's claim that he had found the route to the center of the earth. Along with his nephew and a native guide, their expedition begins.
This fictional autobiography tells the story of Robinson Crusoe, a castaway that spent 28 years living alone on an uninhabited island. Along the way you'll encounter cannibals, captives and mutineers.
I grew up watching the movie based on this piece of classic literature. The story of Edmond Dantes is based on real-life and tells the story of a man imprisoned wrongly and his fight to escape prison and save his life.
Twenty Thousand Leagues Under the Sea
Ready for a trip under the sea? Join Captain Nero on the submarine the Nautilus for a trip around the world on an undersea adventure.
The tale of the three Musketeers is full of courage, honor and dedication. The musketeers vow to spend their lives defending the king and queen, even when it means taking on the Cardinal Richelieu and his men.
Sometimes your home may feel like a jungle, so why not read Mowgli's life in the jungle during family read aloud time? The adventure and lessons on family relationships will be enjoyed by everyone.
I read this book as an adult but will be including it as part of my teen's high school required literature. This novel tells the story of a young private in the Union Army who flees the battle and finds a battle raging within himself.
Set during the French Revolution the story of the Scarlet Pimpernel tells his of commitment to rescuing innocent men and women from the guillotine.
Follow the journey of Christian as he faces "monsters", "demons" and spiritual battles through his life. This classic is a fictional work based on what a Christian life looks like.
The prequel to J.R.R. Tokien's trilogy, The Lord of the Rings, The Hobbit tells the story of the hobbit, Bilbo Baggins and his adventurous quest.
The Lord of the Rings Triology
This is one of my brothers and son's favorite series. Journey into the magical lands of Middle Earth and join Frodo as he journeys across Gondor, Rivendell and Mordor to destroy the One Ring.
Follow the story of Buck, a once domesticated pet stolen and sold to be sled dog. Out in the wild he is forced to fight to live in the harsh climate he finds himself in.
Jane Austen's story, Sense and Sensibility, tells the story of a widow and her 3 daughters that are turned out of their home. After moving to a cottage, the two eldest Dashwood girls experience both love and heartbreak.
A tale of Christ, like none other, Ben Hur combines the story of a charioteer with Jesus. Judah is inspired by Christ in the midst of the Hur family being falsely accused of treason.
There is no substitute for classic literature. No matter how many new releases there are, classic literature can't be replaced. Classic literature stood the test of time. The integrity and vocabulary found in classic literature alone speak for itself. These books have proven themselves to be of the highest quality because the authors wrote impeccably.
What books are on your classic literature must reads list?