Welcome to Calendar School!
Each month I will be sharing links to FREE internet resources to use to create fun, learning studies for special holiday and/or historical events.
Below you will find links to FREE resources for special holidays and/or historical events that happened in the month of October.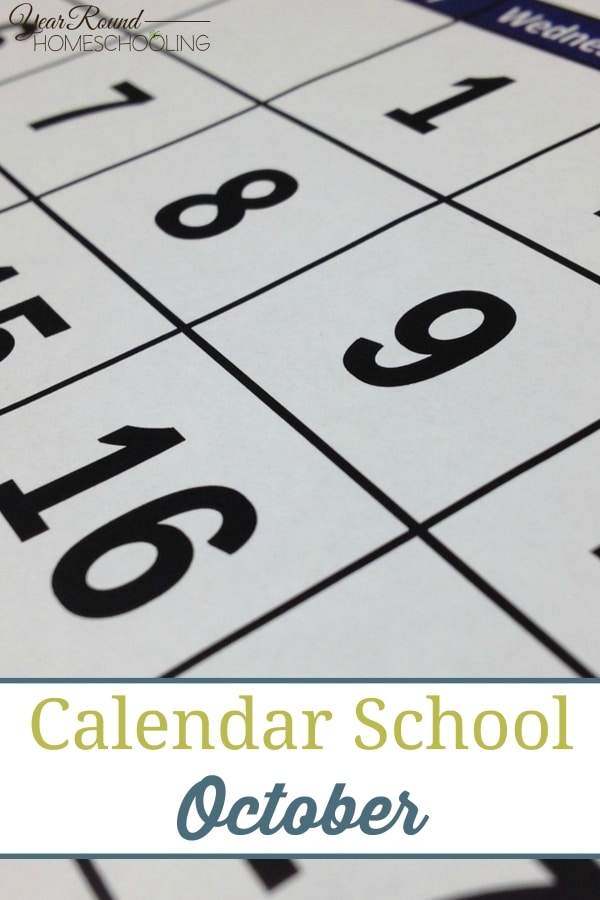 October 9 – Leif Erikson Day
Academic Kids Online Encyclopedia (E)
Facts about Leif Erikson for Kids (E)
A worksheet from Education.com (E)
Notebooking Page from Homeschool Helper (E)
Leif Eriksson vs. Christopher Columbus (E)
Coloring Pages (P-K)(Y)
October 13th – Columbus Day
Columbus Day Facts from History.com (E)(M)
Coloring Page, Word Search, Alphabet Activity page and more from About.com (E)
Printable Worksheets from The Teacher's Corner (E)
Lapbook and Notebook Study from Marine Corp Nomads (E)
Copywork and Worksheets from Cynce's Place (E)
October 31st – Carve A Pumpkin Day
Pumpkin Trace and Color (P-K)(Y)
A Pumpkin Unit from A Teaching Mommy (P-K)(Y)
A Pumpkin Life Cycle Sequencing Activity (P-K)(Y)
Coloring Page (P-K)(Y)
Pumpkin Preschool Pack (P-K)
Grade Levels Chart
(P-K) Preschool to Kindergarten
(Y) Early Elementary – Kindergarten to 2nd Grade
(E) Elementary – 3rd to 5th grade
(M) Middle – 6th to 8th grade
(H) High – 9th to 12th grade
Although I have visited each website before linking to it, things change all of the time on the wonderful world wide web…I apologize if any links do not work correctly, please leave a comment if you come across one so that I can fix it as soon as possible.
Now you can help me decide which holidays and/or events to feature in the Calendar School – November post. Look over the November holidays here, then leave a comment with what you might want to include in your November lessons.
Check out our freebies and deals Pinterest board below for more savings!