Unit study planning. Why would you need to create a unit study when there are so many amazing unit studies readily available? Especially since a homeschool mom's days are already full enough. Do you really need to take on another thing?
When we first started using unit studies I couldn't find any available for topics that my children wanted to study. So, I began creating my own unit studies rather than choosing a unit study topic my children weren't currently interested in. I was pleasantly surprised to find that creating my own unit studies wasn't as difficult as I thought it would be. In fact, I think it is fun!
9 Steps to Create a Unit Study
Decide on a topic/subject
Unit studies are a great way to teach your children about topics/subjects that interest them. To use them for child-led learning, take time to chat with your children and ask them what they want to learn about. They are also amazing resources to use to teach periods, subjects and topics that you believe your children need to learn about that aren't taught in the standard curriculum. To get started, consider things that you've noticed missing from your current curriculum as well as things that you know now that you wished you learned in school.
Quality literature was always the backbone of the unit studies I created for my children. As you research literature to use for your unit study try to choose books from a few different genres, fiction and non-fiction, picture books (even for older children!), read aloud chapter books and literature for your children to read on their own. If you are having trouble locating something stop by your library. Spend some time chatting with your librarians, they love sharing advice!
Find online learning resources
The internet can be a wonderful resource for your homeschool. As you're creating your unit studies search online for fun resources to add. You can find online quizzes, articles and games to use with your unit studies. Children need to know how to use a computer and the internet. This is a great opportunity to add technology skills to your homeschool. I highly recommend that you ensure you have an ad-blocker like Covenant Eyes installed on any PC your children use.
There are great videos on YouTube, Amazon and Netflix that you can use for almost any subject. Science videos often need a disclaimer regarding any evolution information that may be included. If you're using Amazon or Netflix, you can safeguard most movies to ensure they're clean for all ages to view. A couple of our favorite video sets we've used for history and geography studies are Liberty Kids and Carmen Sandiego.
Not all children love to create crafts, but they all need to be exposed to it in some way. Try having your student's copy a work of art from the time period or artist you're studying. Have them design their own art project showcasing what they've learned. Introduce your children to a new art style. Find crafts matching your study topic on Pinterest – it is a gold mine for arts and crafts!
Keep your kids actively learning throughout your unit study by including games and activities. History-based unit studies are a great way to teach your children games from the past. Hands-on activities help children experience what they're learning.
Anytime you can add a field trip to your homeschool studies do so. Both you and your children will enjoy them. You don't always have to leave home to go on a field trip anymore. There are many virtual field trip options available thanks to the world wide web. If you're unable to get to a place that fits your unit study, check online to see if there is a virtual option. Google Maps is a great resource!
Determine the length of the study
The length of your unit study is dependent on the number of resources you put together. A good rule of thumb for planning is to include reading time, one online resource, a craft, either a game or an activity for each day and one field trip per unit study. You can create a simple week-long unit study for younger students, similar to Download N Go®. However, my children and I always enjoy one-month unit studies, like the Unit Study Adventures™.
Before you get started, be sure that you have all of the supplies you need for the entire unit study. You do not want to need to go shopping last minute for an item you need to complete a project that day. Once you have gathered everything keep it all together and hide it somewhere so that you have the supplies when you need them. School supplies seem to have legs of their own if not put away secretly.
Once you've designed your own unit studies you will likely love the freedom found in creating your own homeschool curriculum. Unit studies allow you to teach any topic or subject that you and/or your children are interested in. The options are limitless!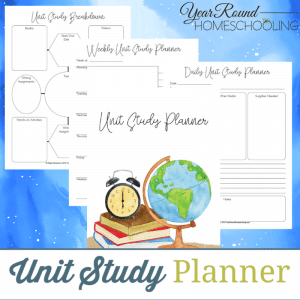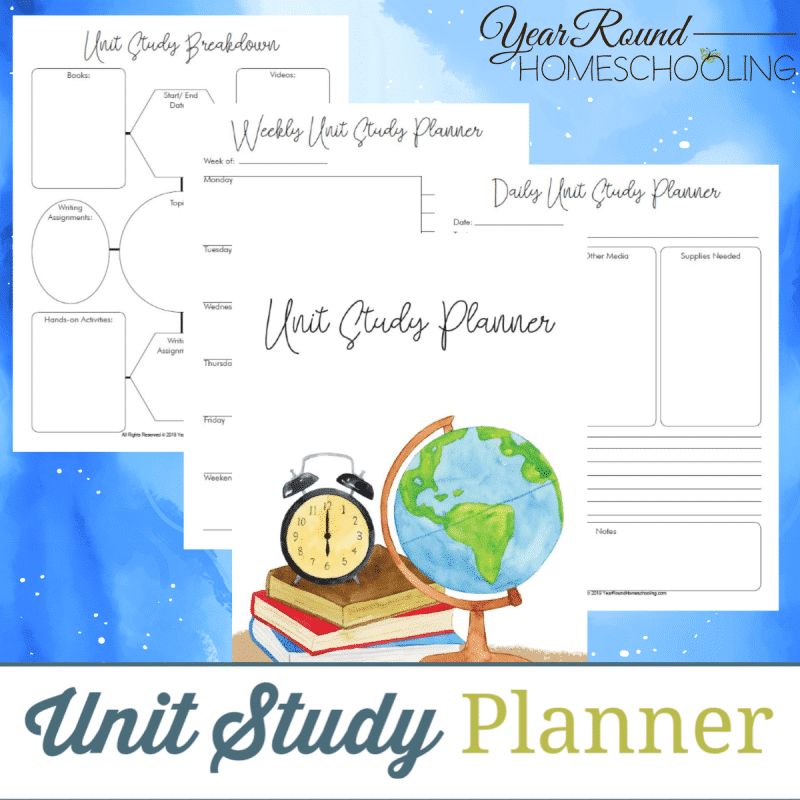 Ready to get started? This Unit Study Planner is filled with everything you need to organize each unit study you create throughout your homeschool journey!
What do you enjoy most about creating your own unit studies?