This Desert Animals Study will encourage your kids to do their own research about animals they may not have ever seen.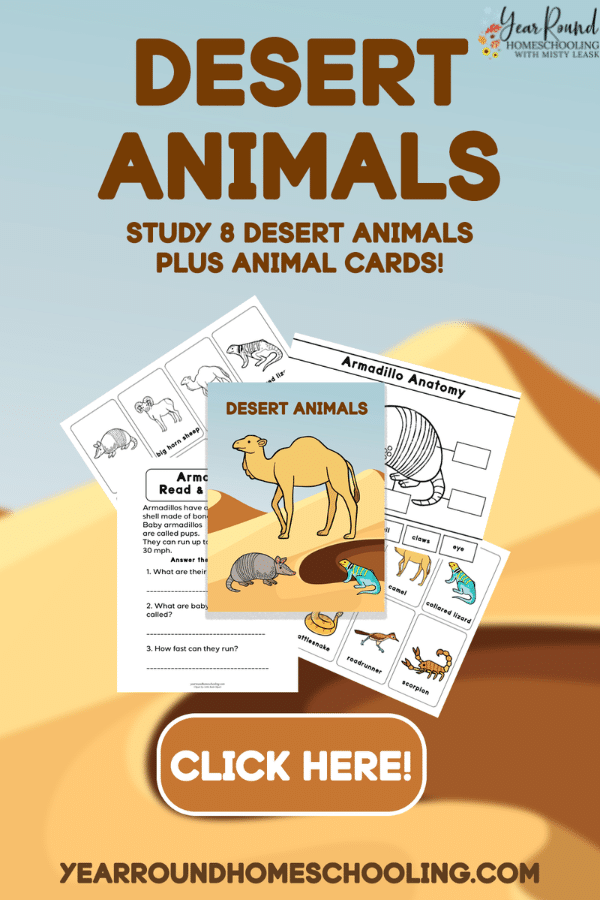 My daddy says that the desert isn't a place where you want to spend a lot of time.
As someone that loves the heat, I can't imagine not liking it, but if my daddy says so, it must be so!
Back home in Texas, there are a few desert animals that call Texas home.
Growing up, my mom used to tell us stories about Armadillos in her backyard.
While your kids may not have any experience with desert animals, they are very interesting to study!
Sand + sun + lack of water = very special skills are required to survive.
There are 8 different desert animals featured in this Desert Animals Study.
From Camels to Armadillos, from Big Horn Sheep to Camels and Collared lizards and more!
Your students will need to do their own research about each desert animal to complete the fact page, anatomy page and read/answer pages.
For a fun wrap-up of their study, your students will enjoy playing a matching game with the included color and black and white desert animal cards.