Lapbooks are great learning tools for a wide variety of ages, which is part of what makes them so versatile.  They can be especially fun in the early years of learning because so many basic skills can be taught and practiced through lapbooking.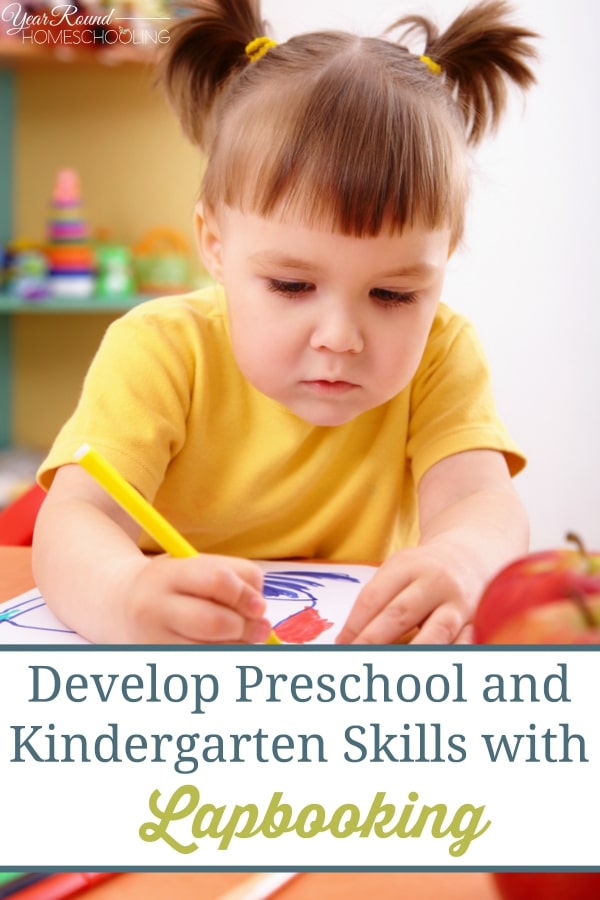 Lapbooking for Preschool and Kindergarten Skills
Children learn so much through play and creativity in the early years.  Lapbooking is a great creative hands-on learning tool, perfect for short attention spans because it doesn't all need to be completed in one sitting.  So, what specific skills can be taught using lapbooks in the early years?
Pre-reading skills and reading comprehension ~ Reading a favorite book together and making a lapbook is an excellent literacy project. Kids can practice story sequencing, narration, and other basic pre-reading or early reading skills.
Using scissors ~ Creating lapbooks requires cutting skills. Although they may need help at this age, it can be great practice!
Creativity ~ Coloring, pasting, and assembling the lapbooks are good opportunities for creative learning.
Handwriting ~ Completing the mini-books, fill-in-the-blanks, and other components of a lapbook gives children a chance to practice their handwriting skills.  Many of the lapbooks geared toward preschool and kindergarten age offer traceable letters already filled into the printables to make it easier on moms and the kids.
About Me ~ These types of "about me" lapbooks can help children memorize and write their names, addresses, phone numbers, and the names of family members.
Some other activities your preschoolers will enjoy while lapbooking are;  coloring, working with numbers, learning their alphabet and shapes and more!
Here are some of my favorite preschool/kindergarten lapbooks:
Learning Basic Skills Preschool Lapbook
Letters, Numbers and Shapes Preschool Lapbook
Kindergarten Success Basic Skills Lapbook
Homeschoolshare.com is always an excellent resource for free literature-related lapbooks. If your child has a favorite book, it's likely there is a lapbook to go along with it.
Lapbooks can give early learners a feeling of accomplishment and give them something to "show off" as part of their educational achievements.  From my own experience with my daughters, I can say that lapbooks are a fun way to help them learn, practice, and retain basic early learning skills.