Music is a subject that should be part of every homeschool day in one way or another. Many times I think that we forget that a homeschool music class doesn't have to be private music lessons. There are so many fun and easy ways to incorporate music into your homeschool day. Especially if you can think outside the box!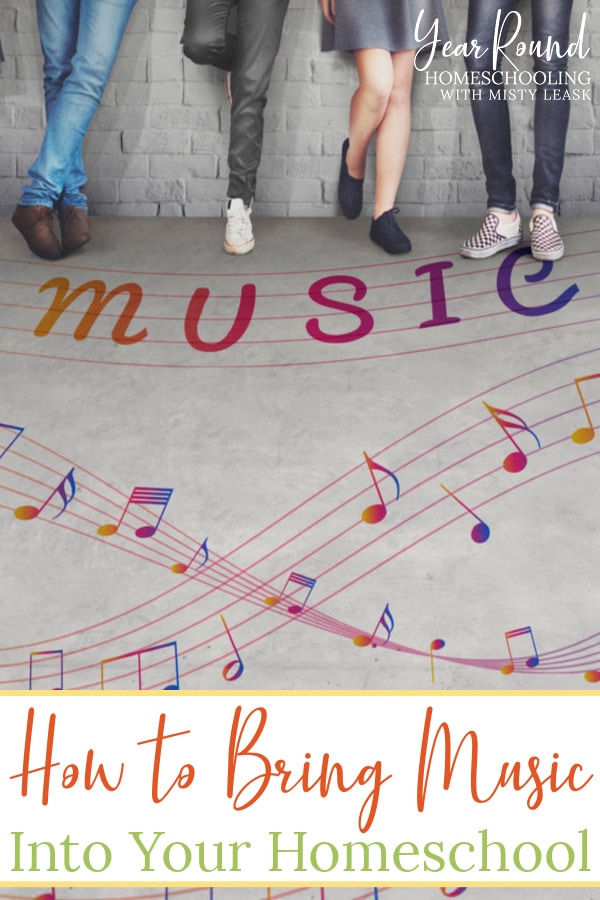 I truly believe that music is the voice of the soul, which means if we as parents pay attention to the music our children are drawn towards we will learn things about them they might never have told us. This can provide great opportunities for conversation with our children, but only if we'll take the time to listen to the music our children enjoy.
Are you ready to get started? I've put together a list of easy, out-of-the-box ways that you can add music to your homeschool day! Don't let this list limit you, instead let it be a springboard to discovering more opportunities for your homeschool music class!
How to Incorporate Music into Your Homeschool Day
Use music to help with transitions
For families with young children transitioning between lessons can be a bit of a challenge. You can use music as part of your homeschool by using it to help with transitions. Get some play instruments to use or play music on your phone to march with kids from one room to the next, get everyone to work faster at cleaning up after a project, or celebrate the end of the day. Young kids do well when music is used as part of helping to build healthy routines.
When my children were young I often played Classical Music in the background throughout our homeschool day. Now that they are teenagers, they have their own playlists that they listen to during some of their homeschool studies.
Use music as part of a unit study
Unit studies are a great way to help kids learn and to really explore concepts in depth. Studying the music of different time periods is a great way to help bring history unit studies to life for your kids and make connections between everyday life in your homeschool and this fine art. Challenge your kids to learn about a musical artist from the time period, experiment with a popular instrument of the time or write a song to go along with your unit study. Like cooking, music can make a great companion to any unit study.
My kids love to play 'Name that Tune'. This is one of their favorite evening activities. They pull out their laptop and play songs from YouTube and everyone has to guess what the song is. You could also play, 'Name the Artist', 'Name the Composer' or 'Fill in the Lyrics'.
Make your own instruments
There are some great books out there that can help you with this and some that will even show you how to make your own instruments at home. My kids love to take the pots and pans out of the cabinets and bang on them with wooden spoons. Honestly, I used to get really annoyed with their "parades" around the house, complaining that I now had another load of dishes to do. But, then I realized…at least they like making "music" and I shouldn't squash that creativity! So, off they go, marching through the house, singing at the top of their lungs a silly song they made up and I love it. This year I'm excited to help them create their own instruments and see what they do with them!
Whether you're looking for frugal printable games like this music notes and symbols set or educational music games to play with the family, you're sure to have fun!
Christmas seems the most obvious on this one, but there are great songs out there for every season and age group. Turn on holiday music while you work on holiday-themed lessons. Join the local choir to put on a show for the community, or go caroling at local nursing homes as a community service project. Use this opportunity to show your child the difference that music can make in the world.
Children that love to read will enjoy learning about music through literature. It will be an easy way for them to cover music in any homeschool day. For reluctant readers, you could make it part of your homeschool read-aloud time. Biographies of famous composers, singers and musicians, books covering music history and genres – the options for music-themed literature abound!
Creating your own songs is a great way to get creative with your kids and make it easier to remember what you are learning. Encourage your kids to make up silly songs that help with memory on the topics they are learning. This can help with anything from remembering the bones in the body to multiplication problems. This can be a fun project to challenge your kits to let their creative side run wild.
While I do not believe that video games should be part of every homeschool day, however, there are quite a few fun music-themed video games that you can use. For example, Just Dance could double as a music activity and PE!
Work on literacy and rhyming
Singing and creating songs is a great way to work on letter sounds and rhyming with your child. Use songs like the alphabet songs from ABC Mouse. Look for songs with plenty of silly rhymes to use for teaching your child about rhyming words and word families. Music can make learning the literacy basics of sounds easy and fun for kids.
Music show 'n' tell is a great way to encourage children that are taking private music lessons to share what they're learning with others. Make it an evening affair for the family to enjoy or an after-lunch activity to break up other studies.
Not all music learning involves playing notes on a staff. There is rhythm involved too. So, get your kids drumming and patting different rhythms. I like to do a copy-cat game with mine where I clap a rhythm and they repeat it back to me. Sometimes we get really silly with it and they love it. We also use rhythm tactics to teach rhyming. So far it's worked really well and the kids seem to like it. Try this fun set from Melissa & Doug to use when teaching rhythm.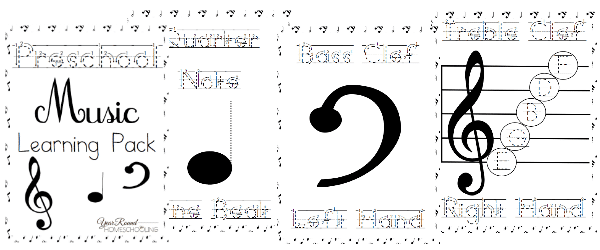 Have your child learn and explore new instruments
Find people you know that play an instrument and see if they will introduce your child to them. They can tell about their instrument, how they chose it as the one to play, how often they practice, how long they have been playing and even give a little mini-concert for the kids. Maybe let them touch the instrument and even play a note or two (depending on what instrument it is). This is a great way to introduce new and different instruments to your kids and see if anything sparks their interest. Visit an orchestra to see many instruments in action for an interesting field trip.
Little ones love this game and it is such a fun, simple way to incorporate music into your homeschool day and it helps get the wiggles out! Try changing things up by using different music genres to introduce your little learners to new music.
Have your child take private lessons
While these can get a little pricey, depending on the instrument, private lessons are a great way for kids to learn a new instrument. It provides a great one-on-one time where they can learn concentration, persistence, perseverance, and develop discipline. Now you can even take advantage of online lessons with programs like Outschool to help your child get personal music lessons. This is a great way to allow your child to explore their interests as part of your homeschool.
What is your favorite easy way to incorporate music into your homeschool day?
Music lessons can be expensive, but don't let that hinder you from teaching this important subject in your homeschool! Check out our music Pinterest board for ideas!
Follow Misty Leask's board Homeschool : Music on Pinterest.