Whether you love all things, Jane Austen, like I do or not, Emma is a lovely story that everyone in the family can enjoy. Get started by spending an evening or two together watching the story of Emma Woodhouse come to life. This Emma BBC Movie Study provides your students with the opportunity to learn more after your family movie night!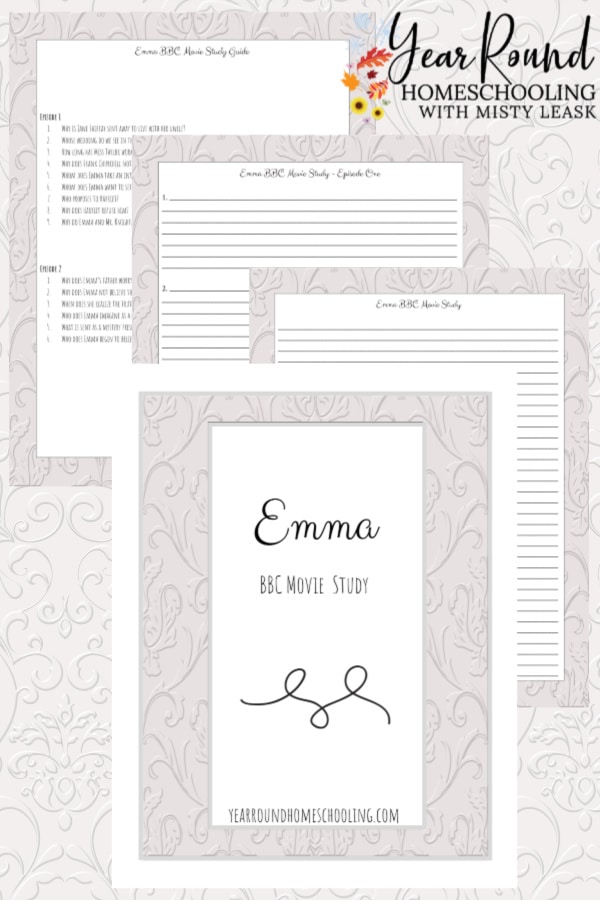 The Emma BBC Movie Study Pack is divided by episode to make watching the movie and completing the activities easier on your schedule. The pack contains questions that can be used as discussion topics if you're watching the movie together as a family or your students can simply complete them on their own.
There are also several different styles of paper included to provide you the utmost flexibility to customize the study to your students.
While I do love the 1996 version of this movie, BBC does a wonderful job recreating the story of Emma Woodhouse in their 2007 version as well.
You're sure to fall in love with Emma, laugh at some of her antics and learn lessons on life along the way.
You will likely discover more book and movie studies based on Jane Austen's literature in my store because of my love for her writings!
If you haven't read the book, Emma, remember that you should always read before watching. You can grab the Emma Book Study here.