Jane Austen is my favorite author and her book, Pride and Prejudice, is my favorite book of all time. While many at least know of her writings, most do not know her beginnings, family story or her love life details. This Jane Austen Author Study is a simple way for you and your students to get a glimpse into the life of Jane Austen.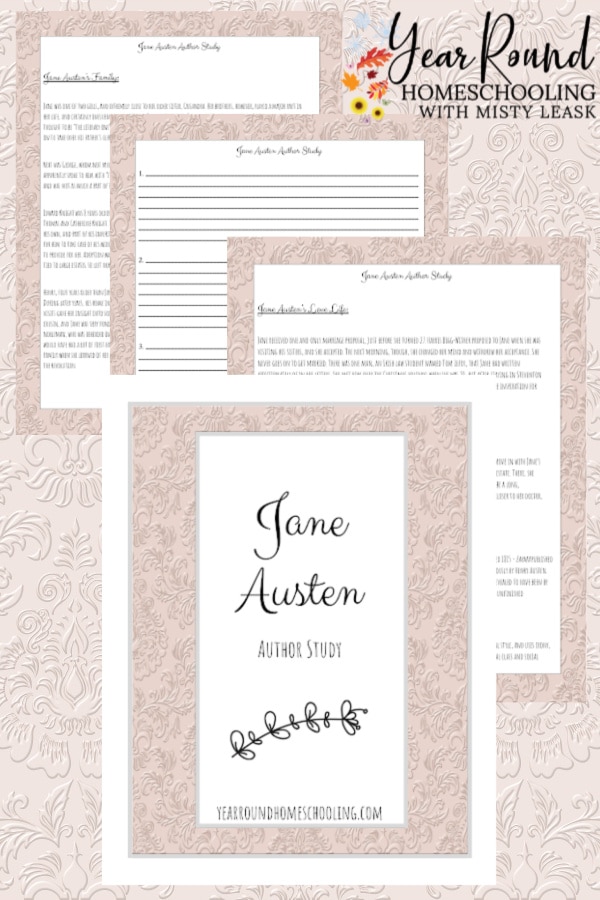 This Jane Austen Author Study will teach you and your students a bit about her beginnings, family, love life and more. Inside you'll find the author's study as well as discussion topics and questions for them to complete.
If you've not read all of Jane Austen's books, they all need to be on your next to be read list. Throughout each, you'll find yourself laughing, sometimes crying and always in awe of Jane's way with words.
Not sure where to start? For tweens and teens, I would begin with Emma, Northanger Abbey, Sense and Sensibility, Pride and Prejudice, Persuasion and Mansfield Park. Homeschool moms, I would read Persuasion, Pride and Prejudice, Mansfield Park, Sense and Sensibility, Northanger Abbey and Emma.
After you've completed this author's study, you'll find literature and movie study guides for her books in my store. I'm continually adding to my store, so don't despair if the study guide you're looking for isn't there yet. All of the works of Jane Austen are on my study guide to-do list.