I know you've heard the old saying, "Give the kid a new toy, but he'll only play with the box." Many parents find this frustrating, but I find it magnificent. Boxes are wonderful, fantastic things. They become anything your mind sees them to be. That's the beauty of a child's innocence, they see ragged boxes as castle forts protecting them from fire-breathing dragons, or when disassembled they become slides for the hall staircase (so glad my son didn't think of that one–he would have tried it). Anyway you go, every kid needs a box or two to spur their imagination. Or to keep them from getting hog-tied and gagged when they get on mom's last nerve.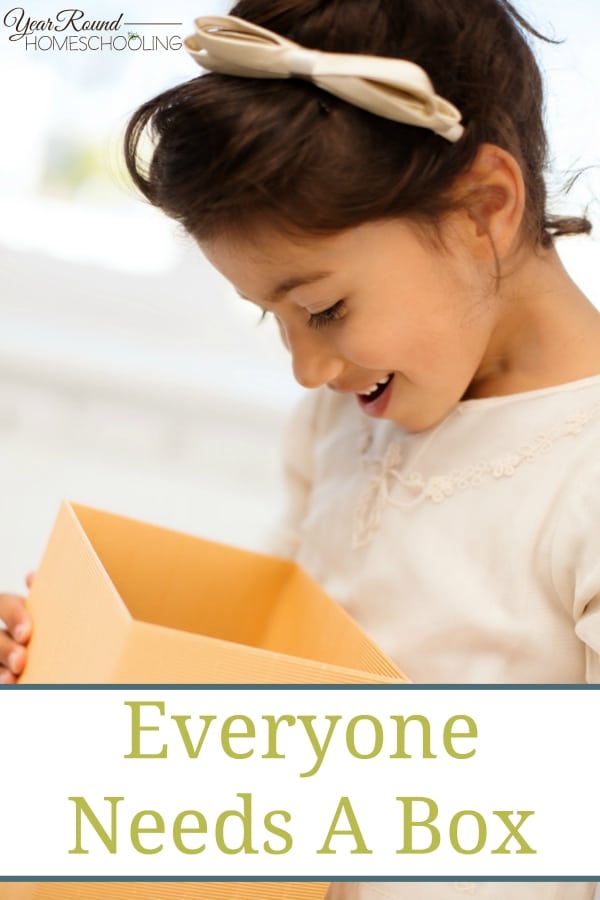 Yes, I said it, kids get on your nerves. As wonderful as mine are, and as crazy in love I am with them, there are still times I'd like to just sit them in the closet for a moment. Seriously, how many times have you tried to hide in the bathroom from your precious brood only to see little fingers poke under the doorway? Or have been interrupted in the middle of school lessons with the middle-schooler, because the elementary or high schooler just wants a bit of attention? I'm guessing more than once.
That's where boxes can be sanity savers. These boxes don't have to be large. They don't have to be new. They don't have to be hard plastic containers–shoe boxes work nicely! Still everyone needs a box. As part of your school year planning, plan for a "busy box" for every child in the family. These boxes can be made inexpensively with recycled items, or very lavishly with store bought games and toys. For variety sake, some parents choose to create a different busy boxes for each day of the week. The choice is yours. I prefer one simple recycled busy box per child for economic reasons. When you need to make three or four of these, it can get expensive even at the dollar store. Here's a link to my Pinterest page of busy box ideas for all ages.
When filling these busy boxes, I recommend you sit all your children down together and allow them to decorate their boxes. This makes the boxes more personal. For some families this won't work and the job falls to mom or dad. In this case, make each box reflect the child's personality. Give the child a connection to their box. It also helps young ones who aren't really ready to read identify which is theirs and other family members. Older kids most often don't care about the decorations. I have one that would want elaborate, personalized decorations that I help her complete, and the other wouldn't care if it were a wet shoe box that's falling apart.
Once everyone is assigned a box, it's time to fill the boxes with items that will keep them busy for at least 15-20 minutes. This could be hard if you're making a toddler or preschool box, so you may want to reduce the activity time. Whatever you put inside, make them simple items they enjoy using and won't become frustrated with. Busy box time is a time for quiet play, but it doesn't hurt to work on those fine motor skills. A few things I caution you against in young children's busy boxes:
Scissors
Glue
Markers
Tiny items
First, you don't want them cutting the fringe off your favorite sofa pillows, or their hair. You also don't want them gluing their hands to the dog, or ruining your new furniture and freshly painted walls with blueberry and raspberry scented markers. Also, glitter won't vacuum and things that can be swallowed are just horrible ideas. Keep in mind that you want things they can use unsupervised. My favorite items for toddlers and preschoolers are:
Lacing cards you make with thin cardboard, a hole punch and yarn.
Punching holes in a the lid of an oatmeal container (or the like), then placing colored circles around those holes. The child then inserts a chenille stem of a matching color into the holes.
Spoon matching–write the capital letters on clear plastic spoons, and lowercase on white plastic spoons, the child then matches the upper and lower case letters by nesting the spoons.
Any type of sorting or matching activity.
For elementary I would add items like:
Legos–you can either add small building sets, or create cards with pictures simple Lego creations that use 4-5 blocks, and they must recreate the picture.
Scissors and line forms for cutting practice–make sure younger ones can't get their hands on these.
Maze books.
Logic problem puzzle books.
Origami patterns and paper for folding
Middle and High school can be challenging, but they may enjoy some of the same items as the elementary kids, like Legos, maze and puzzle books, and origami. Just keep theirs will be more sophisticated:
Ipod or music player
Crossword puzzles
Quiet video games (only if you allow them)
iPad educational games
Books & Kindle for reading
Another idea is that your older kids can work with the younger ones.
There's one more person who needs a box, and that's mom! The rule with the mom box is a bit different. When the family sees your box out, they should leave her alone. That's mom's down time, sort of like her "Calgon, take me away" without the bubble and warm water. Good items for a mom box include:
Craft items she enjoys, knitting, crocheting, etc
Books or Kindle for reading
Anything mom considers a hobby.
I don't have a "mom box," but when my paper crafting & scrap booking stuff is spread all over the dining table, the family knows I'm off the clock. If dad needs a box, he can have one too. No family member should be left out. A few things to remember when planning busy boxes:
Keep it simple.
The less mess the better.
Lots of quiet fun should be contained inside
Happy box planning!
Homeschool help is easy to find when you know where to look! Check out our homeschool help Pinterest board and find all the help you'll need!