Celebrate the beginning of the winter season each year and have your children record the day's happenings and more using these First Day of Winter Journal Pages.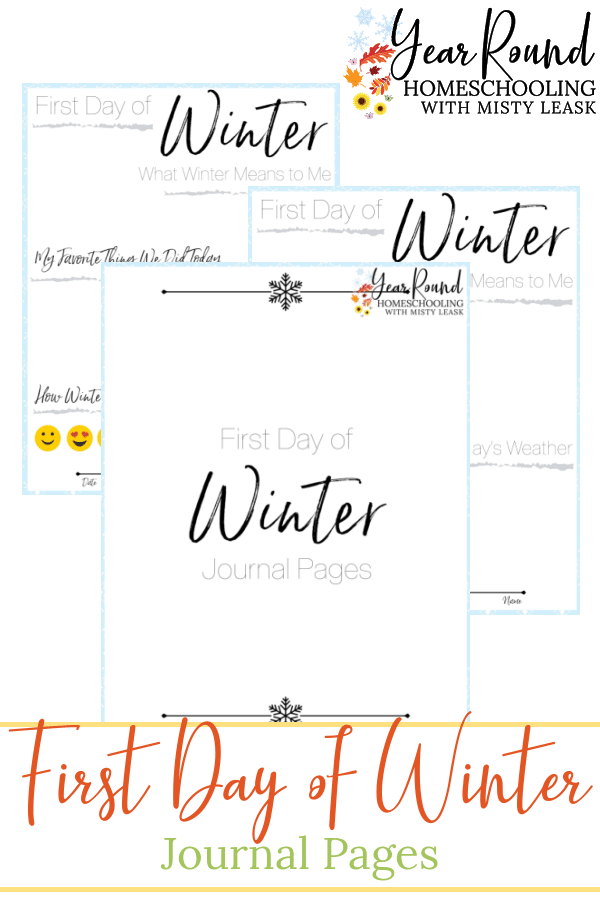 Winter is a magical season. While it isn't my favorite, as I get older I recognize more and more the beauty it holds. If only it didn't last so long…or the temperatures drop so very low?
While I was born in Texas and will always consider myself a Texas girl, I've actually spent most of my life in New England.
Given that fact, it is interesting that I prefer 110 degrees and need a jacket when it drops below 70.
The first day of winter actually happens within hours of my birthday every year. I was supposed to be a Christmas Eve baby, but I couldn't wait, I surprised my mom and dad early.
Perhaps you don't usually do anything special for the first day of winter each year. Maybe you celebrate the winter season and the coming snow.
Either way, the first day of winter is a new beginning – a new season has arrived. With it brings new adventures and unknown possibilities.
Even though winter is not my favorite season, I'm learning to find the beauty it holds…even if I'm freezing cold.
Reading by the firelight. Warm blankets. Hot chocolate. Early bedtimes. Twinkling lights. "Magical" snow.
Winter does hold beauty that is all its own. You just have to get out there and look. Take a camera. For some reason that always makes winter's beauty clearer to me.
This year, start off the winter season using these First Day of Winter Journal Pages with your children. If you use them year after year, you'll be able to see how they've grown and changed over time.
I've included pages for both younger and older students to use and enjoy as you celebrate the coming winter season!