Summer is my favorite season of all. If you had to choose, which do you think is best of all? Winter, spring, summer or fall? The abundance of fun family summer activities is what excites me the most!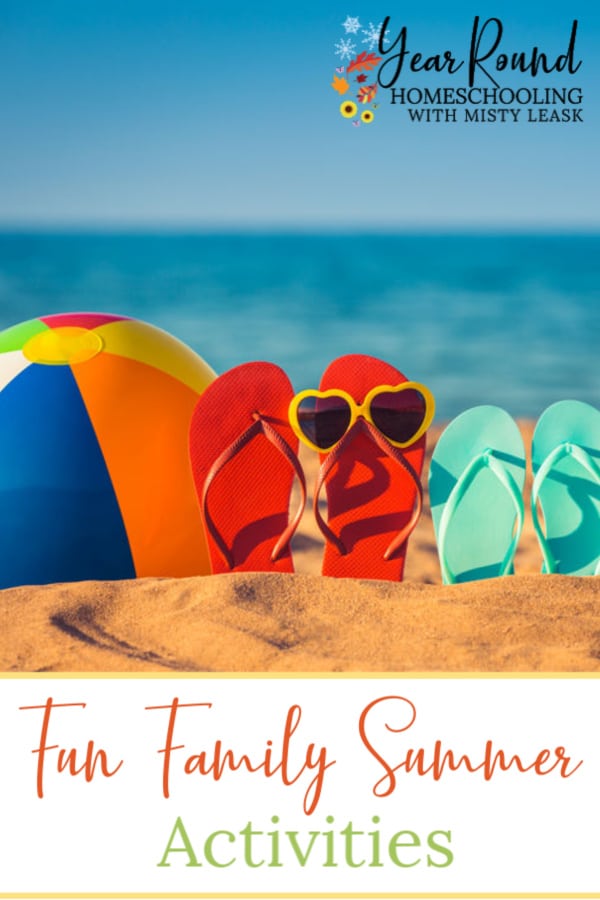 Living in the North Woods of Maine makes summer a special time of year. In a typical year, we have snow 7 out of the 12 months in a year. That is a lot of cold and snow, even for those of you that love winter the most.
While summer activities are my favorite thing, I thought that you might need an idea or two to get you started planning family fun. So, I've put together a list for you!
Remember, this is my list, don't let it limit your ideas for family fun for your crew. Let this be a springboard to jump-start your summer fun plans!
20 Fun Family Summer Activities
Take a virtual field trip to the San Diego Zoo if you can't visit the zoo in person.
Fort building was one of my kids' favorite things to do when they were young.
There are likely fairs in your area that you don't even know about!
Spending time in a garden is therapeutic, but be sure you plant the right flowers for your growing zone.
Hiking is good for everyone! Have you completed the best hike in your state yet?
While slicing it up and eating it on the front porch together is a great way to enjoy this delicious snack there are many more ideas for watermelon snacks!
There are so many recipe options for playdough from easy to edible, from no-cook to essential oil-infused. Not a fan of playdough? Check out moon dough!
Perhaps one of the best mini golf courses in the US is near you?
Making your own homemade ice pops is a lot of fun and they're much healthier!
Giving and receiving compliments isn't second nature to everyone. Sometimes it takes practice.
Help someone with their groceries
As a family be observant and find someone that could use a hand loading their groceries into their car. If your kids don't normally do this when shopping as a family, it is a great time to teach them!
Volunteer at an animal shelter
Oftentimes local shelters allow visitors to come and snuggle the abundance of kittens and cats they have in their care. Some even allow volunteers to help walk their family-friendly dogs as well.
Probably the most fun your kids will have with a science experiment all summer long!
Be sure to sunglasses and sunscreen along with you — perhaps even a book to read for a bit before you snooze.
It is often easier to do one-stop shopping, but the backbone of America is our small businesses. Take a few extra moments out of your day to support families in your community by shopping local.
Drive-in theaters are my favorite way to see movies during the summertime!
Bake chocolate chip cookies
One of the easiest cookies to make even your little ones can give you hand baking a delicious summer snack.
Grab your favorite blanket, summer drink and book of choice; then head outside and read underneath the shade of a tree.
A summer must in my book. Perhaps your kids have never been? If so, it is a great opportunity for a study of the beach!
Enjoying a cold treat on a hot summer day? Yes, please! No need to go out and buy some it is easy to make bites or cookies at home!
Spending time together as a family is important any season of the year. Let this summer be the first step towards making time to spend with your family creating memories that last a lifetime!
Download a free copy of this checklist.